I need to begin with an apology. My last column was about fruit picking and in it I used phrases like "chilly autumn" and "the evenings drawing in". I now realise that could have sounded like I was wishing away this last chunk of summer and honestly that's not true at all. I love this bit. Thankfully the weather gods didn't seem to take too much umbrage but nevertheless amends still need to be made. So here is a recipe for Summer Pudding – a delight of fruit that embraces the produce of the summer and is best served on a warm, hazily sunny day with a jug of cold cream.
It tastes rather better than it sounds.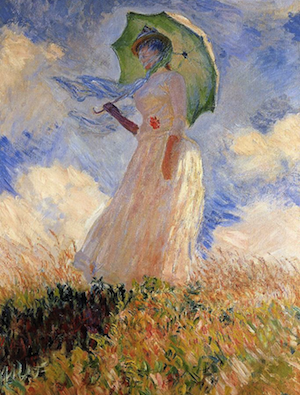 The uninitiated could be forgiven for not knocking people over in their rush to try a mixture of currants and berries in a pudding basin that's lined with bread and then refrigerated. But what they'd be failing to understand is that the fruits are heated with just enough sugar to burst into life, release their flavours and create an incredible sweet-yet-not-sweet juiciness that seeps into the bread casing. The engorged bread is so transformed with lightness and flavour that by the time you're pouring over the cream it's barely recognisable as the white loaf that began the day.
Summer Pudding gives the impression of being ye olde British dessert yet in reality it's slightly faux in its vintageness. There's a theory that it started out as the 'hydropathic pudding' health food served in 19th century spas to patients taking a break from pastry. I don't know if it came with cream or not. Whether you go with the spa-food idea or not, Summer Pudding as we think of it didn't feature in recipe books until the 20th century.
It was and is a great way of using up a glut of summer fruits. Raspberries and redcurrants are the most commonly used but others have their place too. You could use stoned cherries, strawberries, bilberries, blackberries or blackcurrants. Go easy on those last two, though. Their density of flavor and colour can be overpowering. A combination of two or three different fruits is ideal – whether picked from the hedge, bought from the shop or even one of those handy bags of frozen berries that the supermarkets do. Some days fruit picking just ain't possible.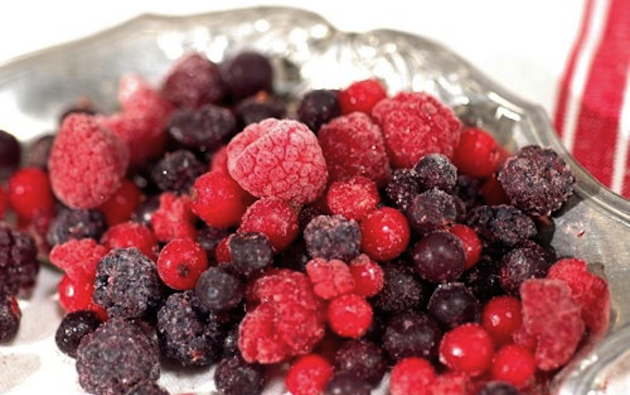 The choice of bread is as important as the choice of fruit. Step away from anything brown or granary. It's got to be white and it's got to be a good proper loaf that needs slicing.
Summer Pudding – serves 6
200g redcurrants
450g raspberries
150g blackberries
3tbsps caster sugar
8 slices from a good white loaf
You'll also need an 850ml pudding basin and a saucer that fits snugly curved-side down into the basin's top.
1. Rinse and pick over the fruits to remove any stalks or dodgy looking ones. The redcurrants go into the pan first with the 3tbsps of sugar and the same of water. Give them a minute on their own on low heat before adding in the rest of the fruit. They should need no more than 3 or 4 minutes for the juices to start flowing and the currants to be bursting. That's when you turn the heat off. Test for sweetness and add more sugar if you fancy but remember that some tartness is good.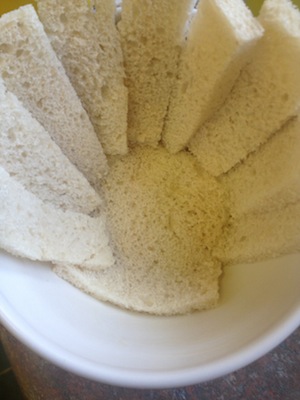 2. Cut the crusts off the bread and then cut all but two slices into long soldiers – 3 from each slice. Lightly grease the pudding bowl with butter. Press one of the whole slices of bread into the base of the bowl and now line the bowl's sides with the soldiers. You need to make absolutely sure that there are no gaps for the fruit to fall through. Overlap pieces a little and press them down as you go.
3. Spoon the fruit into the bread-lined basin. Pack it down and you should find you can fill it up to bowl's top. Keep back a little of the fruit's juices.
4. Trim any bread soldiers that are standing too tall above the basin. Put the last whole slice of bread on top as a lid and then cut the remaining soldiers into pieces to fill the gaps and create a complete lid.
4. Put the saucer on top and sit the pudding bowl on a plate or bowl to catch any overflowing juices. Now you need to weight the saucer down –use something like an unopened bag of rice or tins of food. All of that then goes into the fridge for at least 12 hours.
5. When it's time to serve, slide a palette knife gently down the bread sides. Invert the pudding bowl in one quick, smooth motion into the bowl or plate you want to serve it from. Give it a wiggle and (with fingers and toes crossed) lift the pudding bowl up to release your Summer Pudding. If there are any white bits of bread showing just pour over a little of the juice you kept back.
As you cut into the pudding it will fall a little and fruits may tumble out. That's all fine. Just make sure everyone gets a good serving of bread, fruit and juices and they'll be happy. Make sure there's plenty of cream around too.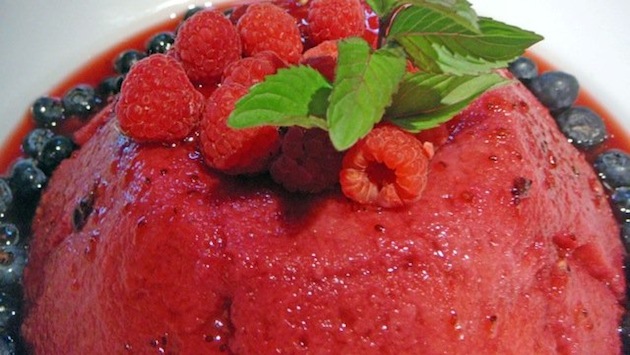 At risk of getting myself back into the position all this started with I'm going to finish by using the 'C' word. Christmas. Summer Pudding freezes well as a lighter alternative to the festive fruit puddings. Make it, weight it, fridge it and freeze before turning it out. Then forget about it. Christmas is yonks away – there's still some more of summer to enjoy yet.