Daniel Boulud has been bringing the best of French cuisine to willing New Yorkers for twenty years, during which time his culinary empire has expanded across three continents; three is also the number of Michelin stars sported by his eponymous restaurant on Park and 65th, above which he still lives. A few blocks away sits Café Boulud, humming quietly beneath The Surrey hotel, a hive of monochromatic luxury on the Upper East Side. Satisfied diners can spill across the lobby into Bar Pleiades, take up residence in a deco-infused booth and sample Daniel's take on traditional cocktails.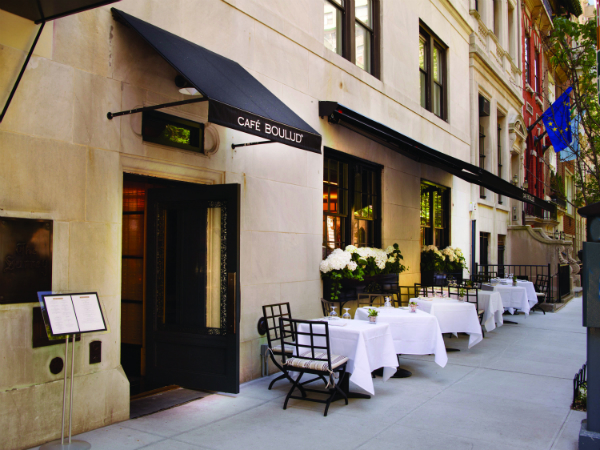 First, the Café. Ours is an early booking, but after an afternoon spent hiding from snow showers in the neighbourhood's world-beating museums, we're hungry. When we arrive the place is empty, save employees, having just opened for the evening. The space stealthily fills up, as fast as the gentle, inviting ushering allows. New York heightens my sense of service; whether due to being British or some other personality defect, I often bristle at the kind of unilaterally enforced amity that pervades the city. The previous day, a simple time-killing pop-in to a clothing store saw me learn the names of four employees before I made it to the fitting rooms, where my name was scrawled on the door and various disembodied voices invaded the cubicle to monitor my progress. I left with neither new trousers nor new friends, feeling scared that a small cabal of employees might recognise me in the street and want to go for a drink.
What I'm trying to say is that it can be hard to strike the right balance between attentiveness and invasiveness in a place so service-oriented. At Café Boulud, I needn't have worried; smiling staff ease us into a centrally positioned booth-cum-banquette, and thereafter gently orbit the dining area, materialising inexplicably when we feel an order coming on, and melting away into the throng when we want to focus on the plates or, heaven forbid, each other. Perfect.
Daniel (staff refer to him by first name, affectionately and often) is a self-confessed control freak, and his influence on the restaurant's interior is writ large on the walls: a longstanding friendship with the Marlborough Gallery on West 57th street yields many and varied paintings dotted around the room. The tone tends to be diverting enough to pique our interest between courses, but not so distracting that we stare vacantly over each other's shoulders. The room itself aims to recall 1930s Paris, all muted colours and the occasional wood panel, and is fairly intimate, though strategically placed mirrors do extend the space. My companion, the birthday girl, enjoys a champagne cocktail and a chat with the waiter, while I take in the crowd.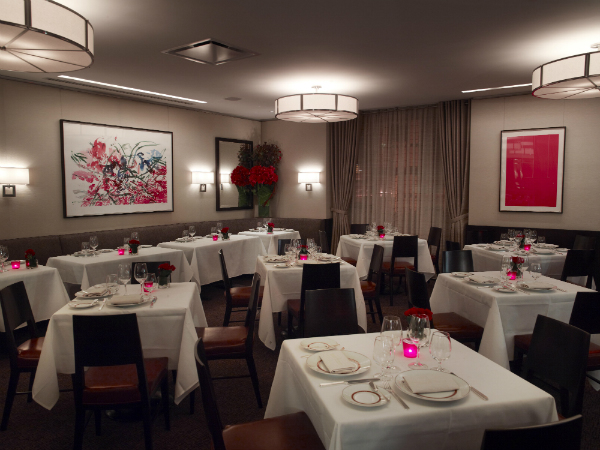 By my reckoning it's roughly an even split between hotel guests and locals. That said, it's a particular type of local who'll pop in for some Boulud dining early on a Monday night – the people-watching is excellent, and I snatch up the wine list eagerly. It's a 40-page Franco-centric tome, which also features a healthy selection of American reds and whites, and a smattering from further afield. After several days of burgers, tacos, Westerns, grits, 'lite' beer and generally ubiquitous peanut butter, I am absolutely prepared to go completement français, and I dive in with some 2002 Chateau Meyney. During our deliberations, a fellow glides discreetly in then out of view, not before depositing a pair of black truffle risotto croquettes to amuse our bouches. It has the desired effect; five varieties of warm bread also circulate, with the olive and the rosemary varieties standing out.
Daniel divides his menu into four sections according to his culinary inspirations: la tradition, la saison, le potager (farmers' market) and le voyage (world cuisine). Choosing starters was difficult enough and when it came to mains we were utterly torn. A good third of the wine bottle was lost to our deliberations, until staff rescued us with subtle hints. The four-way partitioning of the menu gives such a compelling narrative to each dish that it seems foolish not to take a trip through each section: who wouldn't want to sample seasonal peekytoe crab, or Daniel's périgourdine-steeped take on beef wellington? To put it less pretentiously, who wouldn't want to go everywhere and try everything? The four distinct menu regions remind me, bizarrely, of the zones in the Crystal Maze, a programme I never thought I'd be pondering in a beautiful Upper East Side salon (the Ocean zone was my personal favourite, though there's no question it marked the beginning of the show's decline); thankfully a beaming waiter is only too happy to act as a gastronomic Richard O'Brien and lead us unflinchingly through Daniel's interpretations, brought to life by Executive Chef Gavin Kaysen. Physical, mental, skill and mystery challenges await (probably).
I head straight for la saison and start with home-made fettuccine with razor clams, fried cockles, saffron broth and grilled fennel. Everything tastes delightfully familiar – Daniel demands the loftiest standards of his ingredients, and though these are simple flavours, they're powerfully delivered. The fennel even acts as the dish's in-house palate cleanser, allowing for iterated trips around the meat and shellfish carousel. Pasta starters generally tend to be small so as not to weigh down one's constitution ahead of the mains, but my appetite accords more closely with the people who live here (why wouldn't a three-egg vegetable omelette come with French fries?). Happily the portion size satisfies both me and my omnivorous partner, whose primary interests always lie outside of her own plate. But I let her off, it's her birthday. She opts for the citrus-cured Hamachi with whipped horseradish, dill and steel-cut granola, products of la saison. It's a little reminiscent of unpacked, orange-marinated sushi. The yellowtail and the citrus combine beautifully, and while the horseradish delivers a noticeable kick, the taste that lingers is refreshing rather than overwhelming.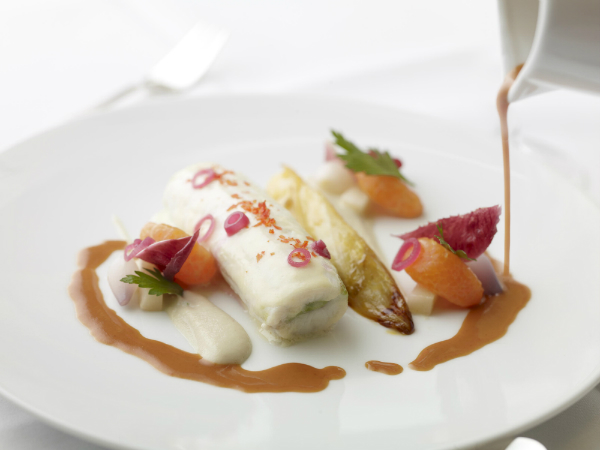 In short order the mains arrive, mine from the tradition zone. The striped bass 'en paupiette' is a signature dish and has an air of mystery – the paupiette in question is constructed of paper-thin stripes of potato, wrapped around the sea bass, forming the pouch in which it's cooked. It rests on pureed potatoes and baby leeks, and is encircled by sauce meurette. It almost seems a pity to destroy such an intricate construction but the fish is light and yielding to the fork, the strips of potato add a lovely crunch, and the meurette flavour ties it together beautifully. The birthday girl ventures into la voyage territory for tamarind-glazed cod with butternut squash, thai eggplant and shiitake mushrooms, all paddling in a red curry broth. It's a real tonic on a wintery night in New York, earthy and heart-warming behind the sweetness of the tamarind.
She ponders the desserts on offer but for me, the French mist has well and truly descended and I've been lead inexorably to the cheeses. I'm given five, taking in goat and sheep, France and Italy, and Wisconsin, reflecting Daniel's commitment to native ingredients; a cluster of hot toast comes too. She selects a mocha mousse, which arrives nestled beside salted caramel ice cream and crunchy sweet hazelnuts; a waiter nonchalantly presents a perfectly sized portion of madeleines to accompany it, fresh from the oven (hot, mind, not warm – they can have enjoyed only seconds of freedom before being encased in an implausible serviette plinth). Having picked up on the birthday chatter, they also furnish my companion with a mini-menu-dégustation of creations from pastry chef Noah Carroll, with a candle and an edible salutation. All of this – cheese, toast, mousse, piping hot madeleines, birthday cakes and candle lighting – appears within a few moments, at the hands of a benign swarm of six or seven who are gone in an instant. It's impressive.
By this point we're hoping for a lock-in but unfortunately our trip around Daniel's culinary labyrinth is ending, and we rest, suitably full, utterly charmed. Snow falls gently outside and somewhere a cab's wheel spins – more than enough to discourage us from braving it out there. Not while there's a drop left in the bottle. I feel a tinge of regret that I didn't visit the potager zone. There's a menu on the table behind me. I wonder?
Cafe Boulud, The Surrey, 20 East 76th Street, New York. Tel: +1 212 772 2600. Website.