Finland is not blessed with many Michelin Star restaurants but one of them, Finnjävel or ''Finnish Devil', has come to London for a two week 'pop-up'. As it's popping up in the very swanky surroundings of COMO The Halkin though, the Shoreditchy noun seems a little inappropriate.
Older London restaurant hands will remember the dining room at COMO The Halkin was once home to the first fine dining Thai restaurant in London. Here Australian chef David Thompson won a Michelin star in just six months. He was followed in by multi-starred Elena Arzak during the final years of the Spanish culinary world domination begun by Ferran Adria. How distant those crazy days seem now. Did we really eat that stuff?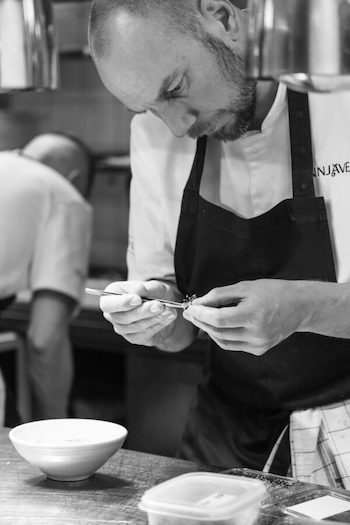 For the first time in the UK, Chef Tommi Tuominen of Finnjävel is serving his modern fine dining six-course tasting menu. In fact, he is the only Michelin starred chef serving completely Finnish food anywhere in the world.
But, Finnish food? Isn't that all about moss, berries and broiled bear? Well, berries do feature, and there's a lot of dill – the herb that Nordics use to make up for the fact few other herbs will grow in their climate. But there's far more to it than that, and it's a real eye-opener. The menu focuses on Finnish traditions, as well as hunting, foraging and baking using 'pure ingredients from nature'.
Chef Tommi has chosen to take classic Finnish dishes, the ones that Finns go misty eyed over, and elevate them to fine-dining status. And so our pre-nibbles are three treats cheerfully recognised by my Finnish friends across the table. A rye tartelette with rice and egg, an open 'sandwich' of anchovy mousse, egg and dill, and a 'liver casserole' of liver mousse, barley and raisins.
Of course, they look nothing like the dishes they are paying homage to, they are beautifully presented and delicate. The casserole is particularly delicious, almost foie gras in texture and taste.
It's a fine curtain raiser, followed by the first act dish of 'Glassblowers' Salmon', the raw fish cubes made solid by curing in vinegar and then surrounded by crisp root vegetables, dobbed in a luminous dill infusion, and dotted with fried grains of buckwheat that pop in the mouth rather like Space Dust (remember that?). It's matched with a fine German Riesling, because the one thing Finland will never have, until global warming really kicks in, is a wine industry.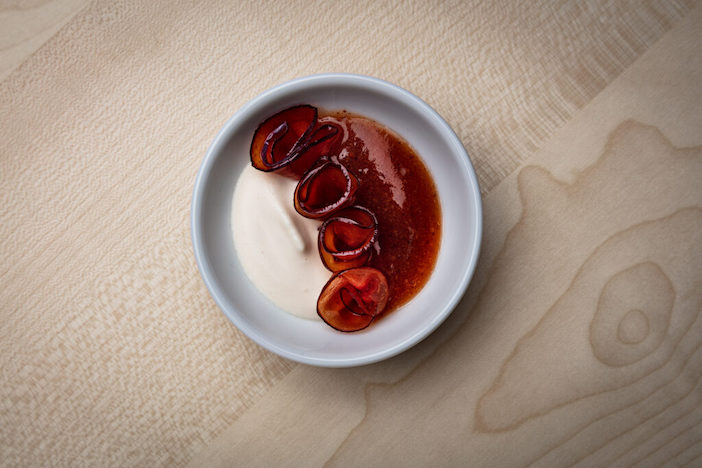 A 'blood pancake' sounds a little daunting, I have memories of being served blood soup in Spain. It wasn't the best dish I've ever eaten – nor does it compliment one's appearance; I ended up looking like Dracula after a drunk dinner – but these pancakes are apparently afternoon snacks in Finland, the blood rich in iron for growing kids. The sharp berries and the bechamel sauce blend with the black, crispy pancake and a glass of deep red Morgon works well.
No sooner has the last drop of blood been mopped up, than an outdoor market favourite, Lihapirakka, appears. This Russian origin dish is usually meat and mustard in a doughnut, but now it comes deconstructed as beef tartare with some crispy donut pastry on the side. A mustardy emulsion binds it and more Morgon helps it down.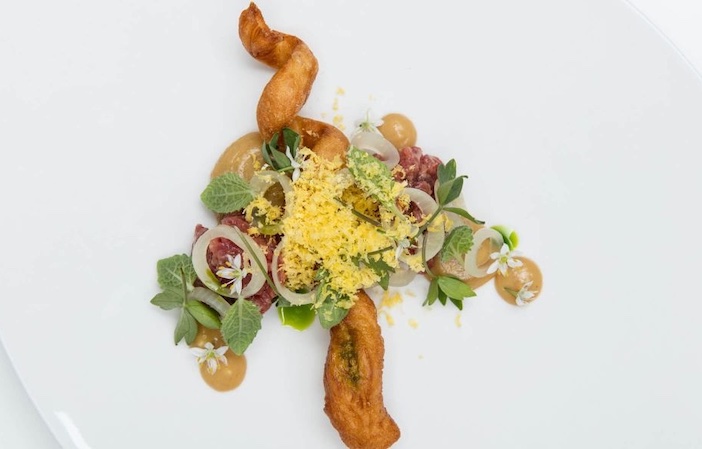 So far, the portion size has been spot on, there is no sense of impending corset loosening, and Potato Gruel, despite sounding like something Oliver Twist might not want any more of, is delicious. A foam of spuds, fish roe and crispy potato, it was once a poverty staple, serving as breakfast, lunch and dinner in times of need. It needs now only the superb Albarino served with it to make it perfect.
'This last dish won first prize as the school dinner that Finnish kids hated the most,' says our table guide from Finnjävel. Sounds promising. Kanavillloki is a 1970s dish of fricasseed chicken, rice and blackcurrants and is, of course, not hateful at all now that it's been Michelin-ed up. The arborio style rice is plump and sticky and picks up the sauce, which for me has the Proustian kick of the 1970s curry powder that my mother dabbled with a few, best-forgotten, times. The Finns at the table love it, their own memories clearly flooding back. It comes with a Rusterburg served from one of COMO The Halkin's enormous decanters that almost needs two people to get it to the table.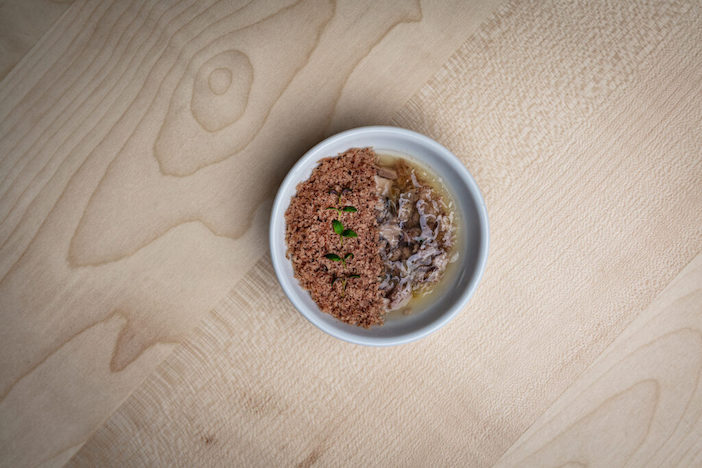 At the end of winter, the Finns, looking forward to warmer days, sing a hymn at graduation ceremonies, one which celebrates the coming summer, and so our final dish is called Summer Hymn. A cake with seasonal berries, it is my least favourite as I don't go much for desserts. It does look beautiful, though. A rich dessert wine, another Riesling, is a sticky treat and provokes celestial comparisons, if not an outbreak of hymn singing.
Fearing that I might actually break out into song myself, there's been a lot of wine, and there were also gin cocktails from the award-winning Helsinki Distilling Company, I head out into a nearly Nordic London night. The Finns, clearly, are doing fine dining very well.
The six-course Finnjavel tasting menu at COMO The Halkin runs until 1st April, priced at £130pp, with gin masterclass and Michelin-starred canapés a supplementary £45. Reservations can be made by contacting the hotel directly, via the hotel website, or through online reservation platform, The Fork. COMO The Halkin, 5 Halkin St, Belgravia, London SW1X 7DJ. For more information, visit www.comohotels.com. For more information about Finnjävel, visit www.finnjavel.fi.