What's the greatest city in the world for dining? Michelin would tell you that it's either Paris or Tokyo, at least judging by the number of three-star restaurants adorning both of them. Arguments can be made for a huge number of other places as well, including London ('most improved', certainly), Barcelona (wonderful indigenous cuisine and Ferran Adria hanging around like a benevolent fairy godmother, if benevolent fairy godmothers went in for molecular gastronomy) or even Copenhagen, where Rene Redzepi and Noma have been garlanded as 'the best in the world' over and over again.
Yet when it comes down to it, no other city has the range and breadth of options that New York can boast. From fine dining monoliths that are the equal of anywhere else on the planet to quirky and inexpensive cafes and street food trucks that serve up mouthwatering dishes that would have establishments costing several times the price weeping into their linen napkins in envy, it's a place that rewards repeated visits when it comes to its restaurants, many of which have been going for far longer than their European or Far Eastern competition. So, if you're going to be imagining a stroll across Manhattan, here are a few of the absolute best places that the city has to offer at the moment.
Best For Brunch: Public
A tough one, this, but Greenwich Village's long-standing favourite spot probably edges out the competition when it comes to ace brunches. Situated on a quiet street just off the hub of Spring Street, it's very much the du jour place for weekenders to pop into on a Saturday or Sunday morning for perfectly spiced Bloody Marys, or even the make-your-own Mimosas, which allow you to mix Prosecco with various exotic fruit juices. (It's an event that leads to success eventually, albeit in our case with some trial and error.) Main dishes are sizeable – very sizeable – but the eggs and sourdough toast with peppers, buttered mushrooms and chorizo is a thing of absolute beauty and should be hymned throughout the known world.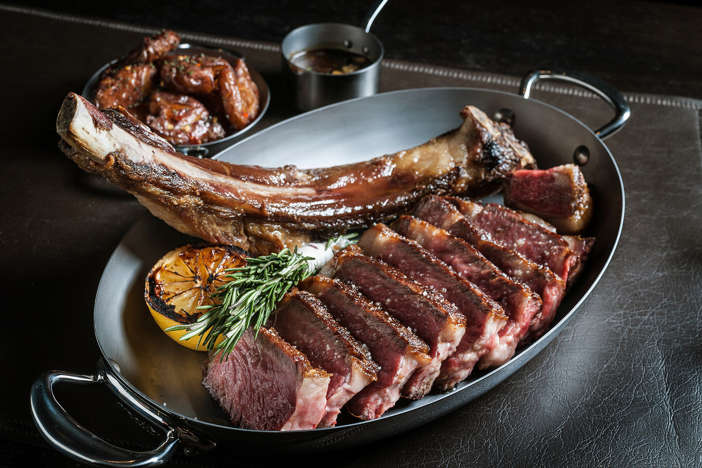 Best For Steak: Costata
Michael White is a legend in New York, thanks to his much-garlanded and two Michelin-starred fine dining establishment Alinea. However, if you're looking for an energetic and decidedly unpretentious Italian-American steakhouse, then you really couldn't do much better than his recent opening in Greenwich Village, Costata. The enormous portions of steak to share are the main attraction – a 40 oz porterhouse Fiorentina, at a far from inconsiderable $122 for two, will defeat all but the hungriest with its impressive size – but pasta dishes such as the ferratini with pork shoulder ragu are up to the highest quality as well. The staff offer friendliness and slickness in roughly equal measure.
Best For Chinese: Hakkasan
If you've ever visited the London version of this Michelin-starred Chinese standby, then you'll have an idea of what to expect from this recently opened delight, but, in a city that's surprisingly weak on top-notch Oriental food, its slick and sinuous design is all the more welcome, especially if you've struggled to its Midtown location via the ever-exhausting Times Square. It's very easy to order with enthusiasm rather than with careful judgement, but the dim sum remains as moreish as ever, and frankly if you haven't had main courses of rib-eye braised in Merlot and champagne-soaked sea bass, then you have been missing out for far too long.
Best For Casual: Bar Boulud
Unlike the London outpost of Daniel Boulud's casual meat and charcuterie-oriented restaurant, which lurks in the bowels of the Mandarin Oriental, the NYC Bar Boulud, situated a short walk from the Lincoln Center, really is designed as an accessible and fun bar, where the idea is to nibble on a range of delights. As before, over-enthusiasm can lead to a problem with a surfeit of food, but the far from fierce prices enable diners to share their excitement with their compatriots, although if anyone tried to part me from my Frenchie burger, a decadent little concoction that features pork belly confit, red wine braised short rib and other delights, I'd have to have extremely severe words with them instead. And the drinks list is comprehensive – the Sierra Nevada Kellerweiss, in particular, is far too moreish, and perhaps it's just as well that obtaining it in Britain is a bind.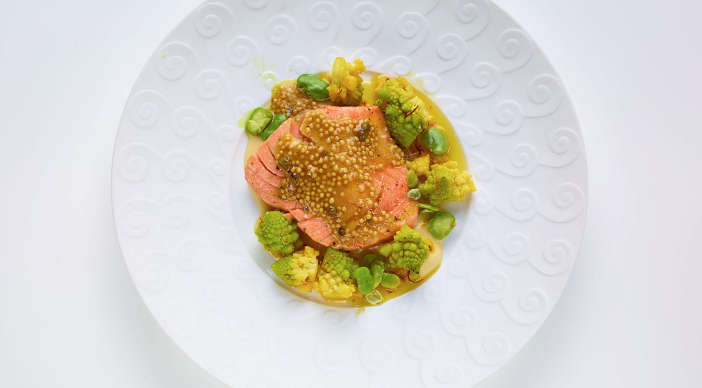 Best For Fine Dining: Bouley
On my most recent visit, I tried to move away from the usual 'fine dining' establishments in favour of something that skewed somewhat livelier and younger. There are few experiences more stultifying than sitting in some prissy dining room being lectured by a fossilised-looking European about the precise origin of some uncertain piece of protein, or bored to tears by a sommelier who clearly loves his wines a good deal more than people. Set against this, however, are some of New York's finest establishments, run with flair and passion by people who really understand how to cook. One of these men is chef extraordinaire David Bouley.
The lunch tasting menu at his eponymous, Michelin-starred establishment is the biggest bargain in New York, at a startlingly cheap $55 for five courses, most of which can be found on the far pricier a la carte. The quality of these dishes is beyond compare, whether it's a 'blini' of Scottish smoked salmon that is made out of a kind of savoury meringue, a porcini flan of crab and truffle, or a sensational Kobe beef cheek dish with blue kale gnocchi. There's wit and invention here by the bucketload, all in a relaxing and stately dining room that summons up the very best of Parisian class, although without the snobbery and condescension that implies. This egalitarian impulse even extends to the sommelier, who isn't afraid to match a selection of sumptuous Old World wines with each course in surprisingly generous helpings, meaning that, while you might stagger out feeling slightly dazed by your repast, you'll look back on your experience with considerable fondness and happiness in days to come.
There are, of course, many other establishments in the city well worth a punt at all budgets, but if you're looking to hit the town for a gastronomic long weekend, these five should ensure that as you sigh and undo another belt buckle notch as you head home from JFK you think that the experience was very much worth it.