Once famous for the sentimental song 'A Nightingale Sang in Berkeley Square' – and for rumours that a building formerly occupied by the antiquarian booksellers Maggs Bros is one of the most haunted places in London – Berkeley Square has reinvented itself over the past few years as one of the premier locations for high-end, plutocratic restaurants.
You've got the absurdly named Sexy Fish, the excellent Benares and, just a stone's throw away, Hakkasan, Nobu and the exclusive members' club Annabel's. ('Black tie may only be taken off on the dancefloor.') So anywhere joining the elite ranks is facing quite the challenge; how can you make yourself stand out in such competition?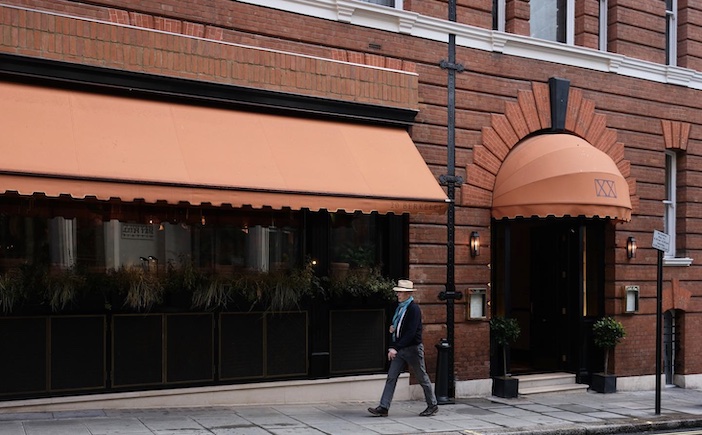 Enter the enigmatically named 20 Berkeley, lurking around the corner on Berkeley Street. It's part of the same group as the excellent Sumi and Humo, the so-called Creative Restaurant Group, and the focus here is on that much-maligned but usually worthwhile breed of cuisine, 'modern British'. It helps that when you walk into the restaurant, it's lacking in the bling and glitz of some of its neighbours, instead having an atmosphere far closer to a discerning members' club, where discretion is all-important and the warmth of the welcome reflects a genuine friendliness.
The charismatic manager, Martin, dressed in a style somewhat akin to a Sixties Bond-era Sean Connery, ensures that everyone is greeted with aplomb, and the little touches of theatre begin from the outset; when you're served excellent cocktails – try the fig and butter, their take on an Old Fashioned – and the bread basket with Marmite butter ('normal kind available on request'), what appears to be a pair of mints is brought in a bowl. Some water is added, and then two hand towels stand to attention. This is impressive.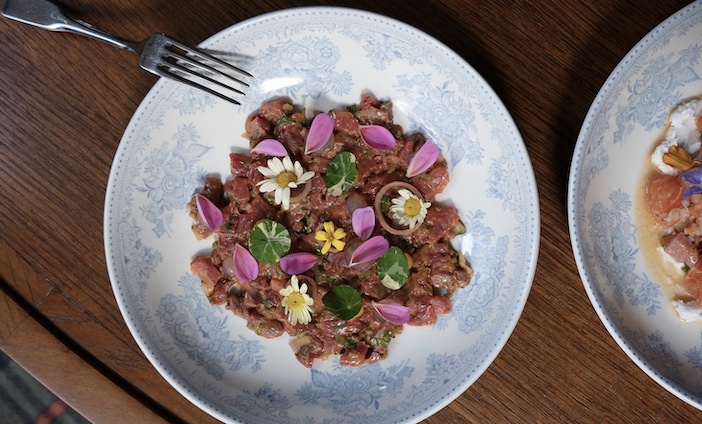 The menu is short, seasonal and well-chosen. If you begin with the wild mushroom salad, it comes with egg yolk and artichoke chips, or indeed the pumpkin fritto, then a glass of the exemplary Radford Dale Chenin Blanc is the pairing of dreams. The mains tend towards the carnivorous, and the sirloin steak has the reassuring flavour of a well-hung piece of meat, as does the venison. Accompanied by some finely gamely venison, the warmth and richness of the flavours belies any idea that you're in a chi-chi Mayfair spot.
Instead, you could be out yomping in some fine English field, all set to come back and sup on the most delicious of fresh and seasonal produce. 'Patatas bravas' – in reality, deliciously seasoned and very thick quasi-chips – and autumnal greens, accompanied by a glass of Bordeaux, make all this very pleasing indeed. My dear chum Boothby and I talk excitedly about how good it is, occasionally raising our voices in a hum of approbation. Oh, it's good.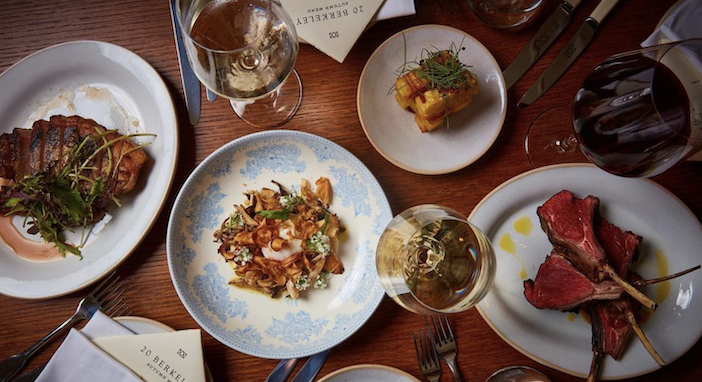 We have to have pudding, because Boothby is making noises about needing Pedro Ximenez in the same way that a diabetic needs insulin. I don't need to remind him that that's the path to all ruin, and he chooses a chocolate fondant to soak up this particular indulgence. I, meanwhile, opt for the best tarte tatin I can remember having in living memory – all this courtesy of the outrageously talented chef Ben Orpwood, who should by now be clearing his shelf in anticipation of the many accolades that this fine restaurant is going to receive. It's really, really excellent. Did I mention that already?
 We walk out into a wet Thursday evening, chattering excitedly about the sumptuousness of the repast we've enjoyed. This is already establishing itself as one of London's most purely enjoyable restaurants. Make plans to head there, and soon. You will not be disappointed.
20 Berkeley, 20 Berkeley St, London W1J 8EE. For more information, including details of the bar 'Nipperkin', and for reservations, please visit www.20berkeley.com.
Photos by @millykr