As a self-confessed biscuit queen, The Langham Hotel's new afternoon tea designed by Executive Pastry Chef Andrew Gravett and inspired by favourite British biscuits and sweet treats, had me at pink wafer. Served in the hotel's impressive Palm Court and overseen by the legendary Michel Roux Jr, the Langham has been serving afternoon tea since it opened in 1865 and upholds its reputation for a lavish experience which begins with months of menu planning and trialling by the world class pastry team and concludes with the most indulgent meal to be found anywhere matched by impeccable service.
An oasis just off Regent Street and opposite the British Broadcasting Corporation, the large boudoir-styled Palm Court, with mirrors and a tremendously high ceiling is one of the best afternoon tea venues in London for families due to the atmosphere being upbeat rather than hushed, plus there's a children's afternoon tea menu to allow everyone to share in the fun. The two little girls we saw, dressed in Cinderella-style blue satin frocks, were in their element whilst happily receiving etiquette lessons on how to eat finger sandwiches from their mother and grandmother.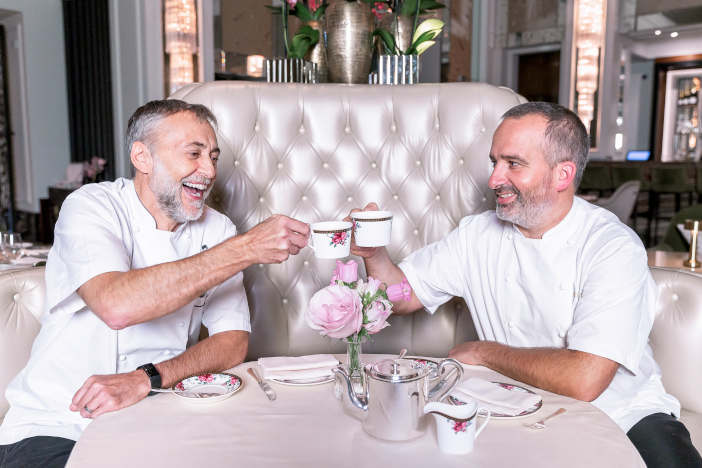 Continuing the quest to serve the perfectly balanced afternoon tea, Gravett has made some ingenious changes in order to create a feeling of lightness – reducing the amount of sugar and fat you would ordinarily expect, yet with no sacrifice to flavour, and serving the patisserie, usually the grand finale, before presenting the warm scones. I'm not sure how I feel about the London restaurant trend for stating kcals beneath each item – surely this is not the activity for those keen on calorie counting! The full afternoon tea comes in at 1,564 kcals which is something I would have preferred not to know.
An informative tea sommelier is on hand to offer advice to guests keen to explore the extensive JING tea menu – I opted for the whole leaf Ceylon blend Chai from Sri Laknka and in addition was delighted to find that my favourite alcohol free Copenhagen Sparkling Tea (£10pp) with its fragrant notes of Jasmine is served here as an alternative to the Gusbourne English sparkling wine (£15pp) or Tattinger Brut Reserve (an additional £21pp) allowing those of us who don't drink to enjoy high quality bubbles and raise a glass with our dining companions.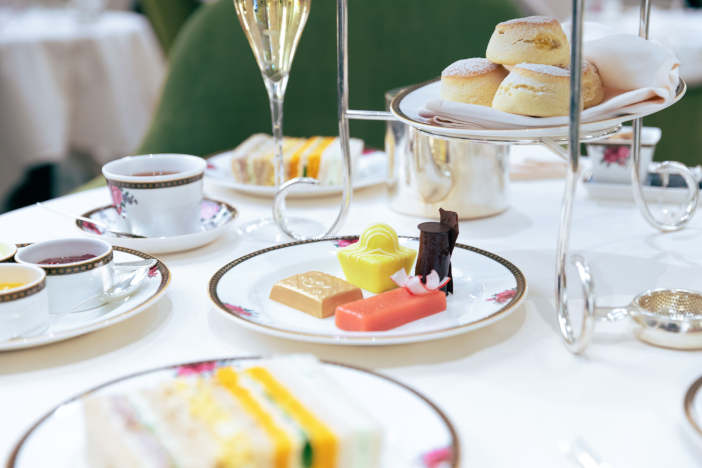 The attention to detail you expect from afternoon tea at The Langham is immediately apparent from the savoury openers that celebrate classic British food and superb ingredients. The miniature 'Ploughman's' cheese scone with Isle of Mull cheddar and tamarind chutney was a lovely addition shortly followed by a selection of immaculate finger sandwiches; Roast beef with caramelised onions and Stilton on carraway bread, Classic cucumber, cream cheese and chive on white bread, Cornish Burford Brown eggs, celery salt, malted granary bread, Hot smoked Scottish salmon, sour cream on tomato bread.
Almost too pretty to eat, the whimsical nod to the British love of biscuits and teatime treats is fun and frivolous but above all divinely delicious – just don't be expecting anything actually tasting like a biscuit or something you can dunk! Commencing with a reimagining of the custard cream entitled 'Crème de la Crème' featuring a Dulcey 35% blonde chocolate shell, Madagascan vanilla cream, caramel cake and éclat, followed by the tribute to the childhood favourite, Pink Wafer with a Barbara Cartland-esque disguise revealing Ivoire and poppy crunch, coquelicot cremeux and rhubarb. The yellow Fancy a Fondant? is a creative take on the beloved French Fancy with a camomile cream, baba and Bramley apple compote to balance the sweetness, while the brilliant Mini Roll tribute is like nothing I was ever lucky enough to find in my lunchbox on Fridays –  a Valrhona Caraïbe 66% sponge and unctuous chocolate nama – rich and yet somehow light, with a mirrored finish on the tempered chocolate case I could have used to reapply my lipstick! But make sure you save some chocolate cravings for the Tiffinesque, served as the centrepiece to share – a chocolate sponge topped with caramelised white chocolate cream, marshmallow cubes, and hazelnuts. If it isn't your birthday, it will definitely feel like it after diving into this!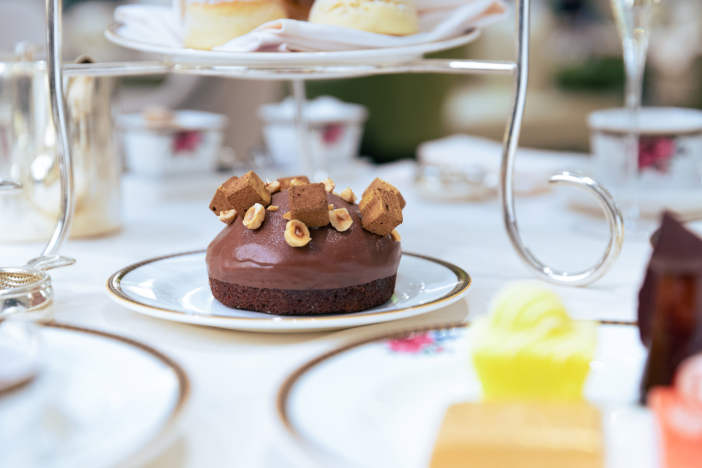 It was wise to suggest presenting us with scones after such a bumper of goodies! That said, you certainly want to be ready for some of the best scones I've tasted – probably since the last time I enjoyed afternoon tea at The Langham. Warm and ultra buttery, fairly danity classic and raisin scones from the Palm Court bakery are served with a generous portion of clotted cream, strawberry and apricot preserves ready to dollop liberally. This final sweet offering calls for a fresh pot of tea and a reclined posture as you listen to the dreamy melodies played by the pianist whilst deciding whether to go Devon or Cornwall when it comes to putting the clotted cream top or bottom, a preference that will doubtless continue to be debated by the British until time immemorial. These scones taste just as divine either way, and are the one feature of the Langham afternoon tea menu that fortunately never changes, just like my love of this joyful pastime, reinforced by this exquisite example of it.
Afternoon Tea at The Langham, 1C Portland Place, London W1b 1JA, is served from Thursday – Sunday: 12:30 – 17:00. For more information and reservations please visit the website.