The Arbuturian team have long been fans of the sophisticated Stafford Hotel in St James's, from dining at their acclaimed Game Bird restaurant to drinks at the iconic American Bar where the adjoining secluded courtyard is a popular cigar spot, so when they announced a brand new afternoon tea created by Head Pastry Chef Magdalena Valczenbach and Chef Lisa Goodwin-Allen who, as well as being Executive Chef at Michelin starred The Northcote in Lancashire, oversees the menu direction at The Stafford, I didn't waste any time in making a reservation.
Complete with cakes served table-side from their bespoke, hand-crafted trolley in homage to the wonderful old teatime tradition, the fact that my visit coincided with Afternoon Tea Week made the experience extra special. Served in the hotel's floral, yet delightfully clubby Game Bird restaurant with its relaxed lounge area boasting comfortable seats by the fireside, banquette dining seating and a bar area, the interiors reflect the quality of the food.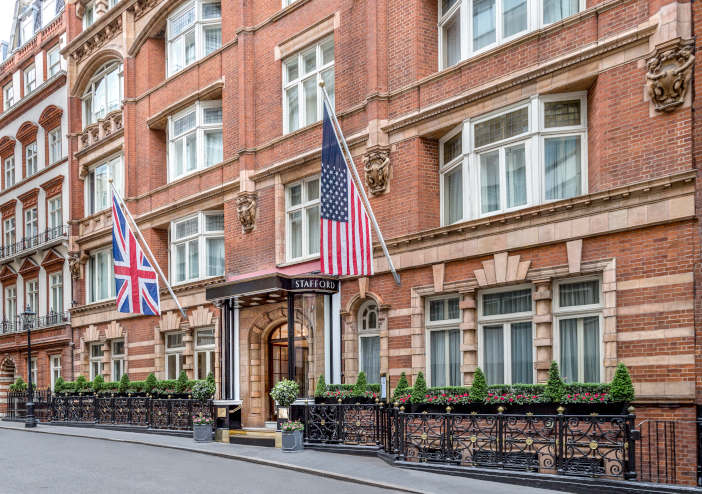 The hotel, as if tucked away to enhance its exclusivity, rubs shoulders with the shopping haunts of aristocracy and royalty (J.J. Fox, Berry Bros & Rudd, John Lobb and Lock & Co) but despite its central location The Stafford, established in 1912, is a far less touristy afternoon tea option than many other five star hotel venues, making the discreet St James's ambiance more about relaxation and indulgence and less about social media opportunities for the image-obsessed under twenties.
Afternoon tea has become big business for hotels over latter years but The Game Bird's reassuringly calm and authentic English afternoon tea experience is one which my chap, who detests the trend of pink flower-decked feminine venues, will always favour. As would, so I imagine, the likes of U and non-U expert Nancy Mitford, daily teatime partaker Winston Churchill or Anglophile novelist Henry James who remarked, "Under certain circumstances there are few hours in life more agreeable than the hour dedicated to the ceremony known as afternoon tea."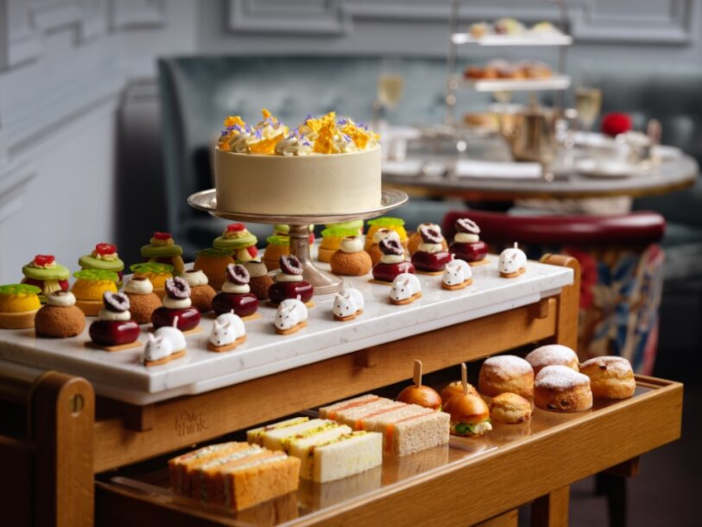 The understated elegance and feeling of exclusivity captures St James's to a T, if you'll excuse the pun, with The Stafford's new afternoon tea celebrating this historic area of London in their menu, with Westcombe Cheddar from the hotel's near neighbour Paxton and Whitfield and finger sandwiches boasting premium, by royal appointment ingredients such as H. Forman & Son smoked salmon. The Coronation Chicken sandwich was my particular favourite and gives a nod, not only to the recent coronation of King Charles III but the centuries-long history of the hotel's most prestigious neighbour, St James's Palace.
A selection of Louis Roederer champagne and English sparkling wine are also served from a trolley to add that celebratory touch to afternoon tea proceedings, while ours was accompanied with a delicious passion fruit mocktail prepared by the American Bar, and while we made our tea choice from the premium loose leaf offering from Camellia's Tea House. My favourite Chai variety featured abundant complexities which paired well with both the savoury and sweet courses and I was delighted to see that there was a good balance of both – the generously filled egg mayonnaise and truffle brioche roll and the cheddar scones with accompanying soft cheese and chive standing me in good stead for the sweetness to follow.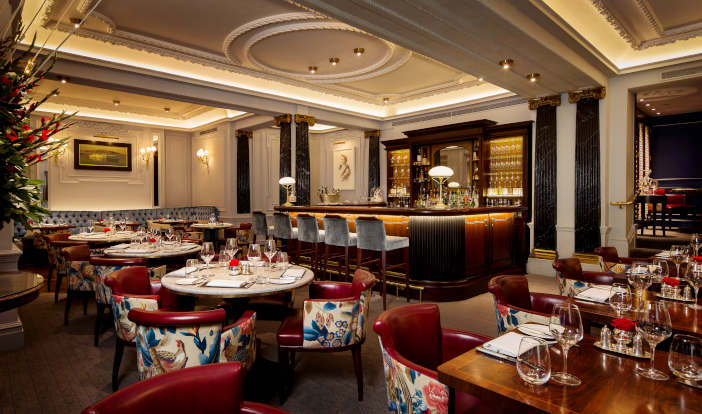 Guests are invited to choose five cakes from the tempting trolley selection of six, meaning that I had to decide which one to forgo – a heartbreaking choice which perhaps underlines my Marie Antoinette-like greed when it comes to cake! The Stafford's seasonal patisserie are no less than a work of art with a coffee choux bun oozing crème patisserie on the first bite, a raspberry, apple and elderflower macaron sandwiched with fresh cream and raspberries, a zingy lemon and basil tart and a cherry and coconut mousse reminding me of blossom season.
But while the adorable-looking vanilla mousse and raspberry compote-filled white mouse indisputably stole the show on the visual stakes, the stand-out in taste was the more traditional Earl Grey and honey layer cake, a delight I'm glad to know I can return for especially due to all options on the cake trolley being available as single items when guests don't have a couple of hours to luxuriate in the pastime of a full English afternoon tea, and frankly even half an hour in the oasis of The Game Bird is enough to restore the keenest Burlington Arcade, Fortnums and St Jame's shopper and if you choose it for your next blow-out afternoon tea celebration you'll prove yourself to have very good taste indeed.
Afternoon tea is served daily in The Game Bird restaurant at The Stafford London, 16-18 St James's Place, London SW1A 1NJ from 12pm to 5.30pm, priced at £70pp or £87pp with a glass of Louis Roederer Collection 243 Champagne. For more information and reservations please visit the website.