I get a message from Larry in some excitement. 'We've been invited to the hottest restaurant of the year, old chum. Alex Webb at the Intercontinental. He won Masterchef: The Professionals in 2020, and his pop-up restaurant has become a permanent fixture. Expect greatness in every conceivable facet.' Well, this was something that I was rather pleased about, not least because I'd been planning a night's stay at the Intercontinental for some time. I message Larry back. 'Two birds, one stone, old chap. See you at the restaurant anon.' He seems mystified by this; Larry is a man who likes things to be proper, decent and above board, not suffused with riddles. I can't say I blame him.
Nonetheless, when I do show up at the Intercontinental, it's with some excitement. The hotel has a reputation for standing alongside its Park Lane stablemates – the Dorchesters, Lanesboroughs, Grosvenor Houses et al  – with a mixture of extraordinary comfort and a fantastic location, snugly tucked between Hyde Park Corner, Piccadilly and Park Lane, with Mayfair but a hop and a skip away.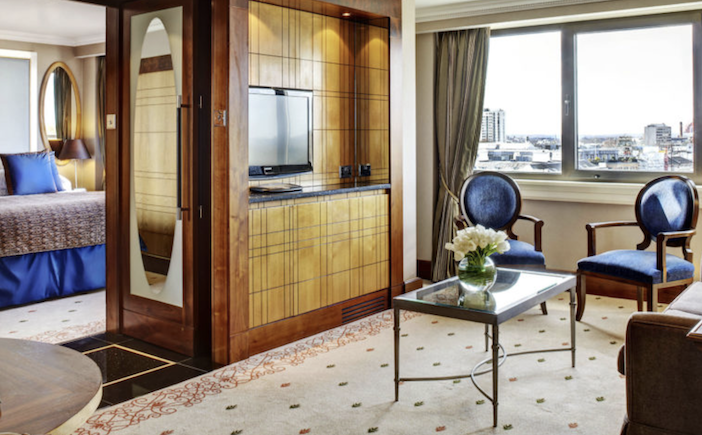 And so it proves. My fourth floor room offers spectacular views over Park Lane, an extraordinarily large and comfortable bed, a well-appointed bathroom and stylishly modern décor that has a few unusual touches that elevates this well beyond the usual five-star international luxury; the selection of books is especially carefully chosen, making this a pleasure to lounge around in, drinking a glass of the complimentary Merlot that's been so thoughtfully provided along with the perfect macaroons.
But I don't have all the time in the world, because Larry waits for no man, and as I head downstairs into the Alex Webb restaurant, he's walking in ahead of me, anxious to begin what promises to be the most sumptuous four-course repast that the pair of us have enjoyed in many a moon. We start off with a glass of English sparkling – Hampshire's Hattingley Valley, and very fine it is too – and peruse the menu, even as we nibble on very fine canapés of gougere cheese and sourdough bread.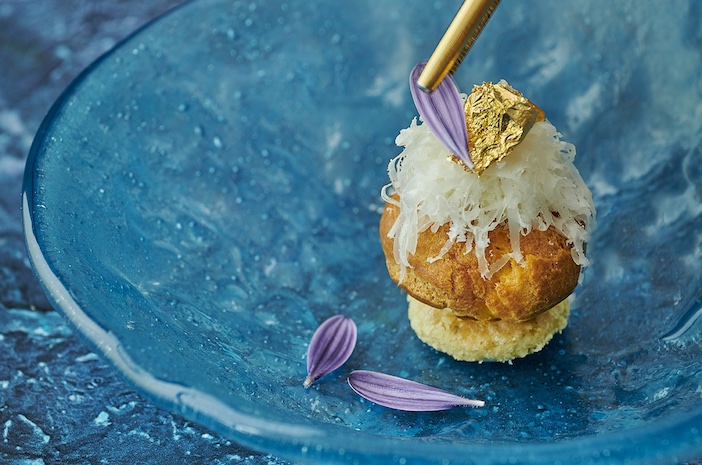 I have the strong impression that Larry is about to start saying 'What larks', but I restrain myself from quasi-Dickensian banter, even as we are hugely impressed and excited by Webb's dishes. It's a menu that doesn't just look good, but it reads well; this is going to be fun, I think.
The excellent, highly knowledgeable staff are perfect at guiding us towards the most interesting things. A first course of dill and cranberry-cured salmon not only nods towards Christmas, but allows Webb to demonstrate the flawless technical skills with which he won Masterchef. (We find out later that the kitchen brigade is two chefs down, meaning that he's had to do a vast amount more himself than usual: we are truly blessed, despite the inconvenience.) We try it with a glass of superb Pinot Blanc, and a small taste of cider, too; Webb is big on his cider matching, and the Sandford Orchards Katja Rosé is a very fine pairing. Larry and I feel giddy and excited. 'If it stays at this level, old bean, this'll be one of the best meals we've had this year.'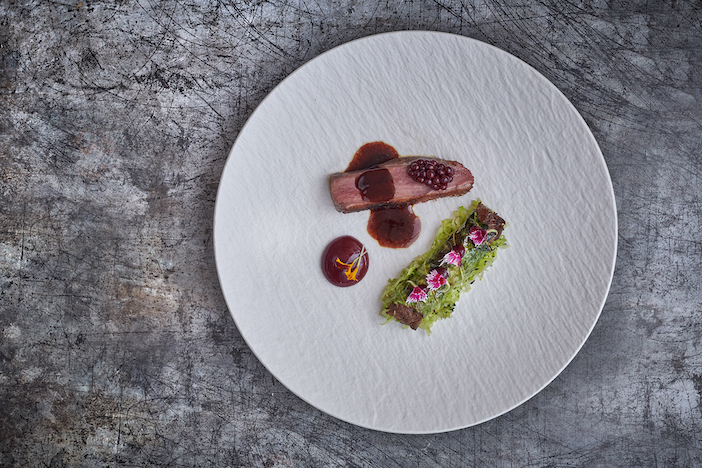 It does, and it is. Highlights from here on in include a starter proper of glazed pig's cheek and potato, a wild mushroom risotto scotch egg which Larry looks at in fascination and delight, about the best duck I can remember having, thanks to a maple and cumin glaze which gives it an unusual texture and depth of flavour, and Larry's magnificent turbot, which comes with a supplement of £15 – four courses are a far from steep £75 – is about as good as fish gets. The wines are sublime, too; a particular joy is the Domaine des Roches Neuves Saumur-Champigny 2021 from the Loire, but it's all exceptional. A finale of Christmas pudding and eggnog ice cream, washed down with a salted caramel espresso martini, made with Kraken rum, makes for quite the thrilling experience.
Larry and I are so skittish after food of this nature – not least because the charming Webb comes out for a quick chat, something he usually does for everyone, but the nature of the busy day means that his time is more limited than he would like. Nonetheless, Larry takes the opportunity to grab a selfie with the great man – 'for my mother' – and I snigger, knowing that it's for his ever-growing collection of pictures of himself standing alongside well-known chefs. Long may it continue.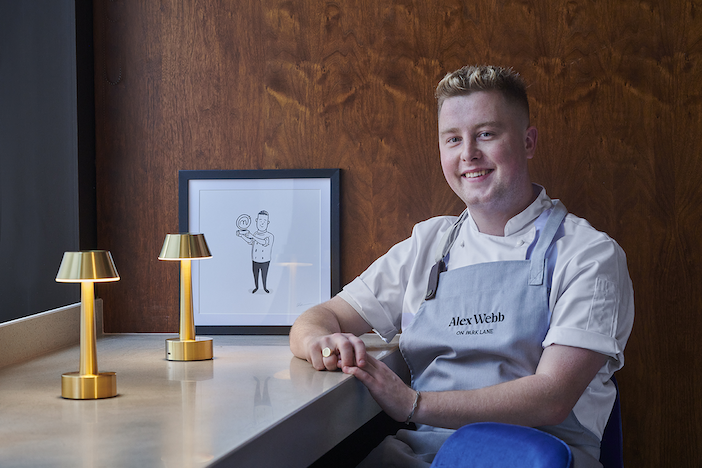 The next morning, I get a chance to visit the hotel's other restaurant for breakfast, the Theo Randall establishment, although during the day, its offering is considerably less thrilling than the Italian delights that it specialises in come lunchtime and the evening. But no matter. Randall has had an excellent run at the Intercontinental, but there is a new game in town, and his name is Alex Webb. I haven't had many better meals this year, nor do I expect to have many better ones in 2023. And that is tribute to what a fine operation is being run here, and in the rest of the hotel. Long may it continue.
Alex Webb on Park Lane, One Hamilton Place, Park Lane, London W1J 7QY. For more information, including opening times, details of the tasting menu, and for bookings, please visit www.parklane.intercontinental.com.