There have often been what we might call 'food moments' in London. Cacio e pepe pasta; Sri Lankan 'hoppers'; the dirty burger, itself a rather horrible way of describing a combination of bread, meat and grease; and many more besides. Yet paella, one of the most reliably excellent dishes that can be had anywhere, has never really had such treatment. Which is why the Michelin-starred chef Quique Dacosta's Fitzrovia restaurant, which is nominally Spanish in its dishes, really boasts a particular specialty in its vast, delicious plates of paella, which are the true raison d'etre of a visit here. But there is plenty more to enjoy, as well.
To back up for a moment. Returning to a restaurant in central London presently is a strange experience. One sits and talks and eats and drinks much as one always did pre-pandemic, but one has to wear a face mask every time one rises from one's chair, and the poor staff are stuck in such things throughout the day. Yet it is to the credit of excellent establishments such as Arros QD that they manage to make the dining experience as enjoyable, intimate and relaxing as it always has been, and make a visit here a pleasure. It is an ornate, lavish sort of place, complete with vast open kitchen in its centre, but there is also a friendly and relaxing intimacy that makes it a clubbable sort of spot.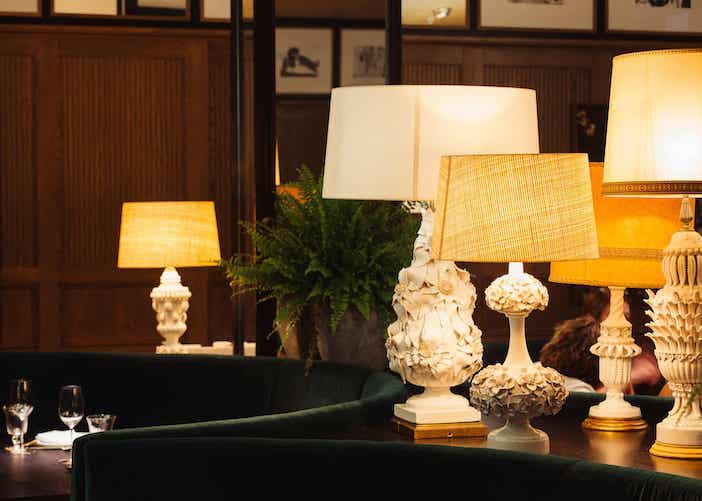 One begins, naturally, with a cocktail. I am drinking and my lunch companion is not, so I go for a delicate and flavourful 'Lavanda', a kind of gin sour that has a touch of the lavender to it, while she is delighted with the Greek coco, a kind of non-alcoholic punch. And then it is time to venture into the small dishes from the 'soil', 'sea' and 'land' sections.
Our friendly waitress advises one from each, and so the crispy soft-shell crab – which comes in a bold and striking red colour – is an especial highlight, although we are also impressed by the miso glazed aubergine and a wonderfully moreish plate of lamb chops with kimchi and wasabi cream. It's all excellent, but we know why we are here. All of this is just marking time.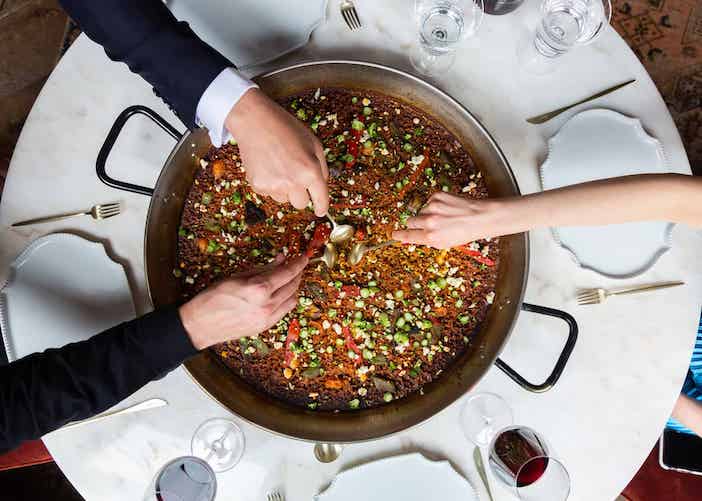 So then it comes. We have hedged our bets. Not only are we having the Arros QD signature rice with the paella, featuring Dacosta's only specially created stock, but we have plumped for Berkshire pork belly, and a black garlic allioli as a side. It is sublime. 'Make sure that you try the socarrat', we are advised. We are glad that we did, because the slightly blackened rice that is stuck to the bottom of the pan has a depth and richness of flavour that is quite remarkable, especially coupled with the perfectly presented pork, and, of course, the black garlic allioli. We ask for a wine recommendation. The manager beams happily, and brings over a bottle of exceptionally fine, crisp Albarino. It is an excellent match. All of the stress and difficulty and beastliness of the past few months evaporates after a glass or two. It makes for a lovely lunch.
There has to be pudding, of course, and we very much enjoy sharing the rice pudding and the more adventurous 'carbon chocolate slates', which remind me of nothing so much as very posh Oreos. My friend has accidentally ordered a Negroni, so it would be rude, etc. But the whole point of the meal has been and gone already, and we are replete. We take our farewells with great gusto and glee, because it has been a wonderful lunch. More of the same, please, and soon.
Arros QD, 64 Eastcastle Street, London W1W 8NQ. For more information, including menus and bookings, please visit www.arrosqd.com.