Behind isn't the kind of restaurant where you do anything as boring as sit down at a table for two, agonise over the menu, and then get severe dish envy when you inevitably see that your companion chose something better. This is dining done very differently – for a start, there's no menu.
And you don't even sit at a table, rather a wooden serpentine bench that winds its way sinuously around the modernist (as in no ceiling, naked ducts and whatnot) room and with everyone sitting on the same side, facing the open kitchen. Oh, and everyone eats that same menu, at the same time.
This might all sound a bit daunting, a bit of the old cheffy arrogance from the days of El Bulli and co, but it really isn't. For starters (ahem) Andy Beynon, formerly Jason Atherton's development chef, is the friendliest chef you could find, cheerfully welcoming people as they come in and wandering over to introduce the day's menu as you sit down.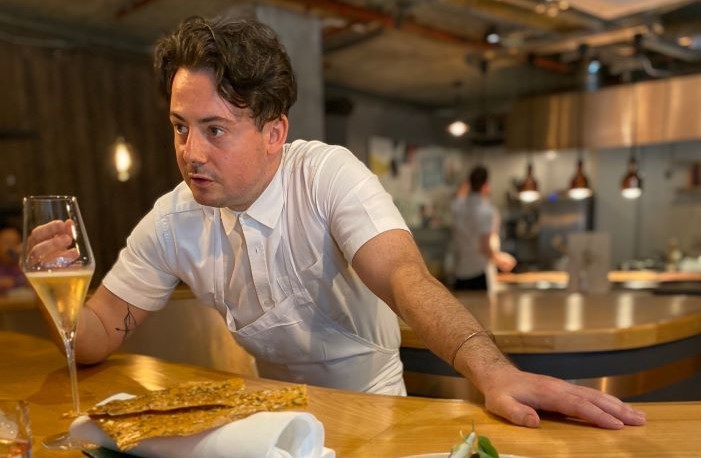 What you can safely expect, food wise, is for the majority, if not all, of the dishes to be fish-focused, according to what's fresh. Depending on what day you eat you'll either get an 8-course tasting menu, served Saturday lunch, and Wednesday to Saturday at dinner, or a 6-course lunch menu – served Thursday and Friday. Naturally you're asked about any intolerances or allergies, and these will be taken into account.
The reason for the name 'Behind', is that you're seeing 'behind the scenes', because Andy and the chefs serve their food directly to you. There is nothing between the kitchen and tables, it's a direct experience,  so you will need to enjoy looking at tattoos, plating up and a fair bit of interaction. We drink cocktails, we exchange cheerful nods with other diners. Seated like this, up to eighteen at a time, it's like waiting for a play to start. And it is theatre, of sorts. All eyes are facing front and there's a low hum of anticipatory background conversation.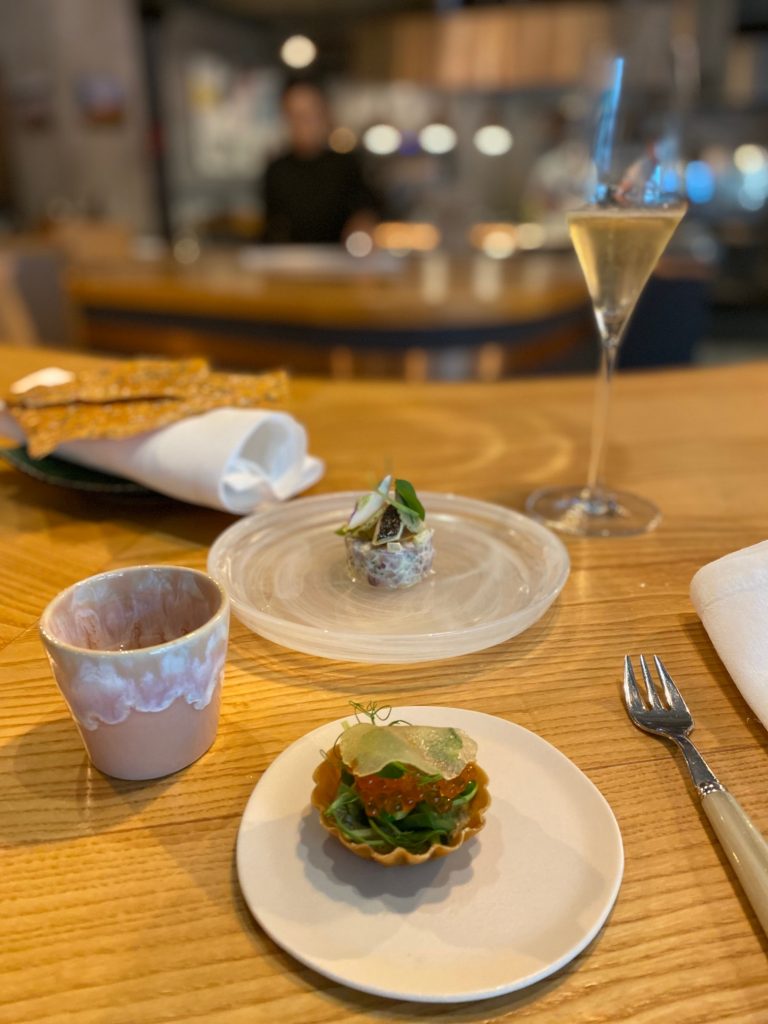 Curtain up, and out come the chefs with the first course. Details are explained without the knuckle pointing beloved of fine dining waiters, which always annoys me. Simple explanations that don't allow the food to go cold. The sommelier pours the matched organic wine, also with few words. Who needs to know which side of the vineyard the grapes were grown?  The story is in the glass.
I don't really want to list all the courses – that would spoil your surprise, and take me past my word limit – but, needless to say,  they keep coming, and we keep gasping at the innovation and precision that never topples over into pretension.
Prawn consommé, smoked pike, trout roe and nori tart is elevated fish. The consommé, served in a cup, is a distillation of shellfish essence and briny goodness. Salt is ever present in every dish at Beyond, but always derived from the ingredients – including the sea – not from Saxa.
Mackerel, one of the UK's most prolific and sustainable fish, doesn't usually float my day boat, it's too strong, too 'fishy', but here served almost as sashimi it reveals all its subtleties with white strawberry and a spiced lavosh (an Armenian flatbread) to add contrast and crunch.
Fried squid, so unfairly battered by the memory of squid rings on the Costas, comes served with a nori wrapped cylinder of chalk stream trout and has an oyster sat jauntily on top plus an oyster leaf as a feather in its cap. The squid is perfect, this is what fried squid should taste like.
There is a dish with hake, my favourite fish, partnered with cockles and a sherry sauce, there is a muffin that comes topped with mussels and has to be consumed in one bite (a bit of a physical challenge that one), and a dish of skate wing that again makes what was, and often still is, regarded as a chip shop fish, take flight along with sweet rendered down onions and a bun that is pumped plump with tapenade.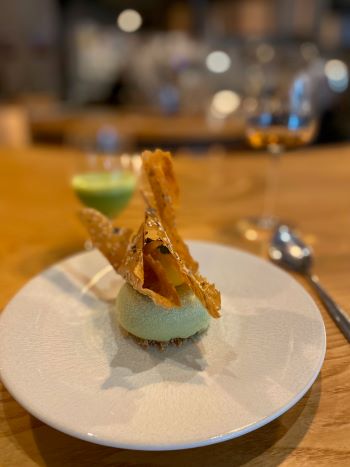 This is all just perfect, each dish sized well above canapé level but not overly large, there is enough on the plate(s) to take thoughtful time over, but not so much as to bring on the curse of tasting menus – Mr Creosote syndrome. And with the menu being fish focussed, there is no cliché finale of lamb done three ways, because by then you don't even want lamb done one way.
This means dessert does not prompt a weary groan of defeat. In fact, the sight of a luminous cardamom green 'milkshake' only makes us sit up straight in anticipation. It comes with a sour apple and spiced rhubarb tart, and a creation of coriander and white chocolate that manages to be ridiculously decadent while at the same time restrained and considered.
Behind was awarded a Michelin star within twenty days of opening, I didn't mention that earlier that in case it put you off, but it did and it shouldn't. This is highly creative, but equally very approachable cooking that is performance art brought to you by modest people.
Go while you can still get in. Fast forward to Behind.
BEHIND, 20 Sidworth Street, Hackney, London, E8 3SD. Their 8-course fish-focussed tasting menu is priced at £98 per person, with dishes changing seasonally to reflect the freshest, most sustainable, produce. Each course is served directly to you by the chefs. For more information and bookings, please visit www.behindrestaurant.co.uk.