Tucked neatly away at the far end of a mews off Berkeley Square lies Bellamy's Restaurant. I suspect there's a strong argument to state that Bellamy's might be the most civilised dining room in London. To get to the restaurant you must enter by the side door and go through the adjoining 'shop', a mosaic-floored deli serving slabs of foie gras, rouille and little pots of caviar. Just before you reach the doorway into the restaurant, you might notice a photograph of an old lady on the wall. She's making the same journey as you are – that'll be The Queen. Bellamy's is that kind of place.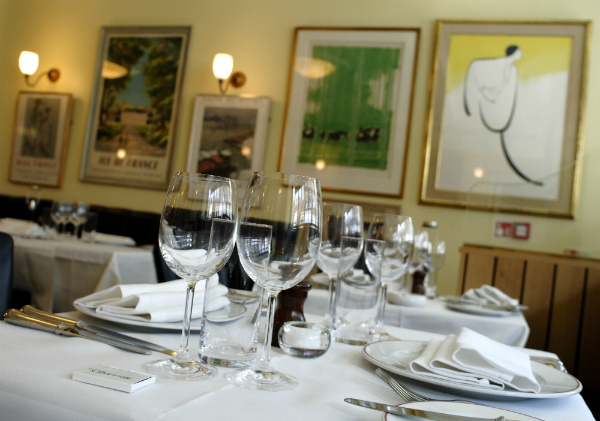 Once through to the restaurant you'll be met by a rosy-cheeked, Savile Row-suited Gavin Rankin, a patron of rare humour and charm. He glides around the room meeting and greeting the hordes of regulars and eager newcomers, taking coats, sharing jokes and generally making sure all runs as smooth as a freshly shaven leg. Rankin would, I imagine, say he trained with the best. For many years, he worked with the late Mark Birley as general manager of Annabel's and Birley's other London restaurants. Reports of old state that Birley was a man of incomparable taste and decorum, as well as being a real stickler for detail – it seems some of these qualities have influenced Mr. Rankin.
Bellamy's is, you might say, an English gentleman's interpretation of the perfect Parisian brasserie. The butter-coloured walls are well-lit and covered in old French posters from the early half of the 20th century. Film, stage and TV greats share space with old Martini adverts and railway posters. Many a restaurant opening in London today goes for this gilded vintage look, but here there's a sense that everything has been chosen extremely carefully, that each poster or image means something and tells a particular story. The restaurant feels lived-in and well-loved and that creates an extremely warm, conducive atmosphere. Bellamy's is smart and assured, but understated, never showy.
Once seated, we survey the characters that surround us and observe a fine selection of Mayfair regulars. There are financiers and art dealers, of course. Not braying bankers though, it's rather more low-key in these environs. A fund manager here, an American sculpture collector there; the tone is hushed and meaningful and extremely grown-up.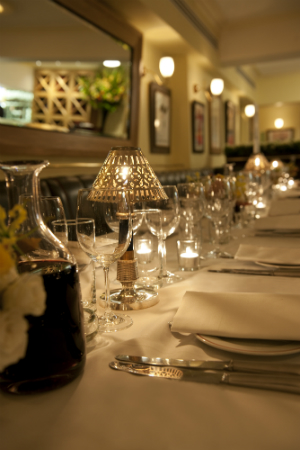 The menu is purposefully conservative and timeless in its appeal. I suspect it changes subtly to reflect the seasons (most of the products come across the channel from Paris' great markets), but I imagine the tone hasn't changed since opening. There is little that intrigues, little that you won't have tasted before, but there's a fair chance that Bellamy's representation of whatever well-loved dish you choose is flawless in its execution. Rankin spends significant portions of time in Paris and provincial France, so he knows just how a terrine or a daube should taste. The wine list is, with one or two sweet exceptions, exclusively French and has clearly been chosen by a drinker, and a tasteful one at that. Like the food, conservatism sets the tone, with most of the vinous offering hailing from Bordeaux, Burgundy and the Rhone, but as a resolutely Francophile wine drinker, I see this as no bad thing. We begin with a nervy 2010 Chablis which manages admirable complexity and length and then move forth towards the pleasures that reside within the hot, dusty hills of the Languedoc.
There are a lot of things to enjoy on the menu at Bellamy's; choices are rather hard to call. Starters cover everything from the pseudo nursery food in 'Bellamy's Fishfinger' to 50g of Oscietra caviar with pleasures various in between. I yearn for classicism and go for a simple salad of Dorset crab. The quality of the product is abundantly clear immediately. This is mainly white meat, but it has a depth of flavour and luxuriant texture that one rarely sees. I usually find white crab meat fairly insipid – this crab is silky, fleshy and fervently mineral. My guest's cocktail of avocado and prawns might sound like a 70s throw back, but once again we're charmed by the perfectly-judged nature of the dish – it is a superb construction. The reason the combination is iconic is because the flavours and textures of avocado and shellfish are a delight and Bellamy's version does justice to the dish and repays the nostalgic zeal we exhibit in ordering it.
Steak tartare is a dish I must have eaten a hundred times. Highlights include an extraordinary rendition of this classic dish in Tourettes-Sur-Loup in the hills above Nice, and an upstanding version prepared by a private chef in Scotland, but this is without doubt number three if we're judging in these terms. The meat is rough cut, rugged of flavour, mustardy and lasting. Thick-cut pommes pont neuf make for sturdy companions. Veal with morels is as delightful as you might imagine, a little more high-toned, but just as calm and assured as the tartare. We drink young Chateauneuf-du-Pape from Domaine Versino by the glass. Versino is one of those wonderfully idiosyncratic producers of the Southern Rhone who makes wine that suggests ripe farmyards and crunchy berry fruit all at once – a marvellous, if acquired, flavour profile – very old school.
Belllamy's is a joy. If I had to choose a restaurant to visit once, every week, for the rest of my days, this might be it. There is a rare beauty to be found in that which endures and here that beauty is maintained with ease.