Bob Bob Ricard. You actually have to write the restaurant's name in black and white before you feel the true sense of arch camp exuberance that is to be found in the name alone. A jollier trio of words are yet to be found above the door of any London restaurant. BBR is of course no newcomer; the now almost stalwart Soho hangout has been delighting well-heeled habitués for more than five years and, in my opinion, long may it continue. The thing about BBR is that it simply shouldn't be quite as good as it is. On paper the whole thing sounds ludicrous. Pink-suited waiters, the now legendary buttons to press for champagne and enough caviar to sink the Battleship Potemkin, all served in a dining room which has attracted a multiplicity of descriptions.
We arrive in a rain shower. Soho has been drenched in a particularly forceful, rapid manner; that distinctive smell of warm, wet pavements in summer fills the air. We approach the restaurant at speed, almost running. The doorman sees us from a distance and in a flash an elegant umbrella that wears the restaurant's distinctive livery is up and helping smooth out the rough corners of our journey to the restaurant. To enter BBR is to enter a world apart and that couldn't be any clearer on a day like today. When the restaurant opened, one reviewer described it rather churlishly as "a bizarre combination of Norman Rockwell-style American diner with banquettes, plus terrazzo, perhaps from a Cannes fish restaurant, antiqued mirror ceiling, real as well as metaphorical brass." There are elements of truth to this description (although I'd insist on some mention of the Orient Express), but where else in London could attract such marvellously rich descriptors? I find the ever-so-slightly mad design to be one of BBR's strongest points. It feels like a treat; there is something a bit Wes Anderson in the fastidious attention to detail and celebration of weird mittel-European nuance. The restaurant's design was curated by the late, great David Collins, who excelled at creating perfect visions such as this one.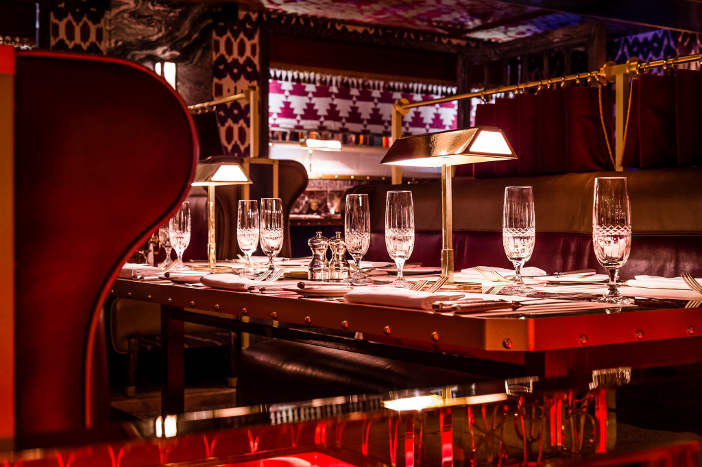 We are led to a table that's hidden away toward the back of the room. I survey my fellow diners, a motley crew of moneyed movers, a mixture that finds its spiritual home somewhere between Soho and Mayfair. It's a Tuesday and the restaurant seems entirely full, which is impressive by anyone's standards five years after opening. The menu is an eccentric mix of European comfort food, luxuriant Russian treats and multiple tots of super-premium vodka. We drink pink champagne and then successive tots of voddie.
Starters are a selection of small plates: grilled oysters Brezhnev with parmesan and black truffle, Russian salad and lobster pelmeni. Each dish is a delicious little treat. What could be more representative of luxury comfort food than a brioche bun stuffed with deep-fried lobster tails? The dish is a wonderful jumble of textures: sweet, milky soft bun, the crunch of tempura batter, and then the placid, tenderness of lobster within. I drink Chassagne-Montrachet (served by the glass), which works triumphantly as a partner for the lobster. My guest enjoys the Tournedos Rossini, a vaguely gauche throwback dish that's redolent of '70s wife-swapping parties and mauve floral wallpaper. The steak is cut from the fillet and is as meltingly soft as you'd expect and enduringly appealing with its slivers of black truffle and sizeable slab of foie gras to add a little glamour, if such a thing were required.
Instead of pudding we take up the offer of the restaurant's new Club Room which has recently opened downstairs in the basement of the building. The advice on the Club Room's page on the BBR website is rather forthright: 'We enforce an upscale dress code'. I look down at myself as we cross the threshold, unsure as to whether I qualify. The room is sumptuous in ways that are hard to put to words. The floor is a shining, golden-hued backgammon board; polished silver rails fan out as far as the eye can see in a room which is more billionaire's playroom than restaurant. The Club Room is now open, but only Thursday through Saturday, offering the ritzier patrons of the restaurant a hidden oasis, far from view, to indulge in ever-more-robust fashion over the weekends. There is live music, dancing and all manner of raucousness to be found in this subterranean lair.
Bob Bob Ricard, 1 Upper James St, London W1F 9DF. Tel: 020 3145 1000. Website.