Founded in 1988 by the energetic Ranald Macdonald, Boisdale Belgravia was created in celebration of the best Scottish produce and has since become something of a London institution – an unofficial club offering classic fare and live world-class jazz every evening. The striking red-fronted Regency premises, just a short distance from Buckingham Palace, with its cigar terrace and walk-in humidor, provides a uniquely intoxicating Scottish atmosphere and can boast of a distinctly aristocratic clientele to match – Lairds, city types, and politicians happy to splash out on 25-year-old malts and the finest Cuban cigars after dinner.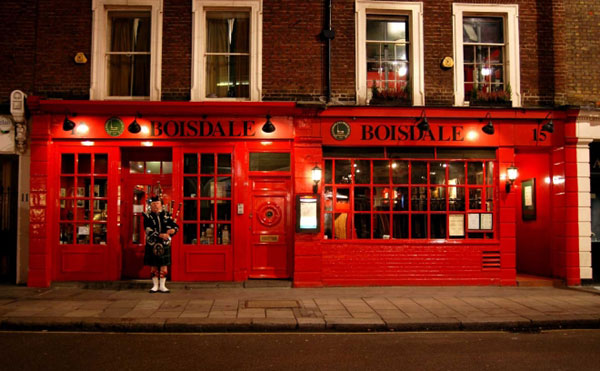 Boisdale regulars seemingly know nothing of January detox (or debt for that matter) – the room was buzzing with kilted and whisky-drinking Robert Burns worshipers – but although my dress proudly bore the family's tartan of Buchanan, the works of the Scottish Bard remained a mystery to me, my father having baffled me with To a Mouse throughout my childhood: "Wee, sleekit, cowran, tim'rous beastie".  Surely the fact that Burns fathered 8 illegitimate children by 5 different women should be reason enough to celebrate him?
With hunting memorabilia lining the walls and the tartan clad guests blending in with the tartan furnishings, Boisdale is the nearest most of us are likely to get to dining at Balmoral. I certainly couldn't expect finer Scottish ingredients; from award-winning Isle of Cumbrae oysters, to dry-aged Aberdeenshire beef, Head Chef Colin Wint enjoys partnering these royal ingredients with equally decadent bed fellows – foie gras and truffle. I plumped for the sweet and intensely flavoured hand-picked Hebridean crab with avocado, which, when accompanied by a chilled glass of rosé champagne made a deliciously light preamble to the rich and gamey main of short-crust wild Highland venison and blackberry pie with celeriac mash, all washed down with a voluptuously fruity Pinot Noir. By the time the dessert of caramelised apple flan with 15-year-old Glenfiddich caramel sauce and vanilla ice cream arrived, I was ready to dance a reel.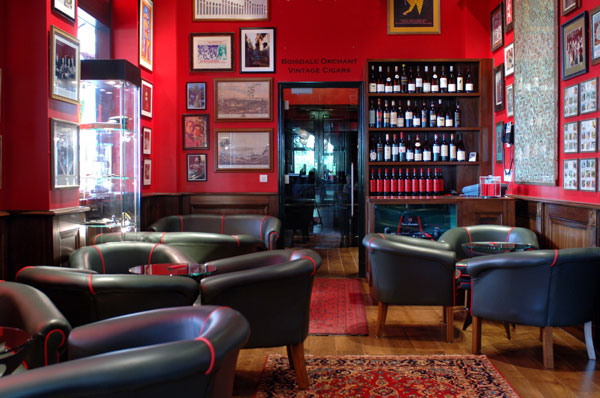 A lone diner – a lady wearing a tartan jacket and bearing a striking resemblance to Liza Minnelli, beamed whenever the piper vigorously exercised his noisy instrument following an abrupt exit from the jazz pianist. Despite her obvious enjoyment of this uplifting, if deafening, custom, which proceeded at regular intervals, she did not partake of the traditional Macsween Haggis, being, I deduced, a vegetarian – something you don't see many of in Boisdale. The way she interacted so familiarly with the staff led me to conclude that she was a regular, and explained her ease at inviting the piper to join her for a wee dram – and why not? That's the sort of place Boisdale is – actually there's nowhere quite like it.
Boisdale Belgravia isn't about cutting edge cuisine, it's for people who still admit to enjoying Melba toast or a perfectly crafted pie and well-hung steak. Boisdale is bold and extravagant, unashamedly harking back to boom decades long past. The menu prices reflect the fact that most of their customers only bank with Coutts – for those of us who don't have private wealth managers there is the very reasonable Jacobite set menu at £19.75 for 2 courses. Even if you can only stretch to a burger in the MacDonald bar it will come smothered in truffle mayonnaise and you will have one of the most entertaining evenings of your life. If Rabbie Burns were alive, this is where he would dine.