Dry January. Are there two words more guaranteed to strike fear into the sybarite's soul? In their five syllables, they connote Puritanism, forbearance, giving up, anti-fun and all sorts of other grim and self-denying things. A great number of people who I know, and respect greatly, instead plump for giving up all booze for Lent, their rationale being that January is cold, dark and miserable enough already without foregoing the pleasures of a warming glass of red wine, a delicious pint of IPA or a much-deserved 'wee dram', especially if one is a Scot and wishes to celebrate Burns Night.
All of this is right and accurate, but I also believe that one has to have some time off the bottle now and again, and sometimes the Christmas-New Year corridor of unrelenting, unremitting grog is enough to make even the most battle-hardened toper wake up on January 1st and, quite reasonably, swear to themselves that they won't be looking at anything stronger than mineral water in a glass any time soon. All of which means that, if one wishes to stay sober and yet dine in some sort of style, one has to consider one's options carefully.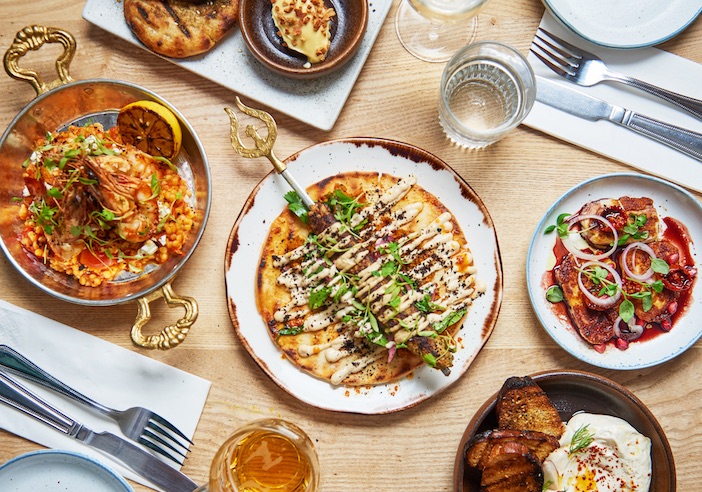 Enter, like a sort of exotic fairy godfather, Brother Marcus. This vaguely Levantine spot – 'Eastern Mediterranean' is its description – specialises in a range of unusual and exotic dishes, and has three outposts in Spitalfields, Angel and Balham. We'd heard that its Eastern restaurant was the one to head to ('nicest staff, best cocktails') and so we pitched up, eager expressions on our faces and sober intentions to the good. The menu divides itself up, as is fashionable, into sharing small plates. Some of these are quite ample, others are more on the bijou side. One sees 'nibbles', 'flatbreads and pides', 'earth', 'sea' and 'land'. So one should, to get the best experience, tuck into each section, and see what's what.
You know that you will be in capable hands from the first mouthful of the pita bread with date butter, especially if you manage to dip it into the fine fennel tzatziki. It disappears in an instant, but is utterly delicious while it lasts. Thereafter, one can settle back to enjoy the odyssey, which has sublime highs, and odder moments that nevertheless entertain rather than bemuse. In the credit corner is sublime glazed pork belly with apple, labneh and walnuts, and pitch-perfect lamb kofta with tahini on pita bread. We were also very impressed by courgette fritters with whipped feta and chilli jam, which is not an unknown dish but was done very, very well here.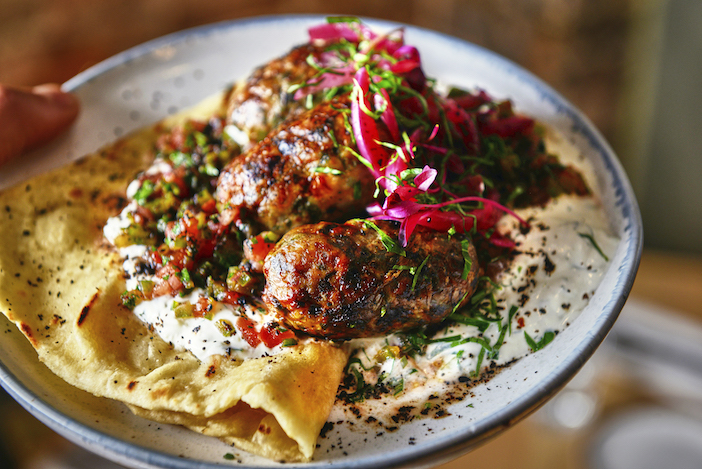 Slightly less fantastic was octopus with torched orange and chilli mayo, which had a faintly rubbery taste, and a dessert of chocolate parfait that came with chunks of beetroot. My guest and I tried them, and simultaneously came to the conclusion that, delicious though they might have been in a savoury dish, they simply didn't belong here. 'How many do you think get sent back most nights?', he wondered aloud. 'Three quarters?', I speculated. Poor unloved beetroot.
But this was a rare anomaly in an otherwise excellent dinner, and the non-alcoholic spritzers were a particular treat, too. The Zahari spritz and Mountain ice tea were both sinless little thirst quenchers, slipping down nicely in the most joyful of ways, and my chum sang an ode to his Barberry tonic, which looked delicious in its combination of cucumber, mint, sage syrup and tonic.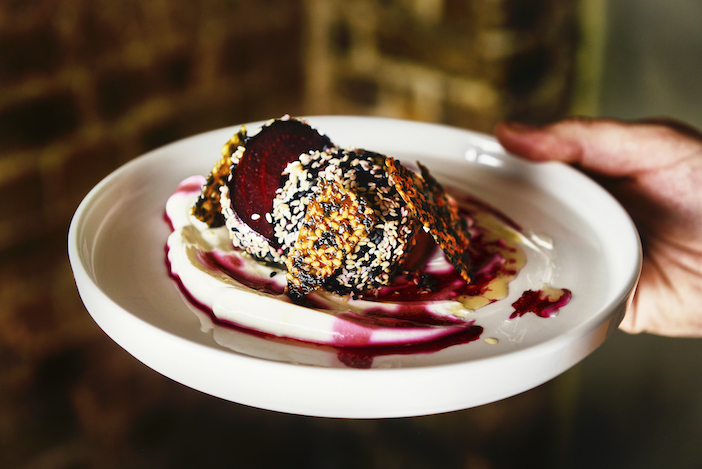 In fact, I can honestly say that, despite the excellent-sounding wine and alcoholic cocktail list, this was one of those rare evenings that the company, conversation, endlessly friendly and warm service, delicious food and, yes, drink were all so joyous that one simply didn't need any other stimulation.
So, sober January has been a success, so far. Perhaps by the time that this review has been published, I shall have fallen off the wagon and will be disporting myself in some Soho wine café, but I doubt it. Apart from anything else, I'd miss the quiet and sober – but never boring – joys of the Zahari spritz, which is certainly something that I'll be enjoying all through the year. Not just dry January.
Brother Marcus has sites in London in Balham, Angel and Spitalfields. For more information and menus, visit www.brothermarcus.co.uk.