Readers of a certain vintage might remember the hyperbolic Hollywood adverts of the fifties and sixties used to extol whatever mega-blockbuster was coming to your local fleapit. 'THE GREATEST MOVIE EVER MADE', 'A CAST OF THOUSANDS', 'NEVER BEFORE HAVE YOU SEEN SUCH SPECTACLE' and so on.
Most of the time this was code for Peter Ustinov hamming it up in a bad wig, but occasionally (as with, say, Lawrence of Arabia) the hype was amply justified, and so the superlatives were reached for with ever-greater aplomb. And so it is with London mega-restaurants. First there was Oliver Peyton's Titanic, then there was Ian Pengelley's Gilgamesh, and now there is the Big Man Group's Circolo Popolare, situated just to the north of Oxford Street in Fitzrovia.
By anyone's standards, it is a behemoth. Seating 280, with a further 60 outside when the weather is good, one walks into a vast Aladdin's Cave of a space, festooned with bottles from top to bottom; it takes a measurable amount of time to walk from the front door to one's table.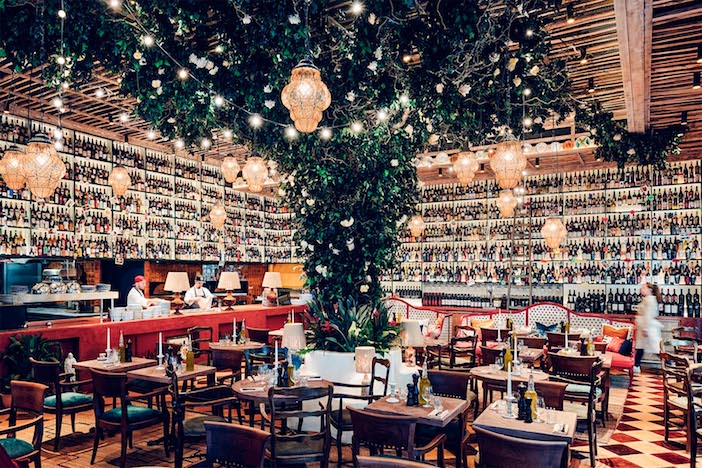 As one strolls, one admires the view. The Big Mamma Group are predominantly a French outfit, despite the cuisine on offer being Italian, with multiple restaurants in Paris and one in Lille; their previous foray into London restaurants was Shoreditch's Gloria, and now Circolo Popolare all but invites diners to roll up, roll up and see what has come to town.
The food is probably not the main reason why you are coming here, to be honest. Compared to most places in Fitzrovia, the menu is surprisingly unadventurous, focusing on trattoria staples; one begins with a selection of antipasti including burrata with pesto heart, a droll Tuscan take on a Scotch egg and deep-fried courgette flowers, before moving onto pizza (the 'I Wanna Nduja' is pretty good) and pasta (the 'Carmina Burrata' is overwhelmed by the burrata and ended up being heavier than it needed to me), and ending with dessert staples.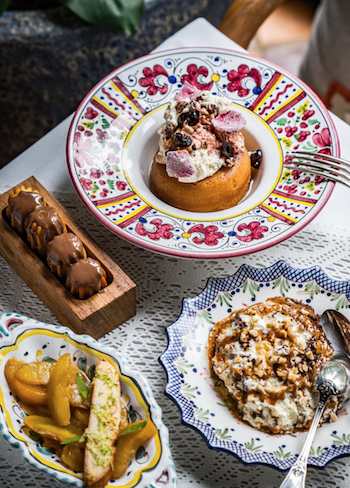 We were steered in the direction of the tiramisu, which turned up in an enormous portion and was fine, and the lady baba cake, which was dry and decidedly alcoholic. Everything was pretty edible, but lacked the culinary wow factor of some of its peers. Nonetheless, it was priced kindly for the area – certainly very nicely compared to other similar places – and there were compensatory factors by the score.
This very much included the drink. We kicked off with a couple of delicious cocktails – a potent red fruit mojito and a bellini spritz – and then, faced with the choice of literally tens of thousands of bottles of wine, like an Aladdin's Cave of alcoholic abandon, panicked slightly and took refuge in the house recommendation of what they described as 'the Ryan Gosling of wines', a fine, distinctly drinkable Pecorino. It would have been remiss not to try a couple of other things, and so we enjoyed a half pint of Pig & Porter Pale Ale, brewed with Amalfi lemon zest; a couple of shots of limoncello, and, of course, the obligatory espresso martinis – in this case the 'espressitivo martini' – to round off the meal with.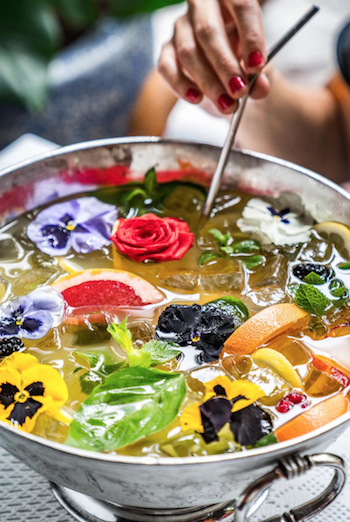 One does not want to encourage heavy drinking in one's readers, but this is a fabulously fun place to sit and imbibe, aided by the friendly staff and genuinely buzzy atmosphere. If what you eat isn't the most astonishing food you'll ever try, it's still mostly good (although the menu is showing signs of rapid alteration – we were disappointed that there was no sign of the 'John Malkofish' pizza, nor an intriguing-sounding carbonara dish to share, which does at least imply that management are responding to feedback and trying new things at this early stage) but this is somewhere to get thoroughly stuck in. You will have a great time, and the bill will be surprisingly kind. And that, in a nutshell, is what dining out in a capital city in 2019 should be all about.
Circolo Popolare, 40-41 Rathbone Pl, Fitzrovia, London W1T 1HX. For more information, including menus and bookings, visit www.bigmammagroup.com.