It's extremely rare that I find myself in Parson's Green. I love London for all its multifarious gastronomic eccentricity; I love diving on a bus and eating Turkish feasts in Haringey, Indian food in Southall or a decent Vietnamese down an alley in Dalston, but you'd have to work pretty hard to drag me down to Parson's Green. In my mind this is a gastronomic tundra that's populated by puffy mothers on diets – pink cheeked ex-hockey team captains, bulging out of Jack Wills tracksuits whilst pushing their noisy spawn off to some decidedly average prep school.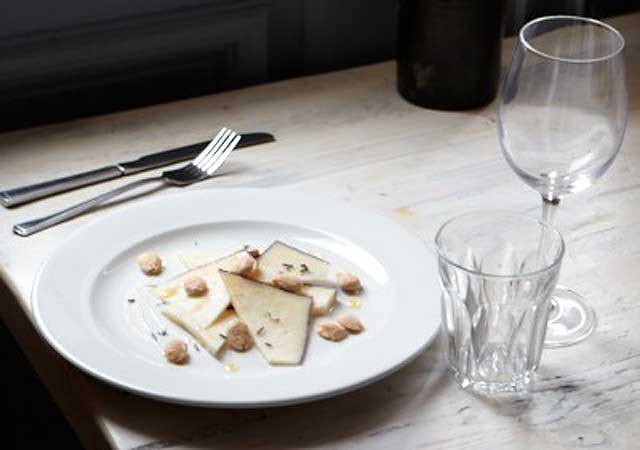 It came as a great surprise, then, to receive a tip from a foodie friend that a fabulous restaurant had opened this far down the District line. A new place, a little rough and ready perhaps, but full of big flavours and excellent ingredients. I was intrigued and decided to board the train and Go West.
Claude's Kitchen finds itself in the previously under-used first floor dining room above Parson's Green old-timer champagne bar, Amuse Bouche. Chef-patron, Claude Compton, is a young chef with ambition and a fine CV. After stints working at Petersham Nurseries and Club Gascon, Compton set up his own street food company, Green Goat Food, which moved around London offering an excellent alternative to the dreaded Pret sandwich. This is his first restaurant, a joint venture with the proprietor of Amuse Bouche.
The dining room is small, but low-lit and feels convivial. Filament lightbulbs are slung around the room along with rugged wooden tables and chairs. This is an on-trend joint, a little edgy for the locals perhaps? There is no frippery, no linen – utilitarian simplicity reigns. The menu follows suit. This is a very short, clear and to the point menu, there's a touch of St. John about the presentation and simplicity of seasonal gems. The wine list is very short, perhaps a little too short for some tastes, but offers excellent value for well-chosen wines. We choose the house red, a fantastic old vine Cinsault from South West France.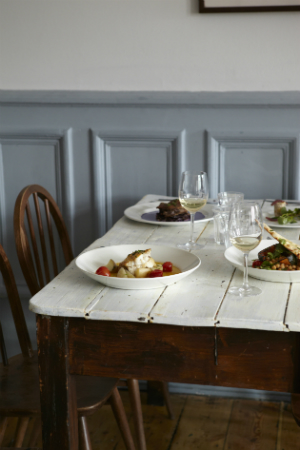 Pigeon breast is a delight if cooked perfectly, a horror if left in the pan for a moment too long. Here the breasts are flash fried and served with pureed carrot, deep pink and blushing inside – a delight indeed. Mackerel is subjected to similarly brisk treatment and comes with fennel and peas. At £7 and £6 respectively, these dishes are refreshingly to the point and, I suspect, considerably better than any other starter to be found in these parts at this price.
Onglet, that deliciously rugged cut of beef, comes ripe with flavour atop a rough mash of split peas. Like the pigeon, the meat has been cooked with great skill, resulting in a textural, yet tender mouthful, from a cut that has the potential to become disastrously tough. My guest enjoys chunks of rabbit that have been stewed in cider and served with a slice of sourdough. The rabbit enjoys some of those agrodolce flavours that are often thrown toward rabbit in recipes from the south of Italy. The chunks of meat are sizeable and the rabbit is gently comforting – it's a deeply wholesome dish.
The only pudding for me is affogato, a perfectly calm yet uplifting end to a very simple, calm meal. This is a confident, assured restaurant serving intelligently conceived and precisely delivered dishes. Prices are fair for dishes composed of high quality, seasonal ingredients. Claude's Kitchen deserves to do very well, I just hope the locals appreciate what's on offer here. I fear some of the more conservative denizens of this corner of Fulham may be put off by the stripped back menus and interior, but for now, at least, I'm prepared to give them the benefit of the doubt.
Claude's Kitchen, Amuse bouche, 51 Parsons Green Lane, London SW6 4JA. Tel: 020 73 71 8517. Website.