Last week I ate a vegan burger. That's not to suggest there's anything wrong with that. On the contrary, it was a conscious decision after an absolutely terrific turn from a Dirty Vegan meal kit a couple of weeks earlier. And, in an effort to continue a half-baked attempt at Veganuary, it inspired me to sample others as part of a shift towards reducing meat consumption.
This one, however, left us lacking, prompting Mrs W, herself no committed carnivore, to conclude her final bite with the line, "I think I'd rather have the beef next time." Shop-bought it might have been, and perhaps there was something poor in the execution, but she had a point.
Now well into February, and with Valentine's round the corner, we were angling on something to look forward to, something we might have felt we've missed out on the last few weeks, if not months. We could tuck the little one in early, turn the TV off over supper, and recreate those nights out we used to enjoy when babysitters still had a role and restaurants were open. Remember those days?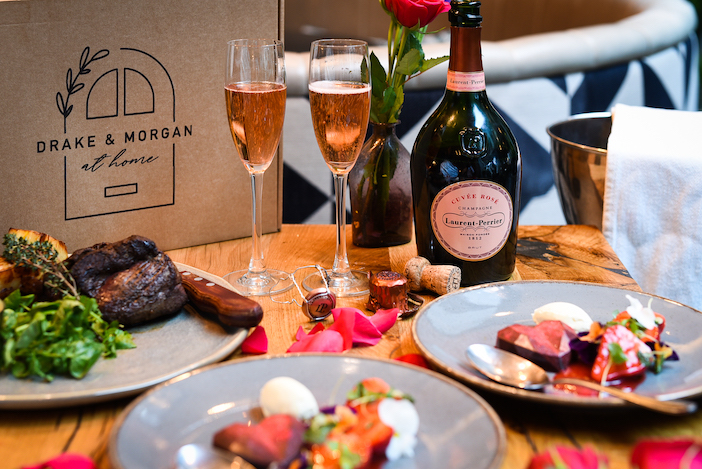 Closed they may be but almost all restaurants now do a fine turn in home delivery. Not just takeaway, but a means of recreating from the menu at home. I surveyed a few favourites (many noted below, I should add) and then stumbled across something I knew always made for a default Valentine's dinner – steak. But it should feel more than simply a choice cut from standard bearers Hawksmoor and the like; it should be something to share. An almost religious, ritualistic experience.
From The Allegory to The Anthologist, The Folly to the Fable, purveyors of quality British bistro fare in sophisticated upmarket surroundings, Drake & Morgan know how to turn out a fine meal, and make a fine evening out – and, fortunately for us, we can enjoy this same with their 'At Home' kits. Browsing their website, it looked like we could build a terrific evening in; there were cocktail kits, a choice of meals and brunches, even a Valentine's meal box, complete with a bottle of Lauren-Perrier. And then I found it – Chateaubriand, with the works. Well, if you're going to break a fast, do it in style, eh?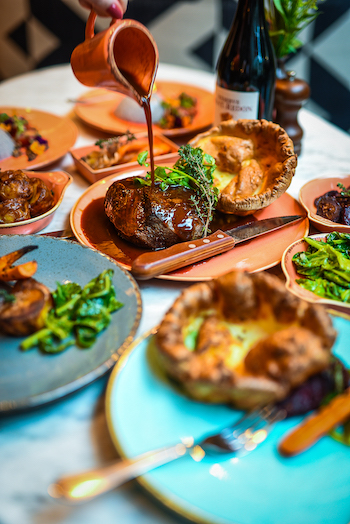 At the appointed hour, as Mrs W was tucking our little nest of vipers into bed, with a mood-setting aperitif in hand, I began to unpack. The first thing that struck me was the packaging. Compostable insulating wool, keeping the contents fridge temperature regardless of what's going on outside. This has been carefully thought out. Inside, I lay out each component on the kitchen counter; generous portions of duck fat roast potatoes, thyme-roasted carrots and beetroot, gravy pouch, Yorkshire puddings the size of the box on their own, and, of course, 32-day aged Chateaubriand, already seared. Not to mention a scintillating bottle of Terre di Prenzano Vignamaggio Chianti.
The menu card is less a menu than an instruction sheet, complete with recommended cooking times for how you want your meat finished, and all far more straightforward that one would have thought. It's really less about cooking than heating, and within 20 minutes, as Mrs W enters the room, I'm almost ready to serve up.
As the Chateaubriand rests, I can't avoid a sample. I shave a sliver off the end and cut it in two, offering Mrs W a piece as I pour the wine.
"Oh my God," her eyes light up, "that is amazing…" We're reminded, and with no hint of irony in the current climate, of what we've been missing. Plating up, Mrs W turns to the card again, scanning a QR code on the front with the instruction 'Press Play'. It tees up a playlist designed to 'create your everyday escape at home' and, for the duration of the meal, we're accompanied by Fallon, Dua Lipa et al. Dimming the lights a little, I ask Alexa to 'play some atmospheric background chatter' – she 'doesn't know that one,' she replies – but we're not far off creating that dining out experience at home.
I wasn't kidding when I said the portions were generous. It's some time before the last of the carrots are edged to the side of the plate, and I sit back and cradle the last of the Chianti in my hand. Replete and defeated, we exchange glances, each acknowledging our enjoyment of what had been a rare treat. After five weeks of yet another lockdown had worn conversation there's something eminently satisfying about reading your other half that you can pre-empt what you'd both enjoy next. "Shall I put Netflix on?" Mrs W offered. "You read my mind," I replied. And, as she lined up the evening's entertainment, I served up dessert.
"That's like something out of a restaurant," she said as she eyed the plate, roasted plums making a moat around a tower of black sesame panna cotta, sprinkled with candied seeds and dressed with rose petals. "I think that's the idea," I replied.
Mrs W gave another satisfying smile as she tried it, and I pressed play on the remote. "You know, when this is all over," she suggested, "I think I should love to go there proper…"
Drake & Morgan Valentine's Dinner with Laurent-Perrier (£125, incl. delivery), serving two, includes all the ingredients and recipe cards you need to create a restaurant quality, three-course meal in the comfort of your own home, plus a bottle of Laurent-Perrier Cuvée Rosé for added Valentine's sparkle. Begin your feast with whipped duck liver parfait, served with sourdough and pickles, before moving on to a 32-day aged Chateaubriand with confit potatoes, béarnaise sauce, salt baked beetroot, thyme roasted carrots and buttered cabbage. Round things off with heart shaped chocolate ganache with strawberry coulis, fresh strawberries, Chantilly cream & edible flowers.
Delivery within the M25 and the Home Counties. Orders must be placed by 11:59pm on Wednesday 10th February for delivery on Friday 12th February. For more information, and to order, please visit www.drakeandmorgan.co.uk.
The Best of the Rest…
Love Chinois at Home – Park Chinois – Local Delivery/Collection
Available on 13th and 14th February through the Park Chinois website (Slerp), and via Supper and Deliveroo, is the special Love Chinois at Home Valentine's menu for two, priced at £195. It includes impeccably prepared Chinese dishes from Executive Chef Lee Che Liang; a stunning rose-inspired Valentine's dessert; two pre-bottled cocktails of your choice; two beautiful Park Chinois fish chopstick holders and a calligraphy notecard, ensuring your table setting is as elegant as your dinner. Pre-order in advance via the restaurant's website by 10th February to add a stunning FLOWERBX bespoke bouquet of 15 Balthazar roses to your dinner package for an additional £80. www.parkchinois.com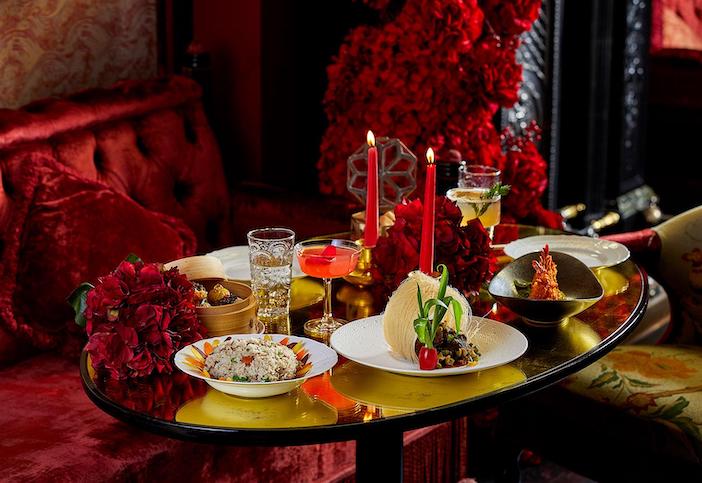 Ormer Mayfair – Valentine's Banquet Box – Delivery within the M25
Enjoy a restaurant quality dining experience delivered direct to your door with Ormer Mayfair's exclusive Valentine's Day Hamper (£159 for two), created by GBM finalist 2020 and Ormer Mayfair's Executive Chef, Kerth Gumbs. Make your evening indoors all the more special with an elevated, four-course meal featuring creamy pumpkin soup, standout scallops, Côte de boeuf and Ormer's signature apple crumble dessert. Wine, champagne, cocktails and flowers can also be added for the ultimate Valentine's night in. Ormer Mayfair's Valentine's Day Hamper is available from 11th February – 14th February (inclusive) for delivery (within M25) and collection from the restaurant. www.flemings-mayfair.co.uk
Hot Stone at Home – Delivery to most London postcodes
Critically acclaimed Hot Stone may have had to temporarily closed its doors, but the pass is anything but quiet… introducing, Hot Stone at Home! Carefully reimagined for at home dining by Executive Chef Padam Raj Rai, the menu features a plethora of à la carte favourites and new exciting Nepalese dishes. Perfect for a date night with a difference this Valentine's, the Hot Stone Omakase box (£110) takes diners on a 24-step culinary journey of authentic and innovative Japanese cuisine. Available for delivery across most London postcodes (and collection), Hot Stone at home is available Thursday-Sunday from 6-9pm. Order via Supper or Slerp or, for London-wide private deliveries, please phone the restaurant on 020 3302 8226.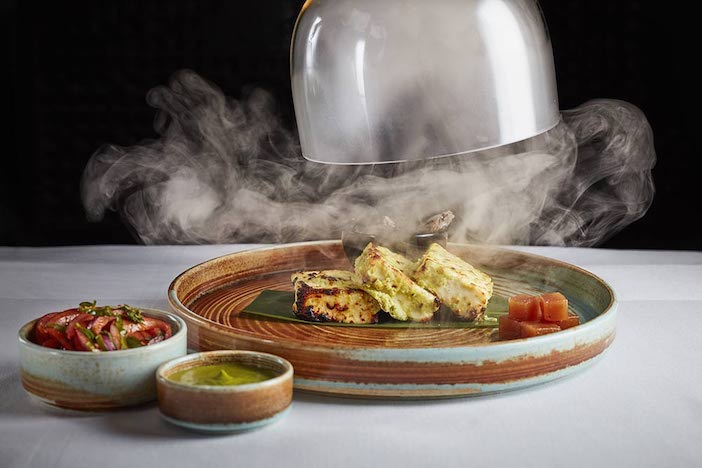 Benares – Delivery within the M25
Charm your partner with an exquisite eight-course feasting menu from Michelin-starred Indian restaurant Benares, delivered direct to your door from the heart of Mayfair – with just an hour's notice! Executive Chef Sameer Taneja has pulled out all the stops with a menu featuring some of Benares most loved dishes such as: Halibut Lime Tikka, Adraki Lamb Chops, Paneer Malai Korma and an impressive Tandoori Whole Roasted Chicken. An assortment of freshly baked breads and pulao rice will also be included, alongside a Chocolate Gol Gappa and Passionfruit Malai Cake for dessert. Pop the bubbly and spread the love further by opting for the Champagne bundle which includes a bottle of the finest, to make the evening extra special. Valentine's Menu for two £200, with Champagne £250, is available from 8th – 14th February. Delivery across Greater London (within the M25). Order online from www.benaresrestaurant.com.
Aquavit London – Nationwide Delivery
Head Chef Jorjon Colazo has created three exciting Scandi sharing menus that are sure to impress this Valentine's . Designed for two, choose from the Meat box (£80), Pescatarian box (£90) or Vegetarian box (£60). Simply heat, plate and present the food and you're ready to go. A selection of fine wines, beers and inventive soft drinks  are also available to order. Order online from www.aquavitrestaurants.com or via Slerp. Orders must be placed before 11pm on Tuesday for Thursday delivery.