Could there be anything more seductive than escaping a blistering city heatwave to enter the cool, low lit world of Park Chinois with your loved one during a weekday lunch hour? The restaurant's new Dim Sum Lunch Prix Fixe offers, just like dim sum itself, is an irresistible bite-sized treat of the intoxicating Mayfair haunt that is the Salon de Chine with its alluring red drapes, cosy sofa seating and tasselled silk lamp shades inspired by Shanghai supper clubs of the 1930s. It's rather like stepping onto a film set (think the Merchant Ivory classic The White Countess) and the discreet yet flawless front of house team all know their cue.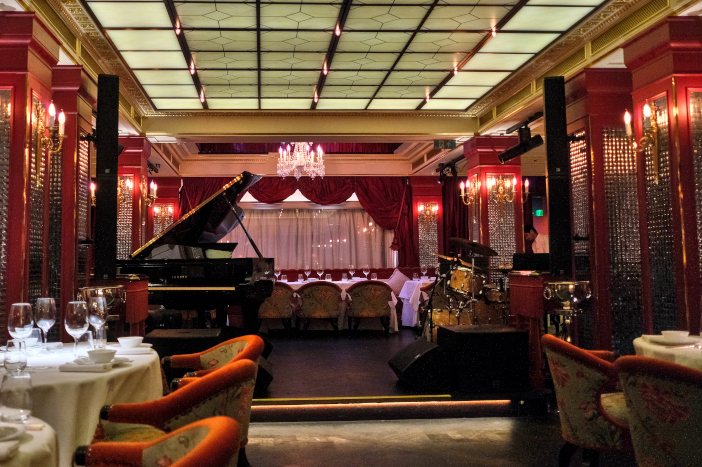 Popular with regulars glad of an excuse to return, or diners keen to try Park Chinois for the first time, the Dim Sum Lunch Prix Fixe set menu (£45 per person) offers an enticing selection of their most celebrated dishes, including signature handcrafted Dim Sum such as Ibérico Siew Long Bao with its divine liquid centre and the intensely flavoured pan-fried Wagyu Beef Gyoza.
Prix Fixe lunch diners can select one dim sum followed by a large plate and a side dish and although the menu is small, the portions are far from it. For me the experience is all about sharing and a scaled back menu was a relief when I usually have to contend with a husband who wants to order everything on offer at Park Chinois!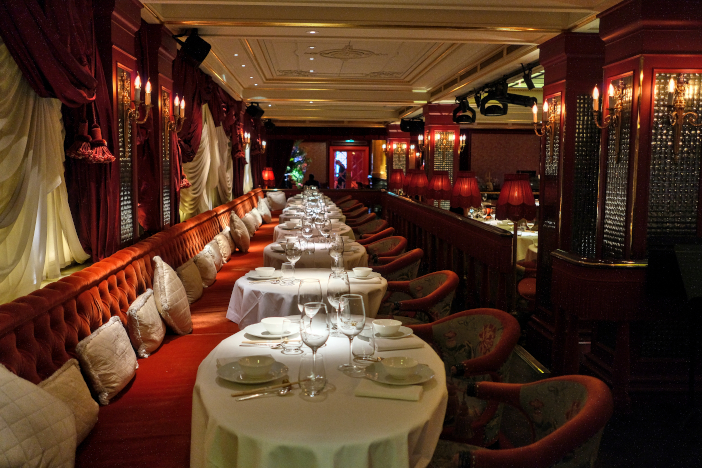 When it comes to Asian food there are some dishes we will never be able to resist, Black Cod for me and anything featuring Wagyu for husband. Park Chinois's sweet, spicy and meltingly soft grilled Black Cod with chilli jam dressing was as soft and unctuous as this sublime fish dish gets, while I was only too happy to get my chopsticks into the mister's Wagyu beef bavette with mushrooms and sweet Basil. Our generous sides of egg fried rice and stir-fried summer kale were the perfect additions to the party.
The entire meal was perfectly complemented by a glass of French Bloom Le Rosé or Le Blanc, an alcohol free sparkling wine produced and bottled in the South-West of France now featuring on the restaurant's specially designed 'Summer in Bloom' drinks menu including 'Le Provence' alcohol free cocktail with strawberry, basil and French Bloom Le Rosé. This isn't just an exciting new addition for non-drinkers who still want to feel celebratory but an ideal option for those heading back to work.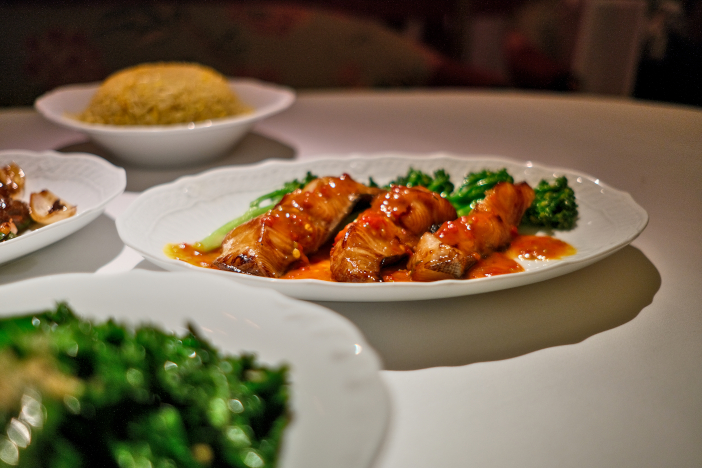 This luxurious Mayfair lunch experience offers mouth-watering Chinese food in an equally delicious setting and is also an absolute steal considering that Park Chinois is such an iconic and high ticket London food destination. Having only previously dined at Park Chinois during the evening, I was intrigued to experience this typically romantic and clubby environment in the day.
The music might not have been live, but it was my ideal playlist of classic jazz, the kind that makes you forget that you were ever having a stressful morning. I soon realised that the moment you step inside Salon de Chine, with its illuminated 'on air' sign above the door, you're transported to another universe regardless of the day, week or hour – and it won't be easy returning to your desk.
Dim Sum Lunch Prix Fixe is served at Park Chinois, 17 Berkeley St, London W1J 8EA, every Thursday and Friday from 12pm. For more information and reservations please visit the website.
Photography (c) Soho Photographic