In these miserable, fearful and uncertain times, one thing can be counted upon: if you visit one of the Dishoom restaurants that adorn London (as well as other outposts in Manchester, Edinburgh and Birmingham), you will have a splendid time. Along with Hawksmoor, they are one of the few groups that have expanded in a sympathetic and careful way, always taking the greatest of efforts to remain a really top-quality experience. They were much missed during lockdown, but they had the bright idea of creating DIY kits of their top-quality bacon naan sandwiches, which, with an egg added, was very nearly as good as the real thing.
I write this with the ever-present threat of another lockdown looming, and a 10pm curfew being imposed. Nonetheless, when I walked into the Kensington branch of Dishoom on the last clement Tuesday evening that we are likely to have for a while, it did not feel like a restaurant full of people who were cowering and timorous. Instead, it had a truly joyful atmosphere, as its cosmopolitan and discerning clientele were making inroads into the carefully designed menu, and not a few of the delicious cocktails, too.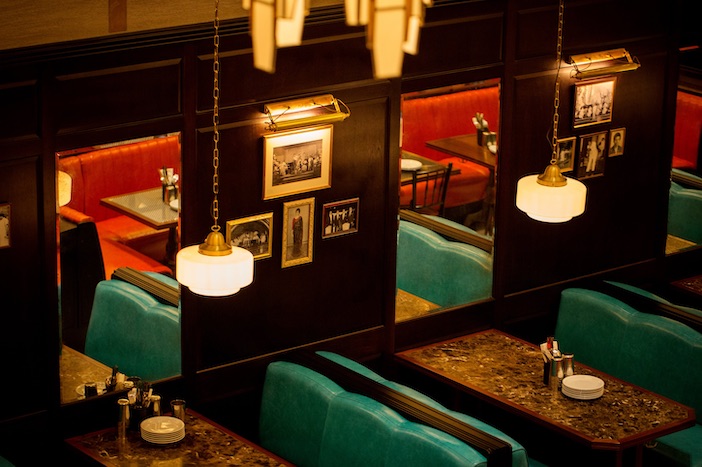 For the uninitiated, the Dishoom group are designed to be a homage to the Iranian cafes of Bombay, and the carefully curated atmosphere in this fine restaurant makes one feel as if one is in post-war India, sipping a delicious cocktail and about to enjoy a splendid repast.
I greet my dear friend Boothby, who I am seeing for the first time since January, and we immediately fall upon a couple of cheekily alcoholic numbers: I take a drink that represents a homage to Lord Mountbatten, the Bourbon-based Viceroy's Old Fashioned, and Boothby is delighted by a Negroni, as we peruse the menu. 'How many dishes are too many?' we anxiously ask our ever-accommodating waitress. 'How greedy are you?' she doesn't quite respond, but her amused twinkle, when faced with two inveterate trenchermen, suggests that we will not be leaving hungry.
We are on a relatively large table, and it is soon filled with good and interesting things, pitched at just the right level of spice. There are crispy prawns, spicy vegetables with a kind of Indian bun, the best black daal I can remember having anywhere and a pair of perfect, spicy lamb chops.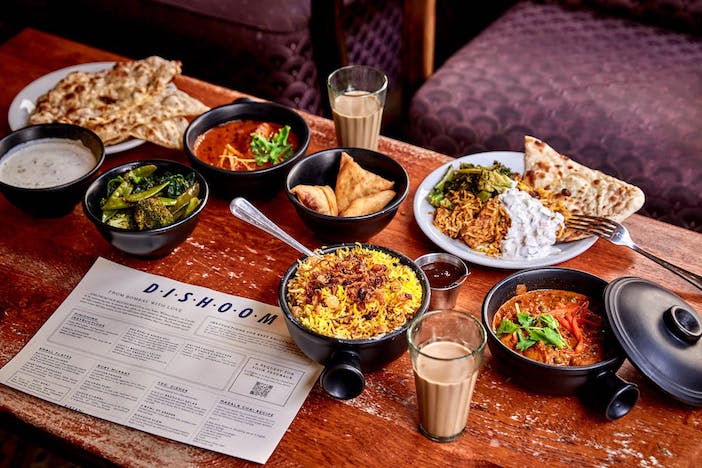 We are advised to try the Kensington signature dish, a magnificent lamb shank biryani, and we have no regrets about our choice; it is a thing of beauty that arrives on our table with appropriate fanfare, and is a more than robust compliment to the carafe of Malbec that the passing manager recommends. Everything is served with alacrity, but we never feel rushed or overwhelmed; there is plenty of excellent food, all priced appropriately and fairly, and it makes for a stirring and enjoyable experience.
Pudding is taken, and there is some humour about the dishes being called the Memsahib's Mess – an Indian take on the Eton Mess – and the Dishoom Chocolate Pudding. Alas there wasn't the opportunity to take any tart on this occasion, so I was denied the chance to say 'I'm the mess, he's the tart', but both were as excellent as everything else we ate, and a spicy, chilli-infused espresso martini was a superb end to the meal, giving me the appropriate vim and pep to saunter off into the night.
Our visit to Dishoom reminded me, as if I needed telling, how vital visiting good restaurants remains for our health and sanity, not just our culinary horizons. There is something quite splendid about a meal this good, delivered with fun and chutzpah and without pretension, and we can only hope that there will be many similar opportunities to venture forth before too long, curfew or no curfew.
Dishoom Kensington, 4 Derry Street, London W8. For more information, including menus and delivery options, please visit www.dishoom.com.