We all know the attraction of 'sourcing' at Borough Market. Somehow in your basket, along with the cheeses, spices, ham, and jam, and other culinary nick-nacks, you are buying credibility, an authenticity that Ocado just can't deliver. It's beloved by TV chefs on a photo-op, journos in search of gastro-cred, and tourists. Thousands and thousands of tourists.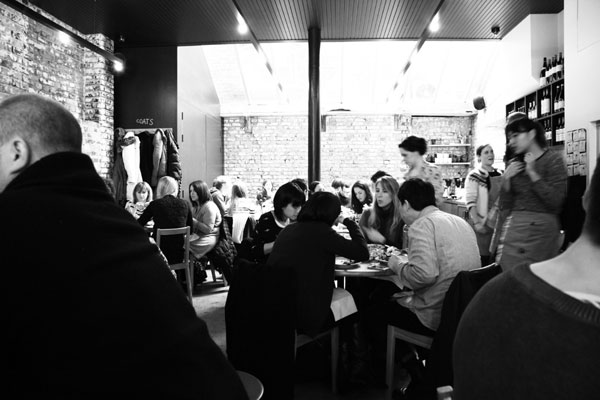 I've been going to the market for around 15 years. Ever since I was, er, nine. Ah, yes. I was nine years old. A prodigy. Anyway. During that time I've seen the market change; wholesale suppliers to the restaurant trade have now been, largely, replaced by retailers. In fact, one has to shop less hard because stallholders are retail friendly. Don't get me wrong – it's quality stuff and worth the effort. Just go early to evade the tourists.
My visits are at dawn, before the TV chefs, before the journos and certainly before the tourists. I usually arrive as the traders are setting up, those lovely people at Monmouth are opening the roller shutters, and the street sweepers are removing detritus from the previous evening's office-drinker war zone. However, on this occasion, I am persuaded by my dining companion to go at night. Ted is a Producer. He's a potential employer – a star maker. This means I will do pretty much what he says. Ted says turn up at Elliot's Café at 7pm. I arrive at 6.55.
Elliot's is directly opposite the market. It's owned and operated by Brett Redman and Rob Green. Brett grafts below decks in the kitchen, whilst Rob manages front of house. They also run the phenomenon that is the best park café in London – The Pavilion Café in Victoria Park. They have pedigree in the tasty café biz, and I don't expect to be disappointed at Borough.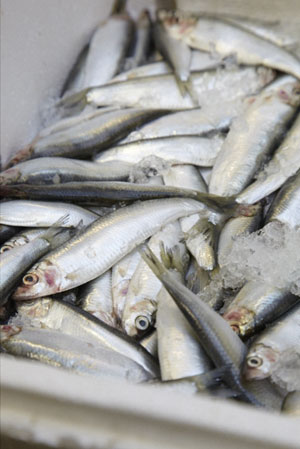 The evening is bitterly cold. Freezing fog hangs in the air. This, and the ancient environs of Borough, gives the feeling that I've slipped back a few centuries. Elliott's glows amber warm and friendly. As I open the door people turn around and stare. I'm used to that, what with being a celebrity. I pose. One or two start shouting "Door, door", then gesturing. A few more join in from the cast iron communal table. Is this some sort of team game?
As I move towards the very welcoming wood burning stove, some man in a blue Hugo Boss suit glares, pushes past, and slams the door. A friendly waiter appears from somewhere in the bustling room and charmingly gets me to wait for the as yet not-available table. She's so nice, I actually don't mind. I admire her 'Open All Hours' uniform apron. It's designed and made for Elliot's by Paul Smith. Yes, 'that' Paul Smith.
I look around at the bare, blasted brick walls, the polished concrete floor, wooden chairs and tables, the open shelves stocked with wine, the busy, lively atmosphere and I see credibility. There is no artifice. The market opposite provides Elliot's with much of their meat, fish and produce, with seasonal and daily availability influencing a changing menu. Here is a café in touch with how nature intended us to eat. It's simple, authentic, and I expect the food will be the same.
Then Ted the Producer arrives. I've known him for some time, but it takes a while for me to recognise him. He is wearing tweed and a flat cap. The rest of his clothing looks like it's come from an Aldi outlet store, but is probably very expensive – it's a look I have never fully understood. I want expensive to look expensive. At first I mistake him for Guy Richie or Jude Law. But no. His newly acquired wispy goatee is reminiscent of Van Dyck's portraits of Charles I. It's a shocking style error. I recoil at the ox head silver earring and elegantly refuse to cheek-kiss him. He doesn't notice because it's clear from the start that he wants to talk about himself. "I've so much to tell you, B." This could be a long dinner. Our table is ready.
The menu tells much about seasonality. Each item has three or four ingredients at most. Brett's skills are pitch–perfect at showing off flavours to their tasty best without too much messing about.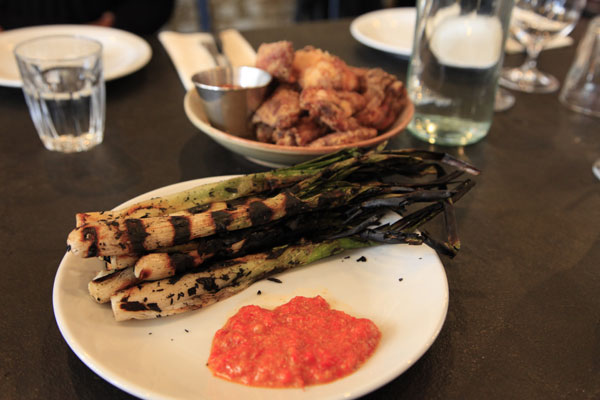 We choose starters. Scallops in curry butter, fried Maris Piper with aioli, and whitebait with herb aioli. Ok. I know that's three starters. And you know how I feel about sharing. But this is what Ted wants and he is a pro-duc-er!
Next we toss over the wine list. But it doesn't seem as interesting as the beer. Locally brewed less than a mile down the road in Bermondsey by Evin O'Riordain's Kernel brewery. They've just been named 2011 'Brewer of the Year' by the British Guild of Beer Writers. We choose the Pale Ale to go with the starters. It's hoppy, nicely tart with an almost lemony finish. Crisp, clean, fresh; an optimistic end of winter herald for the arrival of spring.
The scallops – soft, yielding with a delicious, flattering, delicate lift given by the curry butter. The Maris Piper's are incredible. Medium slices of warm yellowy golden tastiness. Crispy AND smooth. Far more than simply the comfort food I expected. Perfect with the few flakes of rock salt, and the pale ale. Gosh! I'm almost thinking of becoming a workman to drink more beer and eat more chips. But then Ted distracts me with how much he likes whitebait. They're technically perfect: crunchy, silver slivers of ocean brightness. "I enjoy eating small fish cadavers". There's subtext in everything. Was he calling me a small fish? Well if he was, it wouldn't work. I monopolise the whitebait.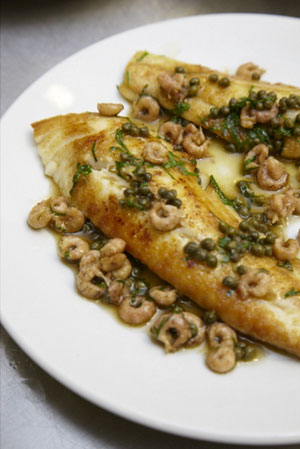 Ted recently started working for a film company in a very senior capacity. His role is to knock a team into shape and organise and systemise for efficiency and income. The Company has "Global" in their name. "Are they global?" He thinks. "Well, they've got a map of the world on the wall, so…". He lapses, uncharacteristically, into silence. "What's the problem?" "The boss is crazy – mad". As Ted lists the psycho's behavior I realise that I have the same attributes. Best to change the subject. "How's your music coming along?" Ted has a parallel career as a rock star. Perhaps "rock' is the wrong description. Acoustic, meaningful songs derived from the pain of aspiration and the reflection of insecurities. "Ah", he says, "the more problems I have, the better the songs. The worse I feel, the better the performance". See. This is the problem when people talk about themselves and not about me. The mains arrive in the nick of time.
We crack open the second bottle from the Kernel Brewery. This time their London Porter. It's dark, dry and roasty. Dark fruits heading towards sour black cherries before finishing with an open log fire flourish fire of dark chocolate & coffee. Very 'autumn saved for winter'.
Ted had ordered partridge. It comes with a slice of black pudding, some kale and polenta. As rich, earthy and satisfying as you'd expect on a cold night. He'd never had partridge before and had wondered what it was like. He said he chose it for the novelty, and "…because it feels like time travel on a plate. I imagine it to be from an era of hunting parties, like tramping through woods in wellington boots". A bit pretentious. I expect it'll end up as a song.
My salt baked Pink Fir with chanterelles and artichokes is warming, comforting and yummy. The potato had undergone a transformation. Not as waxy as you'd expect, yet way short of the floury of, say, an Aaron Victory. The Porter courted it like an eager teenager on a second date.
Ted starts humming. "What on earth are you doing", I ask. "I'm so happy, B. This meal is simple, honest yet perfect. It reminds me of being on stage in front of my band playing to an audience of thousands. Performing is exhilarating. You feel so in control. I can make the crowd do anything I wanted just by playing a couple of notes". WTF! So I hit him. Normally I have the strength of Montgomery Burns – but not tonight. Maybe it was the workman's beer, maybe it was the years of yogo, or maybe I just got lucky. Ted's not used to this – he is quite famous. There is an awkward moment.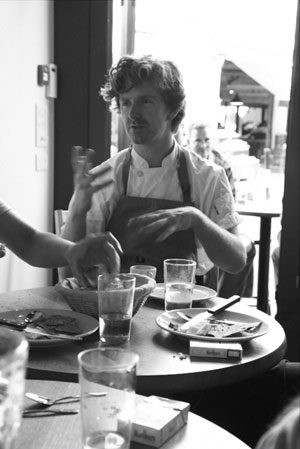 The only thing that could save us arrives. The desert to be shared (and you know how I feel about sharing). Warm chocolate cake with caramel, and vanilla ice cream. All made downstairs in the kitchen. A delicate, light yet intensely chocolate lifebelt shaped sponge; the circular hole filled with glistening bronze caramel. There's even a witty chocolate disc concealing the caramel. We both fall silent. Him out of respect, me to get more spoon time. It is a triumph.
On a freezing night, Elliot's delivered. It was simple, very tasty, completely satisfying, and credibly authentic.
In the freezing cold, Ted walks me the brisk two meters to my car. Like a proper gent he opens the door. I slip in and immediately and firmly pull the door closed behind me. I shout at the driver, "DRIVE". I glance back out of the rear window. A diminishing Ted looks startled. And cold. We speed the wrong way up Stoney Street and left towards London Bridge. I'm quiet. "Would you like some music, madam?" I reflect on the lovely evening, the delicious meal and the surprising quality of the ales. "Yes. Have we still got the Springsteen 'Wrecking Ball' pre-release CD?"
Elliot's Café 12 Stoney St, Borough Market, SE1 9AD. Tel. 020 7403 7436. Website.
[cgview id=116 num=8 size=150×150 showtitle=always lightbox=0]