Sometimes, when Tom Cruise releases a new film, the Rolling Stones go on tour again, or David Hockney exhibits his latest paintings, the admiring response from audiences and critics alike is the same: 'Still got it'. And much the same could be said of the original Hakkasan in Hanway Place. It opened over two decades ago, in 2001, when London was a very different place.
But whatever has changed, its excellence has remained constant And it continues to serve some of the capital's most interesting and adventurous modern Cantonese food to appreciative (and full) houses night after night, with the same cool, buzzy electric blue-meets-dark lacquer screen décor. But what's the secret?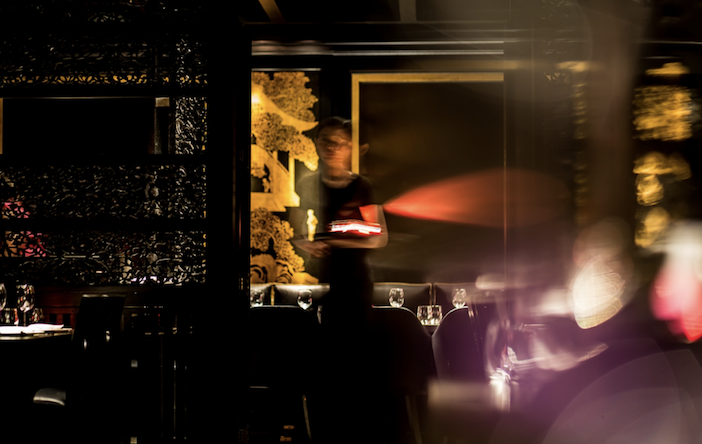 As I descended the steep staircase that you enter from an unassuming corner of a Fitzrovia street (not one to attempt after too many cocktails), it was with the eager anticipation of someone who knew that he was going to be in for a very, very good night. And so it quickly proved. You are received with a chic professionalism that is both friendly and respectful, and ushered to your table, either in the central arena or in a more chilled-out and quieter corner. Your age and level of hearing may dictate as to how much buzz you are comfortable with, but either way, you're in for the sort of Michelin-starred experience that manages to combine wonderfully assured food with brilliant chutzpah and, of course, a fine array of wines and cocktails.
There's a fine a la carte selection, of course, but also a number of special menus which offer an overview of the kitchen's many attainments. As we visited in early February, we caught the tail-end of their special 'Year of the Tiger' menu, designed to celebrate Chinese New Year. As the signature cocktail 'King of Fujian' arrived – a fine, fruity concoction of vodka, passion fruit, lychee and kumquat – my dining companion Boothby and I nodded to one another.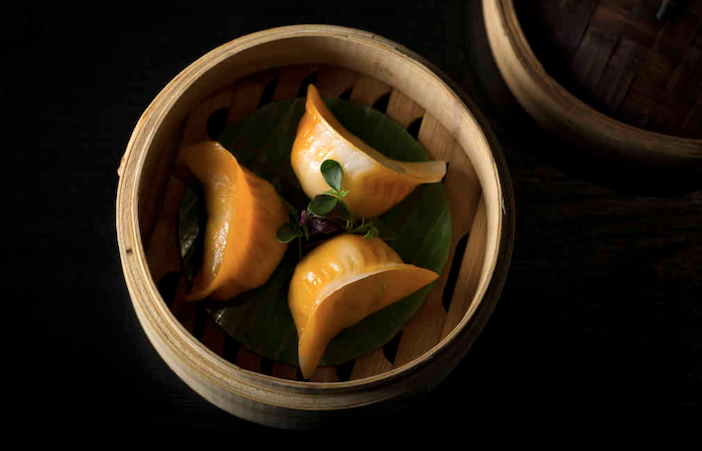 Whatever was coming our way was going to be exemplary. And almost before we could say 'Hurrah for Hakkasan', we were presented with an amuse-bouche of salmon crudo, served almost like a savoury ice cream, and a selection of dim sum served with theatrical panache. I speculated that the tiger prawn dumpling, with appropriate stripes, would be the best, and I was wrong; it was bettered by the wild mushroom puff, a wild umami monster of taste and flavour and texture.
Boothby and I were by this point enjoying a fine glass of Chablis, recommended by the sommelier over the Gruner Veltliner we asked for, and then the raison d'etre of the meal arrived in the form of a varied selection of house specialties. The salt crusted, fortune baked chicken was something of an acquired taste, but the stir-fried wagyu beef with bone marrow and wok-fried seabass were both extraordinarily good, as were uber-decadent side dishes of lobster egg fried rice and a surprisingly meaty dish – for a vegan selection – of buddha's delight, which came laden with mushrooms, black fungus and lotus root. It was a lot of food, but never overwhelming, just delightful.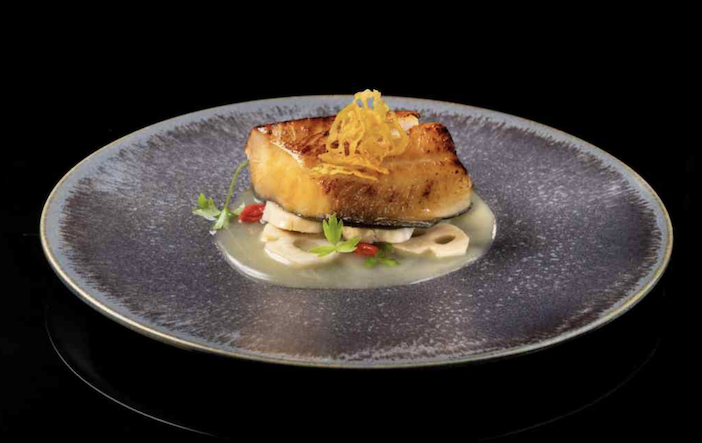 Desserts in Cantonese restaurants are never the main point of the experience, but what was offered here, an 'orange dark chocolate firecracker', complete with amusingly shaped edible dynamite, nodded nicely to the meal's sparkling qualities without stressing the point, and was complimented nicely by a couple of espresso martinis; long my go-to drink in any such eventuality.
The whole thing was marched through briskly but never overbearingly in a couple of hours, and before we knew it, Boothby and I were walking up the stairs again, fond farewells ringing in our ears. As we left, sated and delighted, we were able to say to one another, with enormous sincerity, 'Still got it.'
Hakkasan, 8 Hanway Place, London W1T 1HD. For more information, including menus, home delivery, details of events, and bookings, please visit www.hakkasan.com.