One morning, not very long ago, I receive two emails back-to-back. The first is from Hawksmoor's excellent public relations consultant, telling me that my favourite steakhouse group has launched a new cocktail menu. I then set my watch, and contentedly sit back. One minute, two minutes, five minutes tick by. And then, sure as eggs are eggs, Larry's name comes into my inbox. 'Looks like one for us, old boy. Are you game?'
I hate to be predictable. I like to see myself as an homme des lettres, breezing in and out of the best restaurants in London and sampling the excellence of their menus and wine lists with aplomb. But I am a fully-paid-up Hawksmoorian. Nothing would keep me away from their restaurants, and anything new and exciting would lure me in. And the idea that they have a brand new cocktail list – one of London's most exciting prospects – is enough to have me replying to Larry within veritable moments. 'Choose your location and your poison, sir!'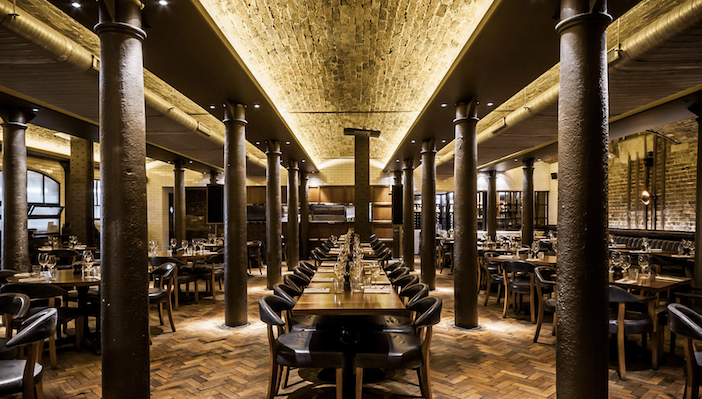 We settle upon the estimable Hawksmoor Seven Dials, which for some reason the Arbuturian has neglected to review hitherto. I have no idea why, but there is something deeply comforting and welcoming about its Covent Garden setting, set in a basement on a discreet side road; this is not the kind of place that one just stumbles across, but instead one seeks out eagerly. The welcome is warm, and the seats, in a subterranean banquette, are comfortable; we ask which new cocktails we should order. 'A Bloody Mary and a New York Sour, please.' Our waitress's eyes widen in admiration. Or at least we think it's admiration. 'Good choices, guys.' We slap each other on the back and talk about politics and what wine to order, because that is how we roll.
The Hawksmoor food menu is a reassuringly conservative one, and I order the usual delights; (excellent) salmon to start, a shared rib-eye with bearnaise and stilton sauces, beef dripping fries and creamed spinach. It's all wonderful and I see no reason to deviate. Larry, however, has the devil in him, and decides that he's going to go for bone marrow and onion on toast.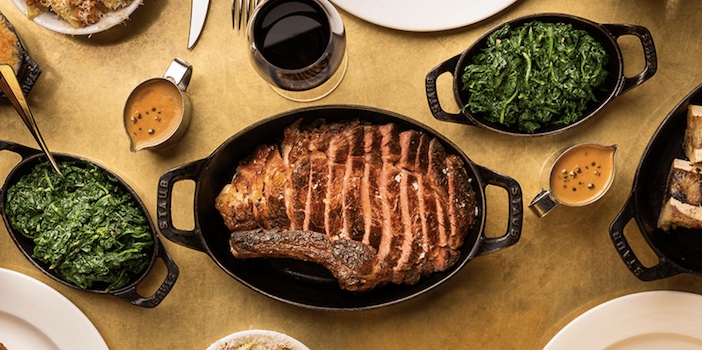 He is dismayed to see that it turns up in actual bone, and says, in a rather plaintive tone, 'I wasn't expecting actual cow's tibia.' I laugh at him and tell him he's absurd, and he munches his way through two different kinds of bovine delight; the progression is helped by a fine glass of Chardonnay with the starter, and then an excellent Stellenbosch Cabernet Sauvignon with the rib-eye, punchy and unctuous by turns. We toast each other, and Hawksmoor. All is well.
Our waitress comes over, and makes a show of outrage. 'You've barely looked at the new cocktail menu!' She is right. We order a couple of their new version of the espresso martini, the 'espresso scorretto', which adds cherry for a bit of jollity, and share a sticky toffee sundae in some delight. But we're not done yet.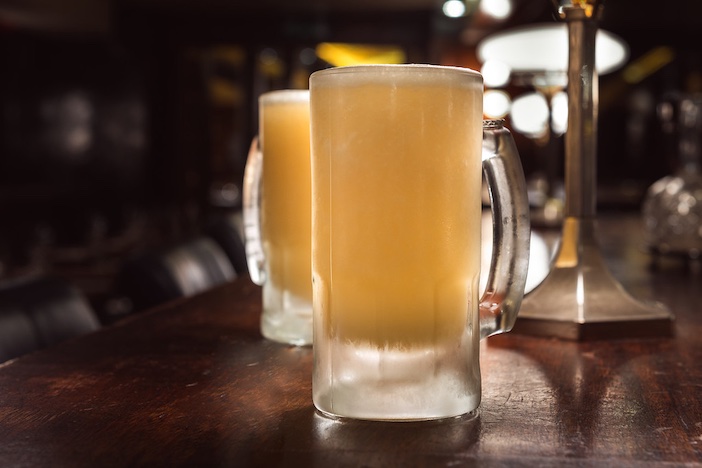 We look at one another, two minds with a single thought, and order a finale of our favourite Hawskmoor tipple, the Shaky Pete's Ginger Brew. If you haven't had it before, you are missing out more than I can say; think of it merely as a turbo-charged shandy, and you won't go far wrong. We breathe a sigh of relief that this remains on the menu, and sip, drink, drain our glasses.
We emerge into the Covent Garden air, replete and delighted. Larry looks at me in full, conspiratorial Harry Lime form. 'I don't mind saying, old chap, that that was one of our finer hours. God bless Hawksmoor and all who sail in her.' And then he's gone, sinking off into the ether, like the enigma he remains. I sigh. Back to the bar for another Shaky Pete? Be rude not to.
Hawksmoor, 11 Langley St, London WC2H 9JG. For more information, including details of menus and gift cards, and for details of other restaurants and the Lowback Bar, please visit www.thehawksmoor.com.