I could smell Hawksmoor Wood Wharf before I could see it.
This is, admittedly, a relatively unusual state of affairs with any restaurant, but I had (brilliantly enough) managed to contrive to get lost amidst the Byzantine avenues and streets of Canary Wharf, a piece of Eighties Manhattan incongruously plopped down in East London and increasingly full of restaurants and bars that people might actually want to make the effort to visit, rather than just the usual City boy haunts. But as soon as I sensed the inimitable odour of excellent steak, cooked superbly, I knew that I was in the right place, and my heart sang.
The new Hawksmoor differs from its compadres in that it is on a kind of permanent mooring in the Wharf, although dull of heart would he or she be who called it a 'boat'. This fine structure is something far grander; it emerges from the water as a striking new addition to the landscape, on two distinct levels. At the bottom is a bar, The Lowback, which serves a range of cocktails, small plates and burgers, and has already attracted rave reviews from those who wouldn't usually be seen dead in a Canary Wharf establishment. But it's the main restaurant on the top floor that's occupying us today, and as I stride in for my lunch appointment with Larry, my sense of anticipation has been built up into stratospheric levels.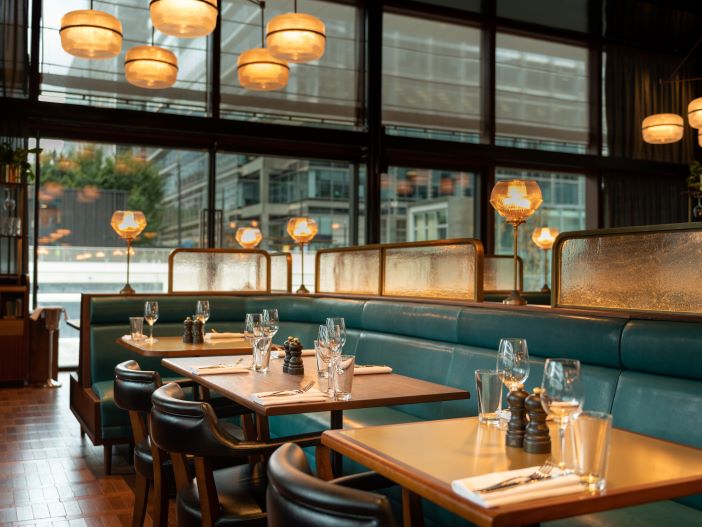 The great man has arrived before me, because he was savvy enough not to get lost in the maze-like structure of Canary Wharf. 'I've ordered two of the Shaky Pete's Ginger Brews, old boy. I hope that meets with your satisfaction.' As two of the turbocharged shandies appear before us, gently perspiring from their ice-cold vessels, I glance around. The usual décor is present and correct, what with the leather banquettes, the civilised, clubby atmosphere and the dark green colour scheme. The views over the phallic towers are impressive, but we are considerably more interested in what is going to be on our plates in a few moments. We sip our brews and contemplate the menus with the ravenous curiosity of Death Row inmates considering our last meal.
We order steak, because we are in a Hawksmoor and we are not barbarians. And a very fine 700g porterhouse cut it is too, combining the refinement of the fillet with the juiciness of the rib-eye. We fall upon it like refined savages, complete with a plethora of side orders, including a Caesar salad with suitably moreish anchovies (and I say this as someone who has always been wary of anchovies since mistaking one for a piece of bacon), beef dripping fries, a perfect bearnaise sauce and an equally fine Stichelton hollandaise. The bottle of Rocca di Montegrossi Chianti that we have with it is an equally fine call, too. But this is not the whole story of Hawksmoor Wood Wharf; there are other treats to be had, in excelsis.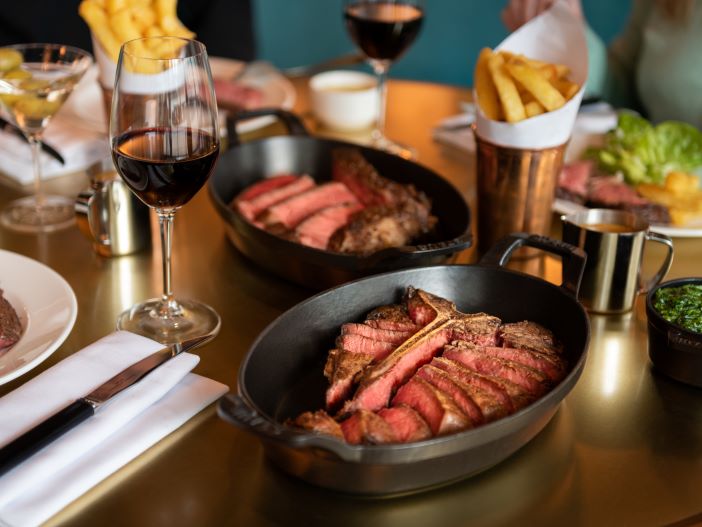 The meal begins with roasted oysters with bone marrow. Larry demurs at trying them, citing an unfortunate incident many years ago, but I am able to tell him that they are the perfect combination of richness and delicacy, cooked beautifully. We are on safer ground with our pescatarian starters; I opt for the Hawksmoor smoked salmon, which is every bit as good as the Mark Hix variety, and Larry all but claps his hands in glee at the crab on toast. We talk philosophically, of current affairs, the state of modern politics (much wailing and gnashing of teeth and sighing at this point) and the splendours of what is around us. And we sip on a glass of Au Bon Climat Chardonnay, a truly fantastic wine that everyone should try at least once.
Thus the steak, but we are just about able to manage desserts; I opt for the sticky toffee sundae – a riot of excellence – whereas Larry, a trencherman through and through, expresses his excitement at 'The Ambassador', a postmodern take on a Ferrero Rocher dessert, which the menu slyly suggests that they are not allowed to name for legal reasons, in much the same way that the 'salted caramel rolos' both nod to and improve on the much-loved childhood treat. But one delight that's definitely not for children are the amaro correttos, a Hawksmoor take on the espresso martini that manages to be less fierce and rather tastier than the norm.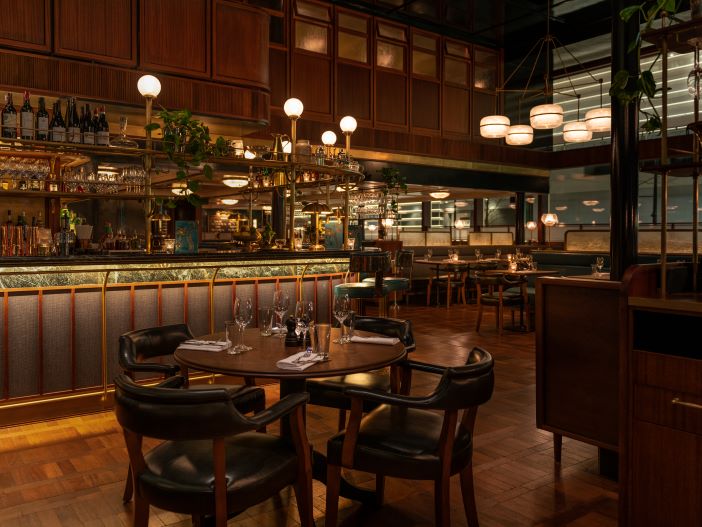 We finish lunch replete and satisfied, and relieved, for once, that our indulgence has just been on this side of restrained. As we walk blinking into the afternoon sun, Larry looks back at the great vessel in which we have not been lunching, and chuckles. 'If the Russians ever decide to bomb Britain, old boy, let's go and lurk in Wood Wharf; firstly, because I am firmly of the opinion that nothing bad can ever happen to you in a Hawksmoor, and secondly, because even if you did, you'd probably be too sozzled and stuffed to care.' Long may Britain's finest group of steakhouses reign.
Hawksmoor Wood Wharf, 1 Water Street, London E14 5GX. For more information, including details of The Lowback and comprehensive menus to wet your appetite, please visit www.thehawksmoor.com.