The bar is dark and oak-panelled and alive with characters who are suggestive of high-end, far-flung, international voyaging. There's a chap at the bar, who's nursing a dry Martini and wearing a sheepskin jacket which is far more Biggles that John Motson and looks intent on seducing the glamorous hostess – we're at Scarfes Bar, the new Holborn salon for the discerning barfly.
Scarfes Bar is perhaps the pearl in the necklace of the newly-refurbished Rosewood hotel on High Holborn, a treasure in the heart of a fairly barren land when it comes to drinking. The bar is about as about as sumptuous as it gets without veering into the openly-gauche. The wood is dark and plentiful, the upholstery leather and velvet – this is a room to sink into. In the corner, what looks like an open fire roars, spits and splutters in the half-dark. The bar is a paean to the pleasures to be found in the finest distillates. There are reportedly over 200 bottles of single-malt whisky in this lauded glass case, and more gins than I have ever seen, anywhere – is this a Martini contender for the Duke's crown?
Rather than erring toward classicism and opting for the obvious choice of the Martini, I go off piste and test the barman's creative mettle. The Diplomatic Immunity sounds refined, yet promises a punch packed, so this is the route I take. Diplomatico Rhum, and a homemade mixture of ginger and spices, served over ice that looks to have been hewn with a pick. The drink is delicious in the extreme – warming, spicy and restorative. My guest drinks deep of a Thyme Out (my second choice from an inventive list of signatures), a heady concoction of gin, Yellow Chartreuse and fresh thyme. Once the drinks have started to work their magic, we make our way across the courtyard into the Holborn Dining Room.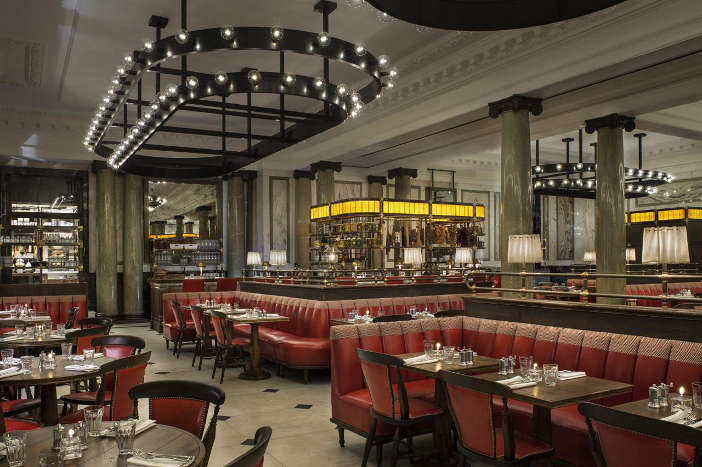 The Martin Brudnizki-designed room is cavernously huge and deeply charming in its design. The style is somewhere close to that of the grand Parisian dining room, but with a nod to the fact that the menu champions gutsy modern-British dishes. The banquettes are deep red leather and the floor is a chequer-board of white and black, lighting is coppery-golden, with on trend filament lightbulbs turned down low.
The menu is curt and stylised, and full of seasonal delights. We both begin with a dish that is as delicious as any I've tasted this year. Duck egg with rich, fatty chicken livers and robustly seasoned black pudding. It's not a fine or technically accomplished arrangement, but, reliant on livers of ambrosial creaminess, the dish thrills us both.
Main courses take us down a maritime route. Sarah hunkers down on a the shrimp burger – a dish that's sure to become a London classic. Prawns of size and commendable flavour are wrapped in a gossamer-thin tempura batter and slung into brioche topped with spicy jalapeno mayonnaise. This is the sort of comforting 'neo-junk food' that would lift one effortlessly out of whatever hangover a night at Scarfes could deliver. I opt for a little more classicism in the form of a thick tranche of halibut with a pot of freshly whipped-up béarnaise to provide a little lubrication. A glass of Chassagne-Montrachet from the ripe 2009 vintage provides a perfect third leg to create a sense of epicurean harmony. The fish is sparklingly fresh, with a light pink coral tinge, a magnificent slab of protein. I am now alternating bites of burger with slices of halibut to create the ultimate upstairs/downstairs dining experience, the results are compelling!
Holborn Dining Room, and Scarfes for that matter, are wondrous additions to the Fitzrovia dining scene; upscale drinking and dining for those who expect more from their night time activities.
Holborn Dining Room, Rosewood London, 252 High Holborn, London WC1V 7EN. Tel: +44 020 7781 8888. Website.