It's a real slog getting across to Canary Wharf. 'The City', as those in the business district refer to it. 'A Pain in the Arse' as I call it. I find it strange that in this new, glistening corner of the capital – thrown up like a game of Sim City – the line which penetrates deep into its soul (I know what you're thinking, bankers occupy 'The City' and they don't have souls), is the most treacherous of all London Underground.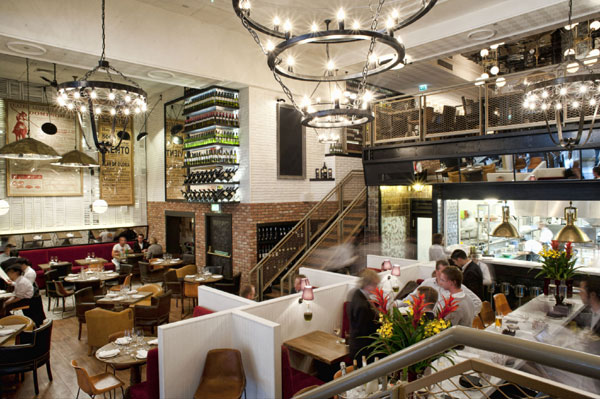 The Jubilee line (see, you're already gritting your teeth and clenching your fists) is the newest line of the London Underground network – unbelievably – frustrating commuters (some 127 million annually) from Stanmore to Stratford. Exiting the vessel-type station at Canary Wharf, up the tall, creaking, umbilical chord escalator, you're plopped into the hubbub of true corporate essence. Minus a Moss Bros suit, I'm suspiciously eyeballed as I work my way across the financial centre to Cabot Square. Zip me across town and I become a black sheep. An interloper meddling in the affairs of major bankers. I'm Tie Rack to their Saville Row. But I know something they don't know.
A cufflink's throw away, past Nando's and The Slug and Lettuce, is Ibérica. A diamond among roughs. It's the second Ibérica restaurant from Marcos Fernandez Pardo – the first is in Great Portland Street – with a contemporary menu designed by two-Michelin star chef, Nacho Manzano.
The menu veers somewhat from its flagship. There appears to be a more contemporary and playful approach to Spanish dishes, notably a puff ball cornbread with Cabrales cheese (torto), and the addition of pork burger sliders. Why is everyone doing sliders? Fried chorizo lollypops with pear alioli, and octopus gallega with potatoes and paprika, are two highlights from land and sea, while Iberica ham and cheese croquettes are satisfying savoury mouthfuls, just as at Great Portland Street.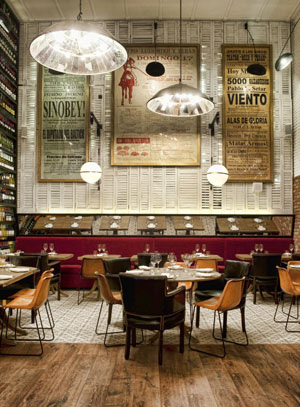 There are some particularly wonderful sharing dishes from the Jamon Iberico Puro d Bellota sections (Iberico ham), such as the Trio of Ibericos in which a slate is lined with three Iberico hams: BEHER Etiqueta oro Guijuelo, Jabugo, and COVAP Alta expresion Los Pedroches. Slithers of Iberica, from flush pink to fuchsia, are sweet and streaked with fat. All those things we look for in great Spanish ham: salting the palate and lubricating the lips. Best knocked back with Apostoles, Palo Cortado, D.O Jerez, take my word for it.
Pardo sees that only the best Iberico ham is used, importing from three of the top producers in Spain and selecting each ham from 100% pure breeds with a minimum of three years curation. Iberico ham comes from the south-eastern side of Spain, which is the home of the black Iberian pig. These porcine piggies love a good stroll and forage freely, gobbling acorns, resulting in their nutty flavour.
Paellas aside (they are available); my recommended dose is a pick of the wilder elements. When was the last time you were offered fried monkfish parcels? Caramelised Spanish rice pudding has a warm tickle after savoury bliss. Essentially it's the same as English rice pudding, but served in a Spanish setting. That's not a criticism. It's welcomed and harks back to childhood plates of nostalgia. And la tarta de la abuela is a cleverly worked interpretation of a traditional chocolate, vanilla and biscuit cake.
Situated in a healthy catchment area in which expenses are likely to cover costs, I'm informed that the restaurant is equally busy during weekends. It's no surprise really; the menu is full of the kind of food people want to eat right now. Earthy, rustic cuts that jolt the taste buds. Plates and slates you can share, pick at, and divide between parties: octopus, scallops, grilled prawns, chorizo, pancetta, and croquettes the size of golf balls. Classic Spanish ingredients flashed together and reminiscent of dip-dishes from the very best Spanish restaurants.
[cgview id=116 num=8 size=150×150 showtitle=always lightbox=0]