After the perfect lazy weekend, could anything be more heavenly than heading to Charlie's at Brown's Hotel in Mayfair for a relaxing Jazz Sunday? It seemed fitting that I invited my father to join me, the man whose broad musical tastes widened my own horizons with a love of jazz which unfailingly captures my every mood, whether I'm listening to Louis Armstrong, Chet Baker or Nina Simone. But there's no substitute for live jazz, and as Louis Armstrong famously said, "If you have to ask what jazz is, you'll never know."
Leading the jazz trio at Charlie's is seasoned tenor saxophonist Greg Davis, a regular at the Chelsea Arts Club and a musician whose extraordinary repertoire includes everything from classic jazz standards to Latin grooves, perfect for the end of weekend wind-down. We arrived early for a drink in the intimate, art-filled Charlie's Bar which offers a cocktail menu boasting all the classics (my father ordered a Bellini featuring English sparkling wine, while I went for a delicious alcohol-free mocktail made with Everleaf Mountain) and from the first sounds of the trio heralding the start of the evening's entertainment to the theatricality of the Moxon's smoked salmon I ordered for starter, impeccably hand-carved table-side and served with capers, gerkins, crème fraiche and moreishly good home-made treacle bread, I decided I could get used to Sunday evenings like this.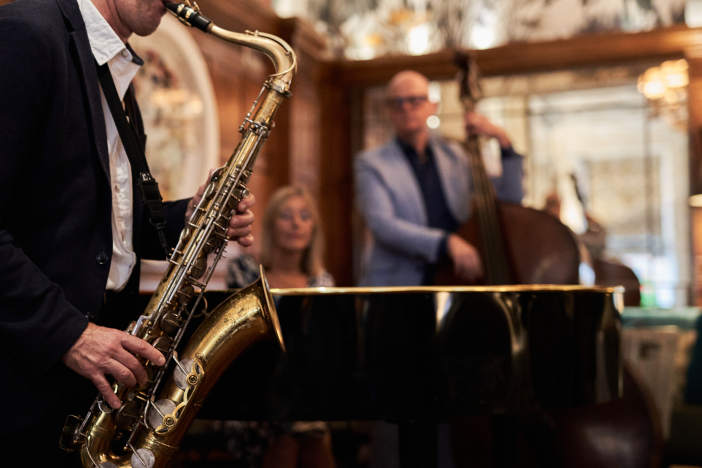 With wood-panelling and bespoke floral wallpaper, Charlie's possesses a timelessness that makes it hard to believe that it only opened in 2019. Jazz Sundays here are an experience that hark back to the peaceful interwar days of the 20th century, and would befit the many glamorous guests who stayed at Brown's in those years, including Rudyard Kipling and Agatha Christie, with the kind of first class service you'd expect on a luxury train or ocean liner of the 1930s complete with crisp linen and table lamps. Charlie's has an evocative charm that fits perfectly with the menu created by Michelin-starred Chef Director Adam Byatt and prepared by Head Chef Michael Shaw celebrating the finest British ingredients with considerable confidence and flair.
The fact that the three course Sunday jazz menu is exceptional value is neither here nor there, for the kind of clientele who patronise Brown's are as well-heeled as they are well-cultured and pride themselves on knowing all London's best kept secrets – as do I. There's nowhere quite like Charlie's, least of all when the weekenders have departed and the ambiance takes on a deliciously mellow note enhanced by wonderful live music and comforting British and European dishes such as Chicken Milanese, Truffle Mac and Cheese or the restaurant's signature Lobster Arnold Bennett, each cleverly elevated to a modern fine dining standard.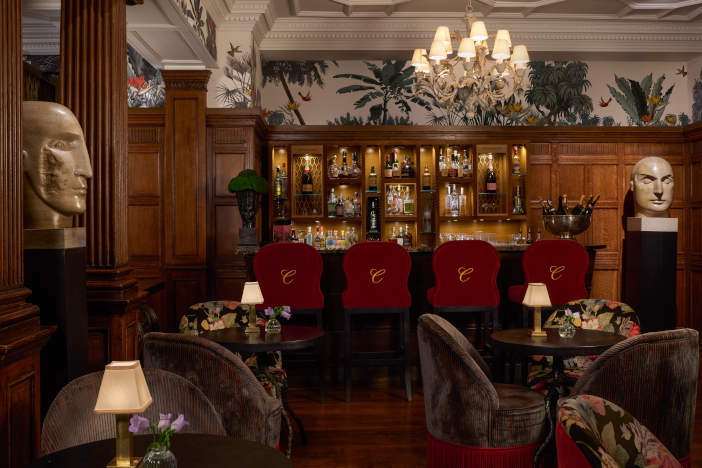 Even ham, egg and chips, a retro dish you ordinarily associate with an English country pub has received the sophisticated Charlie's makeover, with the glazed ham arriving on the trolley with due fanfare, served with a rich fried duck egg and triple cooked chips you'd be mad not to dip in the yolk like soldiers. But my father and I both decided to opt for the more elegant Cornish plaice and the pause between starters and mains was as perfectly timed as the playing of the musical trio directly before us and the cooking of the meltingly soft, milky-white fish, finished with salty brown shrimps, sea vegetables and chilli and olive oil, with a side of triple cooked chips and spinach. My father praised the fish cookery to the skies and declared his glass of Sancerre "a beauty", his murmurs of approval harmonising with the jazz melodies.
This isn't an occasion for putting the world to rights, it's for taking along your jazz-loving father or enjoying a well overdue romantic night out with your other half. It should be shared with someone in whose company you're entirely comfortable, allowing you the opportunity to sit back in one of the restaurant's teal velvet-upholstered booths as you sip your favourite, expertly prepared cocktail whilst being lulled by the smooth sounds of piano, double bass and sax. Dessert, a faultless baked cheesecake heady with vanilla, served with a plum compote capturing late summer in an English walled garden, secured my satisfaction with life in general, halted all thoughts of yesterday or tomorrow and simply made me enjoy the moment like all good desserts should.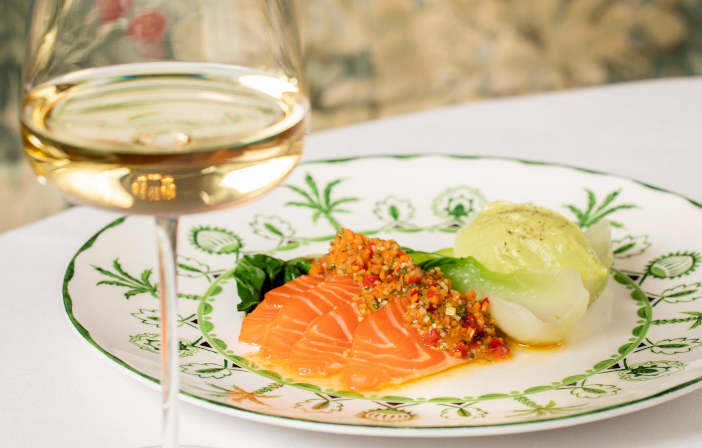 My father was meanwhile completely and utterly in his element, smiling joyfully, tapping his foot under the table and singing along under his breath. He couldn't resist playing 'Name That Tune', declaring with fatherly pride the name of each song soulfully rendered by the trio, just in case I couldn't place them, and clapping appreciatively after every number – thereby encouraging the other diners to join in. His delight was infectious. Never was there a happier diner at Charlie's and in that one magical evening all the birthdays and Father's Days I'd grieved to miss during the past three years were recompensed and tied with a great big metaphorical bow.
Like George Gershwin said, "Life is a lot like jazz…it's best when you improvise," and the older I get, the less I enjoy enforced commercially-pushed celebrations like Father's Day in favour of the more spontaneous moments like an evening with my father at Charlie's on a random Sunday evening. It won't surprise you to learn that we were the last diners to leave the restaurant and frankly my father would still be there now if he had the chance, requesting the trio to play obscure songs from his distant youth. I know that, whilst I'm no longer in my youth, I'm still daddy's little girl and I'll remember this evening forever. If this is how you conclude your weekend then Monday is guaranteed to get off to a good start.
Sunday Jazz at Charlie's, from 7pm-10pm every week, at Brown's Hotel, 33 Albemarle St, London W1S 4BP. £70 for three courses. Gift experiences available. For more information and reservations please visit the website.