'I like goat', my lunch companion said, with a broad smile spreading over his charming face, 'and I very much hope that we're going to have some today.' As we sat in the elegantly and stylishly conceived upstairs dining room in Mayfair's latest top-notch Indian restaurant, we glanced down at the menu. Sure enough, goat was very much on the menu, lurking in the mains section, under the name of sagolir manxo. We were promised a mixture of cumin and black pepper goat chop and curry. My friend rubbed his hands together in carnivorous glee. 'This is the stuff of fable, and no mistake.'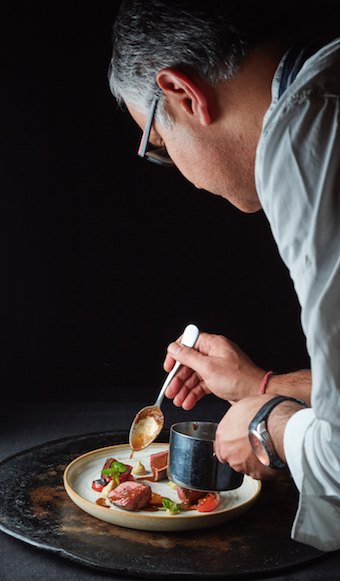 The chef behind Kanishka, which occupies a prime position off Regent Street on Maddox Street, is none other than Atul Kochhar, who established a near-peerless reputation at the nearby Benares for innovative, interesting subcontinental cuisine, and for being one of the first chefs in London to explore this kind of opportunity.
Now, he is looking towards the North-East of India for inspiration, namely the so-called 'seven sisters' of Arunachal Pradesh, Assam, Meghalaya, Manipur, Mizoram, Nagaland and Tripura, where chilli is much used, spices and oil are kept to a relative minimum and where unusual and innovative dishes can both whet and excite the palette.
A couple of cocktails start things with aplomb – the roast banana old fashioned is a particular joy – before we dive straight into some unusual and unexpected territory. Rice beer marinated oysters and fish pakoda are a fine curtain-raiser, and it would be rude not to try 'Atul's chicken tikka pie', which resembles nothing so much as the very finest and most succulent of savoury pastries, thanks to the delicacy of both the pastry and the chicken.
We attempt a third starter because we are both in fine fettle, and the venison kachela maas proves unexpected but very interesting; a combination of venison tartare with a quail's egg and a naan, it lacks the heady spices that one might expect but is light enough not to feel excessive. Washed down with a glass of one of my favourite-named wines, the Kung Fu Girl Riesling, it makes a dull Tuesday seem infinitely brighter.
Then it's time for the mains, and my chum is chanting mantras with excitement at the imminent arrival of the goat. I look at him in slight confusion; any more of this on his part, and I'll have to send for the witch doctor to bring him back to normality.  The cumin and black pepper give it a richness and depth that's perfectly matched by the slow-cooked meat, that in turn boasts a tenderness that this notoriously tough animal often doesn't fare well with.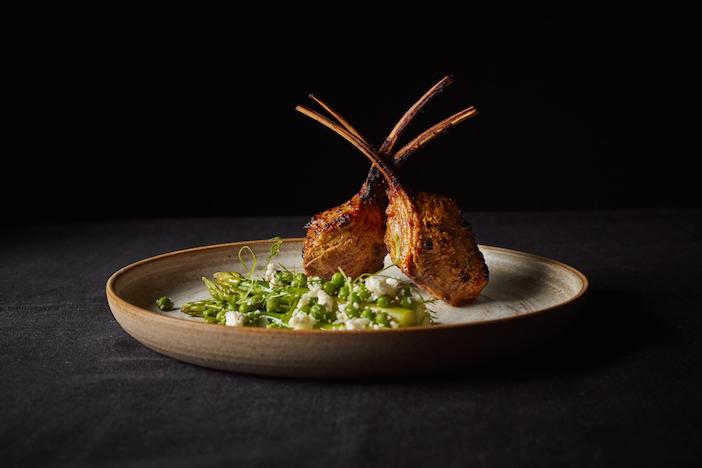 The whole shebang comes with a glass of excellent Malbec. But we're not done yet, not by a long chalk; I remember Kochhar's skill with a mixed grill from Benares, and the one here, boasting a fine combination of fish, chicken, prawn and lamb chop is surely a highlight to be had. We ponder, in passing, what the vegetarian alternative would be, and decide that it almost certainly features halloumi in some form. We are very, very happy campers.
In fact, the only slight let-down of the entire meal is dessert, which strikes a more perfunctory note than the delights of earlier. There's nothing wrong with a  peanut butter parfait with expertly caramelised banana, but it doesn't take the breath away like the earlier courses, and my friend's tandoori fruit custard is an interesting enough idea which is executed in slightly baffling fashion. If we were to visit here – and we will, have no doubt of that – we might simply have a three-course savoury repast instead. But a couple of espresso martinis are excellent, and send out us into a wet Mayfair Tuesday afternoon with a song (perhaps the goat song) in our hearts and joy in our heads. Long may this particular reign continue.
Kanishka, 17-19 Maddox Street, Mayfair. For more information, including menus, visit www.kanishkarestaurant.co.uk.