Of all the restaurateurs that you probably wouldn't have wanted to meet, the late Peter Langan was fairly high on the list. It was less that he was a belligerent and unpleasant man – which he was – and more that he took a certain perverse delight in being rude to just about everyone who he met or worked with.
His erstwhile business partner Michael Caine once said of him that 'Peter stumbles around in a cloud of his own vomit and is a complete social embarrassment. You would have a more interesting conversation with a cabbage.' Yet Caine, Langan and Richard Shepherd launched one of London's most enduringly iconic restaurants, Langan's Brasserie, in 1976. Nearly half a century later, it's still standing. But does it still have what it takes to succeed?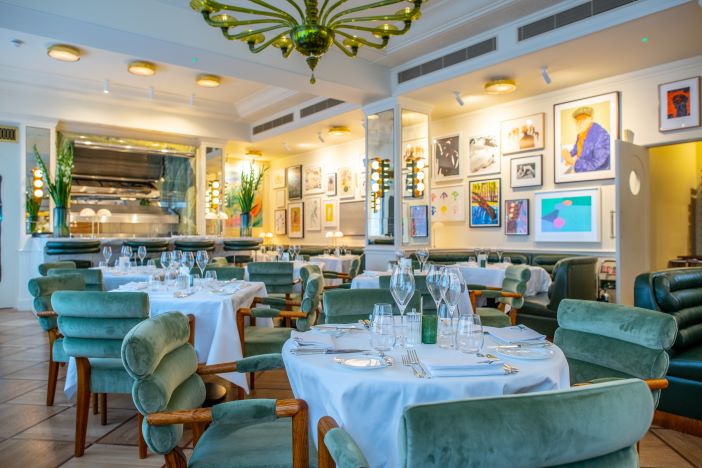 Langan's has, of course, long since left the ownership of its original trio. Langan died at the age of 47 'after a failed attempt at self-immolation', as one obituary tartly noted, and Shepherd sold his shares in the restaurant a decade ago. When I last visited around then, Langan's was beginning to show its age. It was still iconic, of course – the Modern British art on the walls, the Hockney-designed menus and the general feeling of class were never going to vanish – but the food was mediocre at best, and the whole experience felt rather passé. With The Wolseley over the road, I was beginning to wonder whether this particular warhorse should be put out to pasture.
How a pandemic changes things. When Langan's, along with every other restaurant in London, closed at the beginning of 2020, its departure looked terminal. Perhaps it was time that its famous red neon signs were extinguished forever, and it lingered only in the memories of a well-heeled diner of a certain age. But its new owners were made of sterner stuff, and so Langan's reopened, preened and polished and refurbished, at the end of 2021. Does it live up to expectations? Or should it have been left behind in its heyday?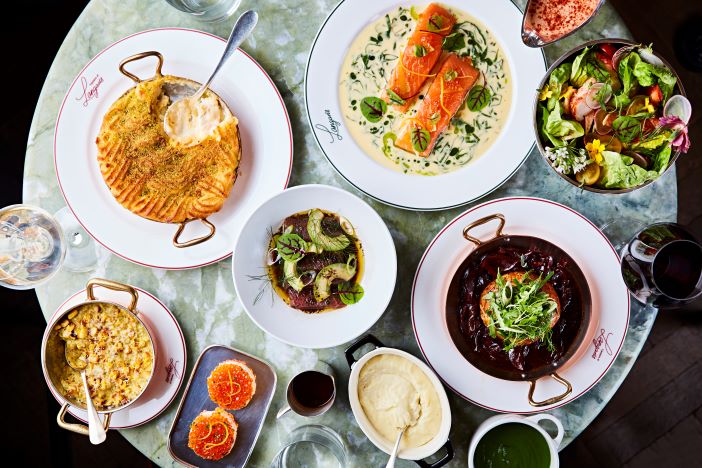 The first thing to say about Langan's, in its current form, is that it is an almost determined exercise in nostalgia. One looks at the menu's selection of French brasserie staples – French onion soup, escargots in garlic butter, chicken liver parfait – and is not struck by the shock of the new. There is, as is obligatory in an expensive Mayfair restaurant, a raw bar – oysters, caviar, fruits de mer – and I am vaguely astonished to see that a selection of vegetable crudites is priced at £19. This does not seem the stuff of egalitarianism. But the room is still superb, and one of London's most buzzy, even now. Everyone here looks sleek, polished and well-off; the armchairs and banquettes are as comfortable as they ever have been (a kindness to those of the aforementioned certain ages) and the art on the walls ('is that a Paula Rego I spy before me?') remains worth the cost of a dinner to investigate.
After my chum Brice and I order a couple of glasses of champagne to kick matters off with suitable aplomb, we debate whether to play it safe or go off-piste. There are the Langan's classics of spinach souffle, fish pie or bangers and mash, but neither of us are in a wildly pescatarian mood and it seems almost perverse to order sausages here. So we agree on a plan of action. Salmon and dressed crab to start, then bone-in Hereford rib-eye to share. If they're good, then they're going to be very good, we think. And if they're bad, well we still have the sumptuous room to enjoy.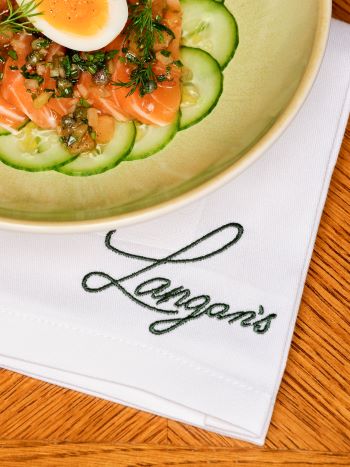 Thankfully, our instincts are proved correct. The salmon comes with a touch of dill cream and very fine sourdough; it's a triumph of sourcing and careful preparation. Brice pronounces his dressed Devon crab the finest he's ever had. I see no reason to offer dissent, as we sip a carafe of Sancerre to accompany it. Then it's onto the piece-de-resistance, a fine behemoth of steak, which is perfectly cooked to strike a fine balance between the tenderness of rare meat and the more robust pleasures of the slightly charred. The bearnaise sauce is impeccable, the garlic butter equally fine, to say nothing of the beautifully crisp frites. We order a second carafe – not a bottle, for we are gentlemen – this time of Douro red. We are very happy.
The service has been on point throughout lunch, but pudding sees a welcome touch of theatricality which lifts the whole experience. We argue good-naturedly about what to order, but our hearts are both set on the rum baba. ('I'll baba you, so help me God.') So, in the spirit of solidarity, we both order it, and are delighted to see that the baba, in all its spongy glory, is delivered to the table by two separate waiters, separated, and dark rum poured generously all over it. It's utterly delicious and completely moreish, and it elevates the whole meal into an experience.
But then dining at Langan's should be an experience. This is not the sort of place that ought to exist in 2022. It's unashamedly exclusive, Mayfair-stylish, reassuringly expensive and makes absolutely no concessions to modernity. But what you are paying for is to walk temporarily back into a time when life was a little bit more glamorous. And to that end, it still succeeds. Admirably.
Langan's Brasserie, Stratton Street, Mayfair, London W1J 8LB. For more information, including menus, Upstairs at Langan's and details of Langan's through the Ages, please visit www.langansbrasserie.com.