There was a time when the corner of Bethnal Green Road was not the epicentre of distressed, broken down cool; a time when bags were cheap plastic, rather than vintage Chanel. Back then, the shop fronts were boarded-up, not gleaming; a genuine sense of threat hung in the air. The idea that a small Soho members club might become a global phenomenon and end up turning the Tea Building around the corner into prime, top–dollar real estate would have seemed ludicrous back then – what a difference a decade makes. In 1999, when les trois garcons, Hassan Abdullah, Michel Lasserre and Stefan Karlson, opened their culinary emporium at 1 Club Row, Shoreditch was still a risk, a bit of an unknown, an outsider's choice. Redchurch Street was a barren tundra of warehouses and cheap cafes, punctuated by the odd stripper pub to help add spice; today rental prices vie with those in Chelsea. This area has evolved in a way that could only be described as extraordinary, but Les Trois Garcons has sat here throughout and is now something of a grand old dame, watching over the newcomers with a wry smile and gimlet eye.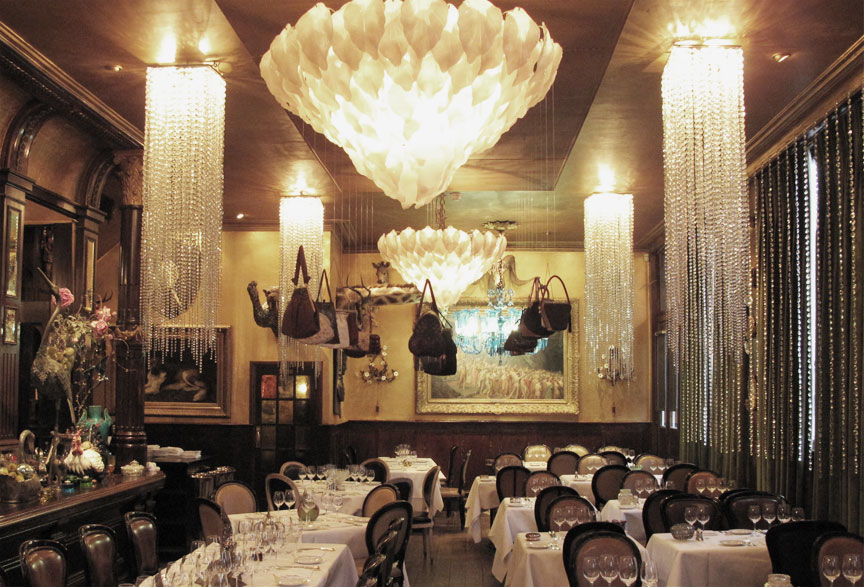 There are few restaurants I would return to because of the décor. In London, most smart restaurants are relatively conservative when it comes to design; there are few places where the aesthetics really lure you in – this is one such place. The trois garcons who own the restaurant designed it too, and said design was a labour of love and fascination. At the time, the partners were working at a range of professions. Designers, hoarders, waiters, antiquarians. They managed to amass an extraordinary wealth of peculiarity; pieces that intrigued and beguiled them. When eventually they found a site to buy and develop into the restaurant that stands there today, they had a rich collection of treasures to fill it with. The building, a creaky old East End structure of inimitable, raffish charm, is the perfect setting for these wares, which wouldn't really work in any other context.
The walk from Old Street roundabout is bitter, wet and windy – I have not worn the appropriate attire for a sharp, winter night. The reception I receive at Les Trois Garcons is heartwarming and personal. The maître d' ushers us toward a lovely table, set in the midst of erratically charming taxidermy, feathers and jewels. There is a giraffe looking into the middle ground, a laughing monkey hewn from dark wood and a shark coming out of the wall. Beautiful, ornate handbags hang on strings above my head (I'm told they were bequeathed to the owners by an aged fashionista who enjoyed the scallops). Strong drinks are poured from an extremely alluring bar, and we settle in.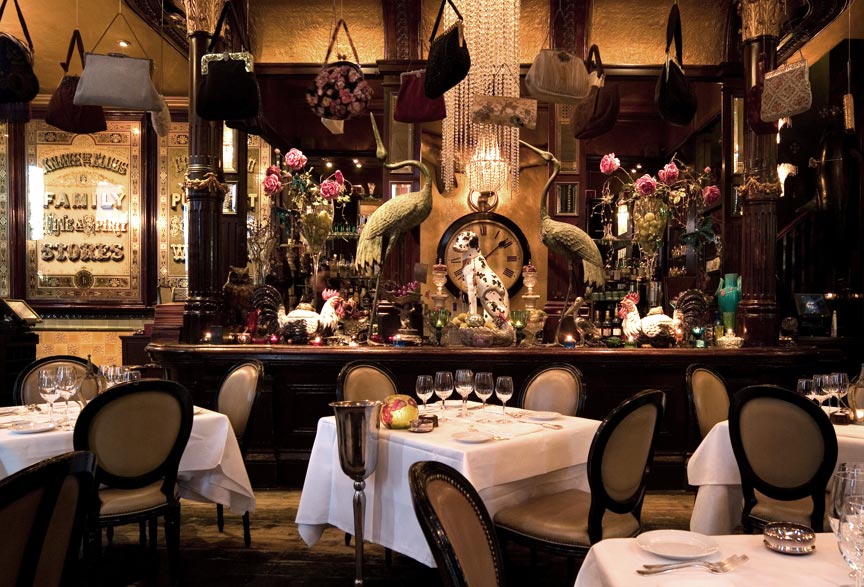 It strikes me as incredibly fortuitous that Les Trois Garcons doesn't simply concentrate on setting; this is not a beautiful restaurant for beautiful people who care little of what they eat, this is a restaurant that cares a huge amount about what happens on the plate. The menu offers up a collection of complex, intriguingly arranged dishes that are formed around the French tradition, but with influences from other areas of Europe, North Africa and Asia. I begin with a stunning dish of Dorset snails with pigs trotter tortelloni and home cured bacon and garlic. The snails are a fine foil for the messy, farmyardy charms of the slow braised pigs' trotter; garlic somehow pulling the various elements of the dish together. My partner enjoys two classic renditions of foie gras combined in one dish – a beautifully marbled slice au torchon, cured in Sauternes and served with brioche, and a roasted lobe with caramelized fig. It's a textbook presentation of liver and a death row dish for lovers of this increasingly controversial delight.
Venison fillet comes lightly smoked and roasted, served with a crisp wonton packed with braised venison. There is also crunchy green savoy cabbage and a deep, resonant meat glaze. All the elements please me individually, and then once again in unison – this is winter's dining at its finest. My dining companion indulges in the pleasures of the pig. Belly, honey and ginger braised shoulder and hock croquettes – a heady combination of fat and flavour. There's a lovely, sticky earthiness to the dish; it's a tad heavy going, but if in the mood, it's lovely.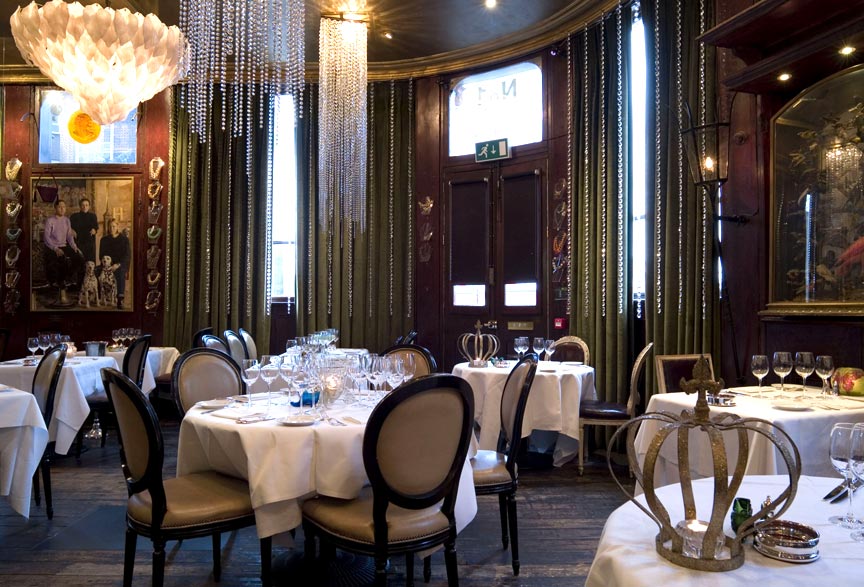 Pudding is simple and classic – a tarte tatin to share. I would have liked a slightly firmer apple component, slightly more texture to the fruit, but the caramel flavour is delicious. We eat it alongside little glasses of Pacherenc du Vic Bihl, which is sweet and raisiny and perfect with the darkly caramelized tart. We sit utterly sated and content, our stomachs full, but our eyes and minds still hungry to take in the cornucopia of visual treasures around us.
Les Trois Garcons is a glorious surprise of a restaurant, a trove of aesthetic and gastronomic excitements. The management have a created an atmosphere which is truly unique – long may it continue to flourish.
Les Trois Garcons, 1 Club Row, London E1 6JX. Tel: 0207 613 1924. Website.