It would be a cynical, point-scoring sort of man who would begin his review of the newest Indian to grace the streets of Mayfair by remarking 'Lucknow 49? Whatever happened to Lucknow 1, Lucknow 2…' And before you know it, the joke has been killed stone cold in its bed by the kind of pointless and wearying repetition that causes sub-editors and readers alike to clutch their beards in anguish and despair. So let's move swiftly on from that piece of absurdity, and get to the gist of the matter.
Lucknow 49, the second restaurant from chef Dhruv Mittal, is very good indeed. While it isn't cheap, it compares favourably to its neighbours (including, also on Maddox Street, Atul Kochhar's Kanishka), and offers a couple of dishes as splendid as served in any subcontinental establishment in London at the moment.
I visit with my friend Brice, a noted trencherman and gourmand. He has the pleasingly reassuring habit of pronouncing everything about a repast 'excellent', from the tap water that we begin the meal with right up to the desserts. While some might wonder about his critical faculties, I can confirm that every aspect of the meal was, indeed, 'excellent'.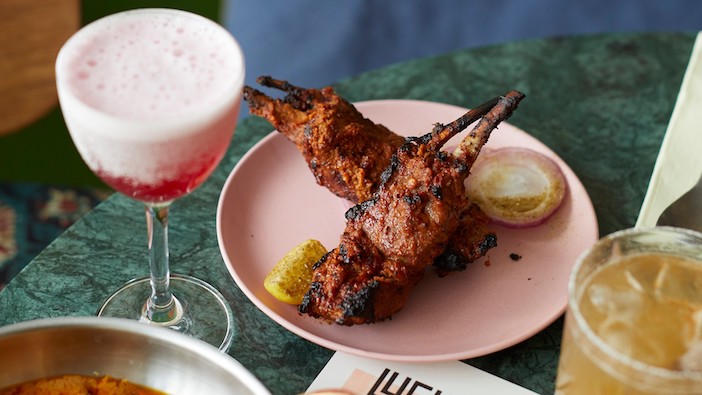 We begin with a couple of fine cocktails, as the manager recognises me from a visit to a restaurant that he previously worked in. We commiserate about its failure as we enjoy a pink mirch, a pepper gin drink with cucumber and elderflower (light, summery, delicious) and a bhavbini, a potent, smouldering take on the negroni. They are dispatched with some gusto, as a cheery Brice asks 'What are we going to munch on today?'.
We are directed towards an assortment of starters, of which the galawat kebab (accurately described as 'melt in the mouth lamb patties') and the zaffrani murgh tikka, a finely spiced chicken thigh, were the highlights, although Brice reserved his praise for the gosht seekh kebab. Aficionados of lamb will certainly be happy here, because the taar gosht curry is another stunningly executed and utterly delicious main course, especially when accompanied by the kulcha bread, a sort of souped-up naan, heavy on the butter and all the better for it.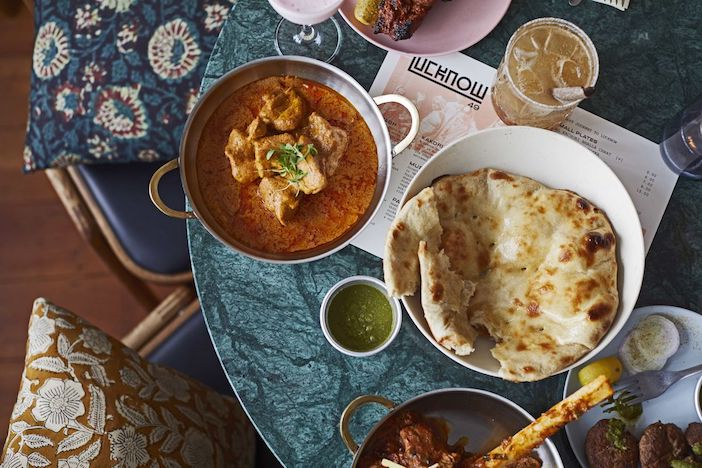 We also ordered the goat biryani, which was a very fine thing indeed. 'It seems as if we have goat whenever we're out together', Brice said, between happy mouthfuls. 'Why on earth is that?' As I sipped a glass of excellent New World Riesling, I was tempted to make some flippant joke, but decided that it would be too cheap – too goatish, if you will – even for me.
The meal ended happily, if undramatically, with their desserts, their fine take on a carrot cake (made with purple carrots, of all things) and milk cakes and mango. If they don't quite hit the heights of earlier in the meal, they're still a fine way to finish off what has turned into quite the sumptuous lunch. As we leave with much in the way of smiling and thanks, I turn to Brice to see what he thought of the meal. I can guess his chosen word, and smile slightly in expectation.
'Well, that was splendid.'
Lucknow 49, 49 Maddox Street, London W1S 2 PQ. For more information, including menus and bookings, please visit www.lucknowldn.com.