Mayfair has often been the locale of choice for high-end Indian restaurants, but with the noble exception of Bombay Bustle, they tend to carry equally hefty price tags. The likes of Benares, Jamavar, Tamarind and the late, lamented Indian Accent all offer top-notch cooking in stellar surroundings, but it is very rare that a lunch or dinner at one of them won't set you back at least £100 a head, and often more.
What the area has needed for ages is somewhere that the food is of a similar calibre but where the prices are altogether kinder, making a visit less a special occasion-only treat and more somewhere that one can imagine going for regular lunches and dinners – indeed, sometimes popping in for an hour's lunch break.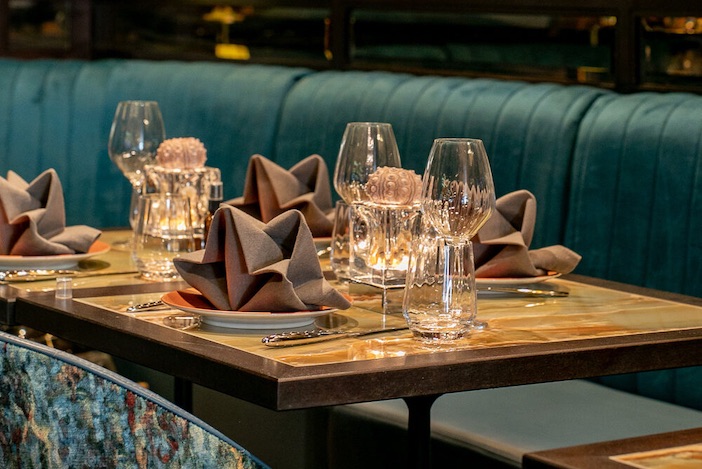 Now, thankfully, that has arrived, courtesy of chef Rohit Ghai. Chef-patron of the estimable (and rather more formal and pricier) Kutir in Chelsea, Ghai's new restaurant is both informal and intimate. The atmosphere, helped by velvet banquettes, has something of the Orient Express about it, managing to be both clubby and, blessedly, non-intimidatingly 'masculine'. One is greeted with real warmth by the staff, a cocktail is offered – the Sangam, a combination of white rum with tandoori pineapple, comes highly recommended – and then it's time to peruse the menu and see whether Ghai has pulled it off again, at a conspicuously lower price point.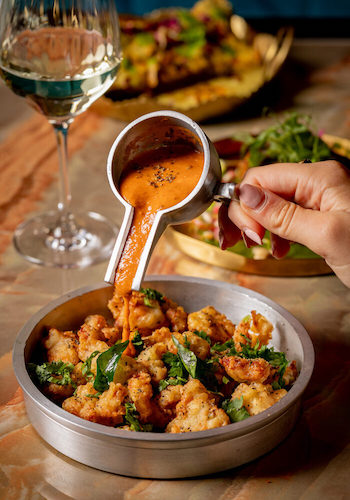 It's a relatively selective menu, without the endless dishes that some of its competitors have, but there's a lot of interest and unusual delights here, whether from the small plates, the curries or the chops and tikka dishes. Larry and I kick proceedings off with a combination of fish, veganism and chicken – the ghati masala prawns are finely spiced, the jackfruit tacos have a reassuringly complex crunch to them and the buttermilk chicken resembles nothing so much as (and this is definitely a compliment) a kind of fiery chicken nugget, cooked to perfection.
Larry calls for a carafe of Gavi di Gavi to accompany it, and the man has chosen well; it cuts through the spice and heat nicely and we make happy sounds of appreciation as we converse, as is our wont, about politics, national decline and what we're watching on various streaming services.
Once we're finished, it's time to delve into deeper waters. The restaurant does not claim to have a signature dish at this nascent stage of operations, but the osso bucco 'rassedaar' – a kind of rich curry – could certainly be it before long. The sauce is deliciously moreish, the lamb perfectly tender and melting, and the dish is yours for £18.
Couple this with a paratha and a drink and you could be out for £30; a bargain for Michelin-level cooking of this complexity and interest. But we also loved the sarson chicken, complete with a spiced tomato 'gravy', and an extra dish of 'shami kebab', a goat small plate produced and eaten with appropriate solemnity all round. A glass of Langhe Dolcetti Vigna Nirane was, again, a more than fitting accompaniment.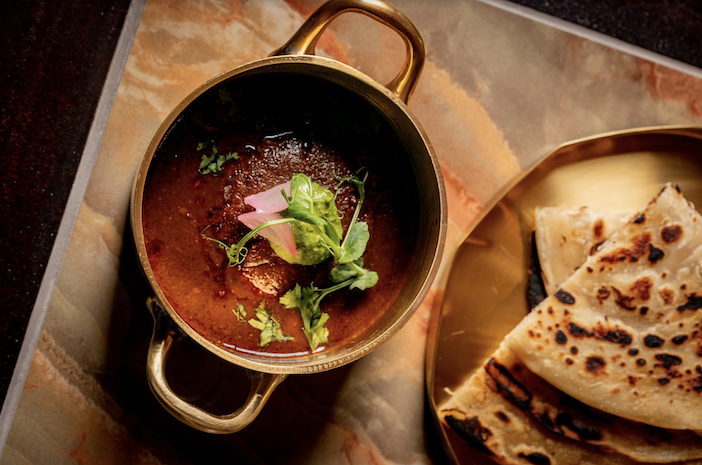 Desserts are offbeat and unusual, albeit in a tempting way. We eschewed the reasonably conventional-sounding narangi chocolate for 'classical trio' and 'garlic khee'. The first is a combination of the traditional Indian desserts gulab jamun, laddoo and srikhand in a kind of cake, and the second is a light, delicious pistachio and almond-flavoured cream pudding. Both are excellent and off the beaten track, and we gratefully took the manager's recommendation of their take on an espresso martini, the Sukoon, which has a refreshing lightness to round the meal off with.
I cannot speak highly enough of Manthan. The food and the atmosphere are superb, the staff have a relaxed warmth that is a welcome change from the stiff formality of some of their counterparts, and it's all priced at a realistic, rather than greedy, level. I loved it, and cannot wait to return. Chances are that you will, too.
Manthan, 49 Maddox Street, London W1S 2PQ. For more information, including menus and bookings, please visit www.manthanmayfair.co.uk.