The ongoing Russian invasion of London has been very remarkable. Starting around five years ago, it now seems as if the pound of the oligarchs has dominated the city in a fashion that would have been unthinkable in the Cold War. Russians own London's football teams, most expensive houses, restaurants and even the Evening Standard. Part of Waterstones in Piccadilly has been turned into a Russian-language bookshop specifically to cater for this emergent Little Moscow market. Is nothing sacred, I hear you cry?
Well, it's not just one-way traffic. In addition to British institutions being purchased, there have been several Russian restaurants opening in the capital over the past few years, the latest and most elaborate of which is Mari Vanna, named after a legendary wise woman. Jonesy, Larry and I decided that it was our prerogative to head to this Knightsbridge spot, just opposite the newly opened Bulgari Hotel, to see whether there really was anything in the adage that Russian cuisine got better the further away it was from the home country.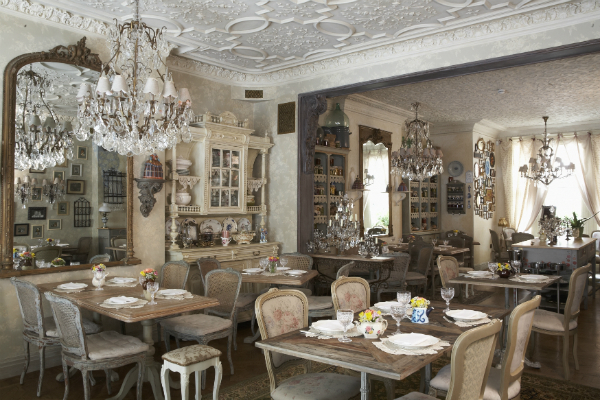 The first thing to note about Mari Vanna is that it's absolutely covered from top to toe in bric-a-brac. As soon as you walk in, the impression is of being in an exceptionally high-class junk shop. Nothing seems entirely to fit, but it's about as far from being tacky as you can imagine, with dressers, chandeliers, knick-knacks, books and pictures all fighting for space. We looked at one another, and nodded. This was clearly going to be a shot-of-vodka job. Which we were promptly offered, in a bewildering assortment of flavours. Larry and I both opted for the horseradish and chilli variety, something that should be tried at least once, even if the idea sounds a little repellent and somehow insulting, rather like having a Mojito made out of Chardonnay and whisky. The taste is rather more impressive. The wine list, made up primarily of European wines but with a few Russian ones chucked in, is inventive and sensibly priced.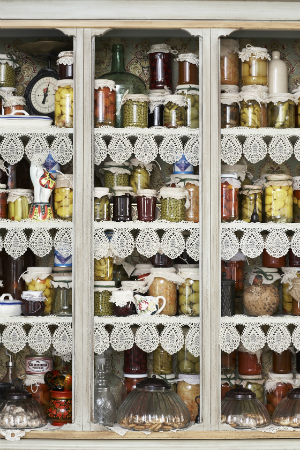 The food is heavy. Really, properly heavy. It's excellent – pirogi, a thicker, heavier and more Russian version of dim sum with minced beef and pork are particularly sublime, as is a sort of 'cheese pizza' that Jonesy and Larry tucked into with merry aplomb, and much 'After you old fellow', 'Oh no old chap, I insist' banter. But if you want the kind of dishes that don't leave you feeling rather aghast at precisely how much you're going to have to undo your belt at the end of the meal, this might not be the place for you. Itsu do a mean miso soup, apparently. I, meanwhile, will stick to a beef stroganoff of a size and texture that would probably make Old Ma Vanna weep into her wooden clogs. Puddings involve cream. Lots of cream.
The staff are all lovely, and you'd struggle to have anything other than an excellent time here. The prices aren't all that dreadful either. But the whole experience is one that only those who fully enter into the spirit of it are going to really enjoy. For those who are about to have a meal with enough calories to feed a family of four for a week, we salute you. For everyone else, view this as an upmarket and rather more enjoyable take on those fast-food establishments where you have to eat twenty burgers in twenty minutes to win a baseball cap (or whatever they do there), and prepare yourself carefully. Then enjoy one of the most decadent meals that you're going to have anywhere in town.
Mari Vanna 116a Knightsbridge, London, SW1X 7PJ 02072253150 www.marivanna.co.uk