"How's the meat situation?" This enigmatic question was graffitied onto a work top at my old university and is, bizarrely, permanently etched in my mind. I had always assumed, perhaps naively, that it was rhetorical. But now, years on, we must face a grim truth. The meat situation is bad. Very bad. Meat, as an entity, is in crisis. Everywhere you turn, another horror: soaring prices; bowel cancer; supersize carbon hoof-prints; and of course the latest travesty – Seabiscuit lasagne. For someone like me, the sort of carnivore that would make a Tyrannosaurus Rex look like a PETA activist, this is all deeply distressing. So where better for this beleaguered soul to take refuge from the unrelenting ghastliness of it all than MEATMission, the latest offering from the good people behind MEATLiquor, the root cause of terabytes of glistening, Instagrammed burger porn.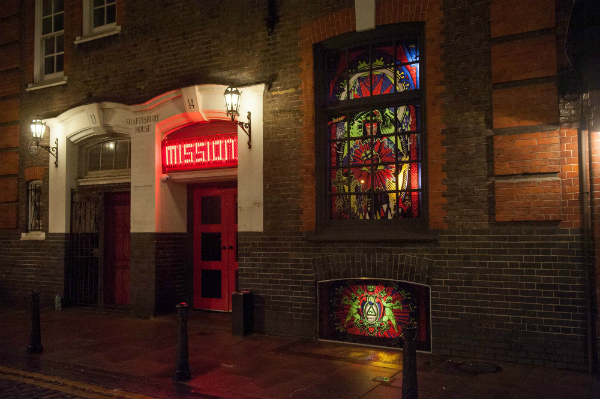 Appropriately housed in an old missionary, this new incarnation of the stripped-down, straight-up MEAT franchise has been offering protein-rich sanctuary to Hoxton's hungry scoundrels since December 2012. Today, it is my turn to throw myself at the feet of the Almeaty. My fellow pilgrim, the editor of this fine Foodie section, and I arrive early for our 7.30pm booking – fully primed and ready. Strategies were exchanged by email (salad for lunch; loose fitting trousers; game face) so as to reduce the need for idle chatter. Tonight is about reverent, pious devotion. Now, you may, dear reader, have come to suspect from the foregoing that I am predisposed to cast favour upon any outlet whose repertoire revolves around the worship of meat. And you'd be right. Nevertheless, I urge you not to let my obvious infirmity prejudice your reading of what follows.
The mission is just off the main drag in a quiet, quasi-residential square. Dark-tinted windows – a glass niqab – protect the hot flesh within from the unsolicited, lusting gaze of passers-by. As we enter, however, the family resemblance to other MEAT restaurants is clear. The same slutty, grungy décor, ultra-low lighting and classic rock background music. The patrons appear to be locally sourced however: a collection of thick-rimmed specs, ironic moustaches and children's clothing. It's busy, but we are pastorally ushered to a grand table by the kitchen, overlooked by some unsettling, evocative, deathly images – Baron Samedi, the Minotaur. I get it though. Sympathy for the devil. We're in an abattoir.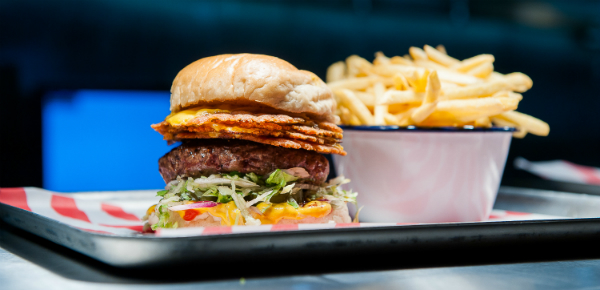 The menu, presented in the style of an order of service, is an evolution from the tried and tested method of the earlier MEAT outlets, and features some cheeky little nods to both the East End setting and the trendy, food conscious set that descend in their masses to this place of absolution. Such dishes include the Roast Beef Sundae, a classic roast dinner presentational concept thought up, presumably, by somebody with unresolved childhood issues concerning ice cream and gravy. To assist the decision making process, we order a cocktail from the extensive selection. I decide not to mess around and go straight to the famous "Grog", a rum concoction of serious potency made to the house's secret recipe. Most refreshing. Ed. goes for the Dry Daiquiri, a fruity number coyly served in a deco champagne glass – a shy glimpse of femininity in unforgiving masculine territory.
What happens next is hard to explain. Our waitress, a saintly young thing, patient and attentive, appears to take our order. Perhaps it was the lingering presence of the Holy Spirit, perhaps it was mild stupidity, or maybe we were just a pair of pigs out of control. In any case, and whatever the true cause, we go ape-shit. Chili Cheese Fries, Bingo Wings, Monkey Fingers, Dead Hippie Burger, Pastrami Dog, Peckham Dip. A good helping of sustenance or the deadly sin of Greed? Judge not lest ye be judged.
Another cocktail, this time to aid the waiting process and to alleviate some of the building anxiety. For me, Das Ambassador, a Martini-style aperitif of vodka and medium sweet Germanic wine, garnished with a Ferrero Rocher. Truly spoilt. For Ed., New Cross Negroni, a fairly orthodox take on the classic. The gentleman next to us, bald but moustachioed in the Victorian strong-man style, has been served with the aforementioned Roast Beef Sundae. It smells exquisite. It looks exquisite. It's why we must win the war on terror at all costs. Such things would never exist under the Mullahs.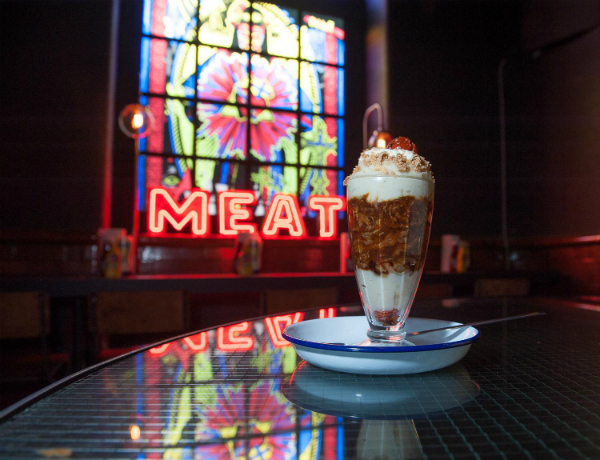 After perhaps 20 minutes, our tray appears on the horizon, massive like the space ship in Independence Day, coming to take over. Like Pavlov's dog, I start foaming at the chops. As it's lowered onto the table by our meek waitress, the colours and smells come together in a cacophony of overwhelming experience. This is it. The mother load.
The Chili Cheese Fries. A favourite of mine from the other MEAT establishments, the first time I tried this rich, crunchy, cheesy mess I was compelled to aggressively goad an old colleague who had been recently warned to give up meat by his doctor, knowing full well that one bite might have hospitalised him, but that he would have sold his own mother into slavery for a mere sniff of that good stuff.
Monkey Fingers. After getting over the initial disappointment of finding out that they are not in fact the deep fried digits of some well-fed gorilla, I was lifted to a great height by these treats. Beautiful Caribbean-style pepper sauce, more tangy than spicy, over a medium-crisp battered chicken fillet. Very good as they are, but a class apart when dipped in the accompanying blue cheese sauce. I don't even notice as the first greasy stains slop onto my shirt. I am in deep contemplation. The Bingo Wings, served in a similar format to Monkey Fingers are equally smashing. As a man who rarely goes for wings, I could happily spend a quiet evening in with just these and a pack of wet-wipes.
The mains are, of course, the key issue here – the business end of the whole episode. Having ecstatically gorged on the Dead Hippie Burger before at MEATliquor, I was invested in recapturing that old black magic, and it does not disappoint. The mild spiced Dead Hippie sauce over the mustard-fried patties are a great development in burger craft. Pleasing to the traditionalist, the rare-medium cooked beef sets a priggish steady rhythm, while the impudent sauce puts a Hendrix riff on top.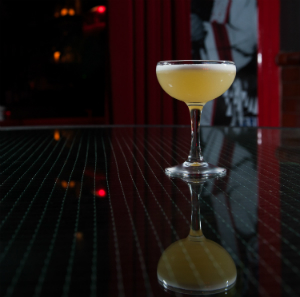 I was particularly excited about the Peckham Dip: roast beef and pepper-fried onions in roll served with a pot of bone marrow gravy on the side. The gravy, like looking into a barrel of crude oil, takes on that smooth, mayonnaise slick of the bone marrow and marries it with a classic, rich bovine flavour that evokes Sunday lunches out in a country pub. The pepper fried onions – perhaps a touch too peppery for the likes of me – cut through the homely comfort of the gravy, momentarily clearing a path for the layered roast beef haymaker to smack you in the face.
At this point, dear reader, I have become aware of a growing sense of conflict between my desire to keep eating and my stomach's actual capacity to process the masticated boluses that have already made their way down. Another cocktail. That'll sort the problem out. Game Over for me. Not literally of course; it is the name of a drink, put together under the same thought process behind the Long Island Iced Tea. Seven alcohols (one of which is absinthe) topped with fresh lime and Mountain Dew. Given the astonishing booze content, this drinks as easy as a cool lemonade on a hot summer's day. Ed. has a Hoxton Fizz, a crisp and sharpening slip containing vodka, sparkling wine, pear, lemon and strawberry.
The summit is now in sight. The Pastrami Dog. This dawg draws on various schools, with a classic New York smoked pork frankfurter base, followed up with Swiss cheese, Russian dressing, crisp pastrami and sauerkraut. Quite a well matched set of vittels, although the power of the smoked pork and crisp pastrami mean the Swiss cheese barely even registers, bringing more to the party by way of texture than taste. As a floating voter on the issue of sauerkraut, I was pleased to come down hard in its favour on this occasion: it provided a frame of razor-edge tang to the elastic, smoky porker.
Bloated. Sated. No dessert. No coup de grace. But no remorse. Barely able to move, and unable to trace in my sensory memory the sensation of hunger, our waitress comes over one last time with the cocktail list. One for the road I tell myself. A digestif. I have the So Lairy, a drink, I am informed, inspired by the Solero ice lolly. Finlandia Mango Vodka blended with ice, passion fruit and cream mango puree. A perfect, sweet finish that unlike some solid state dessert won't require me to get a ride home in an ambulance. Ed. has a Space Gin Smash, but he's gone very quiet. He's got that look of a man who's found peace in his heart.
Blessed was this day.
MEATmission,  14-15 Hoxton Market, London N1 6HG. Tel: 020 7739 8212. Website.