There are good things happening on the King's Road. No, I don't mean the antics of the Made in Chelsea crew. I'm talking restaurants. A few weeks ago I had what I described as the most satisfying meal I'd had in ages at the Big Easy, number 332-334 – a feast of succulent two-pound Maine lobster, fries, salad and frozen margaritas all for £19.50. Then I went to Mozzarella & More, the newest arm of Italian family-run, mini-chain – Made in Italy, and this blew the lobster out of the water, so to speak…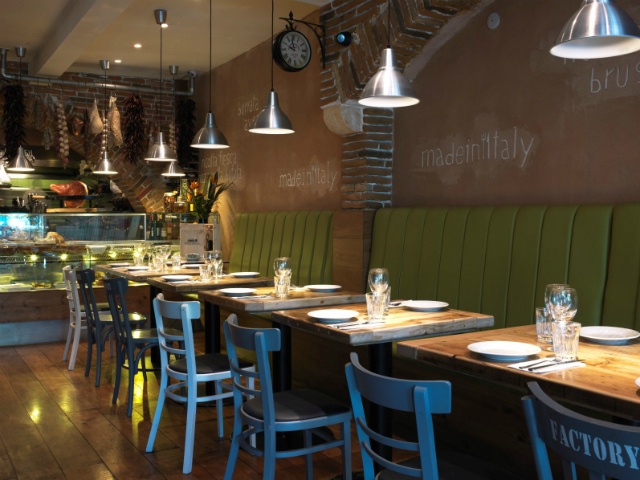 We came in search of cheese: my friend Lisa and I originally bonded over our mutual love of fromage, and so when we heard that M&M happened to be the only place in the city to make its own mozzarella, we decided it was worth the schlep beyond Sloane Square.
Inside it's styled like your classic Italian trattoria. A stone oven glows and smokes at one end, while strings of garlic hang from the walls and exposed brickwork and wooden beams abound. There's a deli counter laden with colourful antipasti where you can buy produce to take away, while the bottles of olive oil that line the shelves are also for sale.
Ah yes, the olive oil. So good was this that before we'd even properly looked at the menu we'd made up our minds about this place. They infuse their extra virgin with herbs and lemon. Into these pools of flavour-packed liquid gold we dipped wedges of their fluffy homemade focaccia. Don't even think of adding balsamic vinegar; it doesn't need any accompaniment. Antonio – whose friendly, informative service was every inch as good as the food – uncorked a bottle of gutsy, full-bodied, rich Valpolicella and the rest is gastronomic history.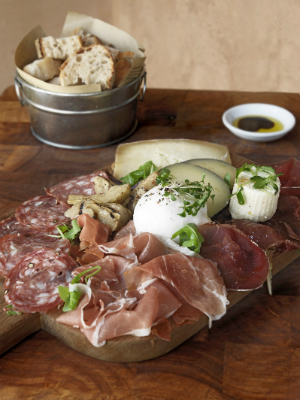 Next he conjured up two huge wooden slabs piled with all manner of delectable antipasti. Among the cured meats, fried zucchini, olives and grilled peppers I found my perennial favourite, caponata. For those who haven't had the pleasure of discovering it yet, this is a Sicilian delicacy that mixes soft, slowly cooked vegetables with rich tomato sauce, pine nuts, fresh basil, raisins and capers. Antonio expertly narrated all the components so we not only knew the ingredients of everything on the table, but its provenance and culinary heritage to boot.
As the venue's name would suggest, the crowning glory of this platter had to be the burrata though – a glossy, white snowball globe of cream-laced mozzarella, split open to reveal a devilishly gooey centre. There are no fewer than eight different varieties on offer in their Mozzarella Bar, in fact – we also sampled the firmer, smoky scamorza and a heavenly, fluffy mound of the classic buffalo as well as a fresh riccotto swirled through with lemon zest.
By this point we could have happily rolled off into the night, bellies full and spirits lifted, but to have passed up the chef's homemade pasta and sausages would, I sensed from Antonio, be both a grave error and terrible slight. So I received a steaming silver pan – straight from the hob to the table – of randomly cut pasta squares anointed with clams and pesto. Its sweet, oily sundried tomatoes balanced beautifully with shavings of salted homemade ricotta. Lisa was surprised to find her sausage was flavoured with pistachio and fennel, and made with chopped rather than minced pork for chunkier texture. Following a traditional but top-secret recipe, it is cut down the middle so its contents splay out and fried.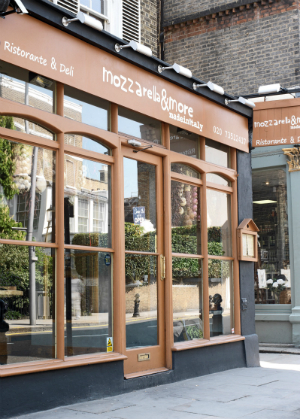 Puddings seemed heavy on the use of Nutella and a little less refined than the previous courses, yet hit the spot nonetheless. The chocolate and nut cheesecake basically tasted like a Snickers bar – which is never a bad thing, surely – while my molten-centred chocolate pudding was ideally paired with a crunchy crown of chopped pistachios and fresh strawberries.
The finishing touch was two shots of limoncello made from the little potted lemon tree that sits in the restaurant's window.
This is food made with real love and attention, and it shows. Simple, soulful, heavenly – it's everything Italian cooking should be. Seriously, drop what you're doing and get on a bus down the King's Road. You might just have to wrestle me for the last ball of burrata.
 Mozzarrella & More, 257 King's Road, London SW3 5EL. Tel: 020 7351 2417. Website.