Fitzrovia – bohemian hub of the early 20th century, home to literary and artistic bon vivants who would frequent the area's many watering holes: The Wheatsheaf on Rathbone Place, Northumberland Arms (recently reincarnated as Draft House Fitzrovia) and Charlotte Street's Fitzroy Tavern among hordes of others. The latter, lending its name to the area, was once a favourite hangout haunt for George Orwell and Dylan Thomas during their time at the BBC. In those heady bohemian days, 'taverns' such as the Fitzroy would play host to long days of carousing and consorting, of prattling prose and slurring through scripts (and of shameless schmoozing if you were Dylan Thomas, who was known to bestow gifts of poetry scrawled onto beermats on the ladies).
Many of these old drinking establishments still stand strong, and add to the area's sense of chequered history, along with its high concentration of art galleries and dealers. The landscape has changed though, and while Charlotte Street is lined with restaurants, Fitzrovia's main inhabitants today are fashion headquarters, TV production companies and ad agencies.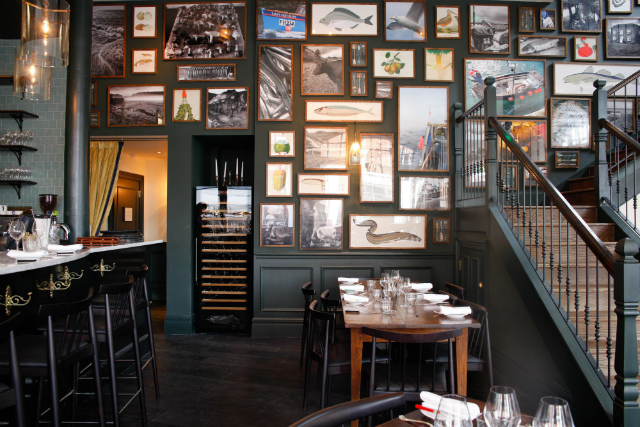 Enter Peter Weeden, former head chef of Paternoster Chop House and Boundary, who has stepped back in time to welcome the return of the 'Tavern' to Fitzrovia. Newman Street Tavern is found slightly off the beaten track, towering tall at the far end of the eponymous street, where Newman meets Goodge. Formerly The Cambridge, a long-standing 19th century boozer, the building did a brief stint as a Ping Pong branch, before landing in the hands of Weeden, who, along with restaurateurs Nigel Sutcliffe, James McLean and Jerome Armit, has created a new type of Fitzrovian tavern. Here, the focus is most definitely on the food, although drinkers are welcome at the bar.
We arrive on a scorching Sunday lunchtime, positively perspiring and a little fuggy-headed after a heavy night before. We're seated in the downstairs area, an impressive room with a raw bar at the far end, providing a wide range of oysters and other shellfish, and a wall covered almost entirely in an eclectic array of framed paintings and photographs – mostly aquatic themed, many relating to the restaurant's own suppliers. We're offered Bloody Marys – the offer is very well received, although feeling acutely aware of our tormented livers, we both choose a cautious 'Classic' from the list of eight varieties. After a little while they arrive (perhaps our waiter could have done with a sip of vivifying Bloody Mary too) but the wait is well worth it: the perfect blend of lip-tingling spice, tang, salt and sweet – just what the doctor ordered.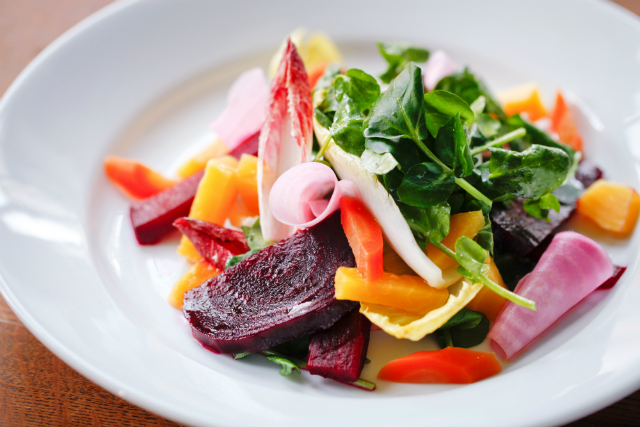 On sight of the menu, the restaurant's focus becomes immediately obvious: a celebratory showcase of Britain's finest wild, seasonal produce from coast to farm to hedgerow. There is an impressive à la carte menu available during the week, offering dishes such as Lobster a la plancha and Suckling kid. As it's Sunday, we're given the Brunch & Lunch menu, and helped by the super-charming manageress, Caro, we choose starters of Brundish onion tart and brown crab on toast. The tart – a Paternoster regular – is a delight, its crisp pastry crust housing a filling of perfectly sweet, golden, translucent onions. The brown crabmeat (for me a definite death row dish contender) is pungent and generous in size.
Mains follow – I've opted for smoked haddock, Mornay and brown shrimps. The haddock in its sea of rich, cheesy Mornay sauce is plump and moist, with the shipwrecked shrimps adding an interesting textural element to the dish – truly delicious. My fellow diner has chosen cod with fennel and cucumber – the cod is well cooked and clean tasting, and when teamed with the fennel and cucumber is an intensely fresh fusion of flavours. On Caro's advice, our fishy mains are paired with Maccabeo 'Trigone' Blanc 2007 from Domaine Le Soula – a simple wine with mineral flavours that cut through the creamy Mornay.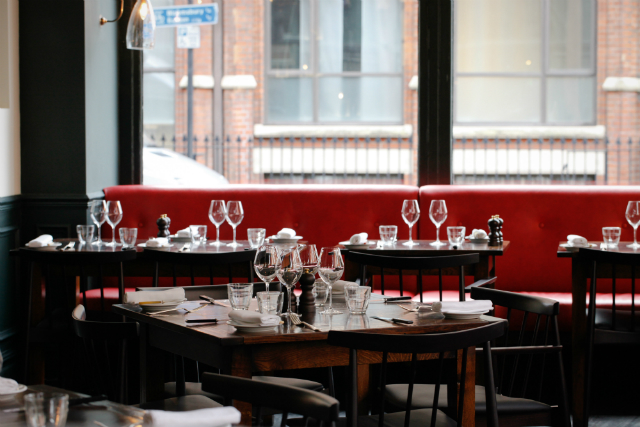 After dessert – a rewardingly rich Original Beans chocolate mousse for me and a comforting Apple crumble with vanilla ice cream for my companion (the ice cream was a slight let-down in its lack of any distinct flavour) – Caro takes us on a tour of the restaurant. On heavy legs we waddle up the staircase, past the wall of pictures, to the cosy upstairs dining room. Caro explains that it's slightly more formal up here, and can host larger parties of guests. We end our tour in the kitchen, where we're greeted by the chef. He is very proud to show us his meat – and my, are we impressed. Hanging in the dry ageing room are several carcasses, which the chef explains are bought whole and butchered on site. Various hams hang next to sides of cow and the faintly fleshy smell is intoxicating. For someone who has been known to cry at the beauty of London's great butcher shops, the kitchen has a profound effect and leaves me wishing I had been more carnivorous in my menu choices – well, there is always next time.
Newman Street Tavern is a great new addition to the area, continuing Fitzrovia's tradition of welcoming retreats. On the day of our visit, both the bar and dining room are comfortably full with guests, which proves a positive sign for the restaurant's future. Weeden's dedication to high quality British produce and obsession with seasonality and provenance have come together to provide a real haven, which is sure to become a home from home for Fitrovia's next generation of bon vivants.
Newman Street Tavern, 48 Newman Street, London W1T 1QQ. Tel: 020 3667 1445. Website.