Tosca, mi fai dimenticare Iddio!…
There is always the worry with a restaurant situated near one of London's most famous cultural attractions that it will end up being somewhat…token. Everyone has a story about being suckered into somewhere mediocre in the headlong flight to catch a play or opera, on the grounds that a fixed-price menu of £20 or so a head (excluding booze, naturally) isn't too bad, and even if what one has to eat is essentially unmemorable, it 'did the job' and the whole point of the evening was to watch one of our great thespians or opera singers giving their best. This is understandable, but it's also something of a pity. Thankfully, the relaunched Opera Tavern proves that it's also unnecessary.
I had visited Covent Garden's Opera Tavern more than once on previous occasions. The food was lovely, but, ironically, it had the most appalling acoustics, meaning that one was reduced to bellowing the most simple things at one's dining companion. 'It's really good to see you' thus became yelled at a kind of volume that made one seem like an extra from Goodfellas, and even the much-famed iberico pork burger, for many years a standby in London's best dishes, had to be ordered in a strangulated bellow that made asking for one's food sound like a menacing threat.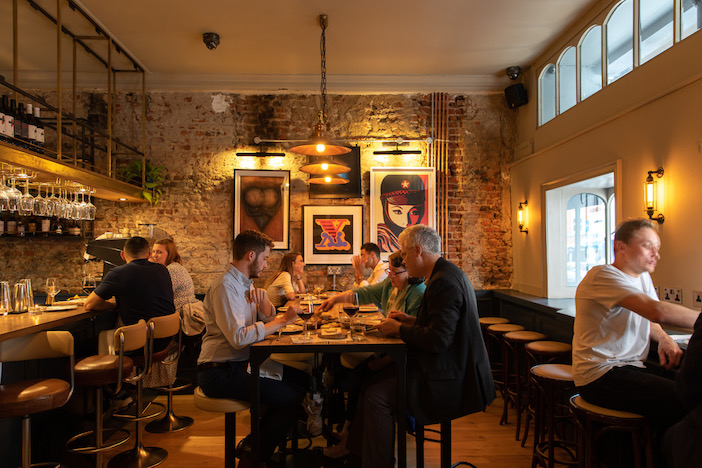 This, thanks to the refurbishment, is now a thing of the past. The estimable owners – who also control the Salt Yard group – have maintained the easy-going sense of relaxed cool, which means that this is somewhere that the curious can spend £15 or so on a tapas dish and a glass of wine, for a light repast. Those who are in it for the duration had better relax, unfasten their belts and settle in.
A pre-prandial cocktail of gin, cucumber water and elderflower sets the scene admirably; we are served a dish of in-season padron peppers, and my chum Catherine and I manage to get a spicy one each. The excellent, unfailingly friendly and professional waiting staff are kind enough not to smirk at our exaggerated expressions of surprise and distress.
The menu here is comprehensive; fish, meat and vegetarian options all make their presence known. We flounder when faced with such choice, but our excellent waiter, clad in a decidedly 2019-style denim jacket, takes pity on us and talks us through the menu, gently steering us away from a truly outrageous amount of food; the chicken saltimbocca, chargrilled gamberoni and the legendary iberico pork burger will all have to wait for another visit.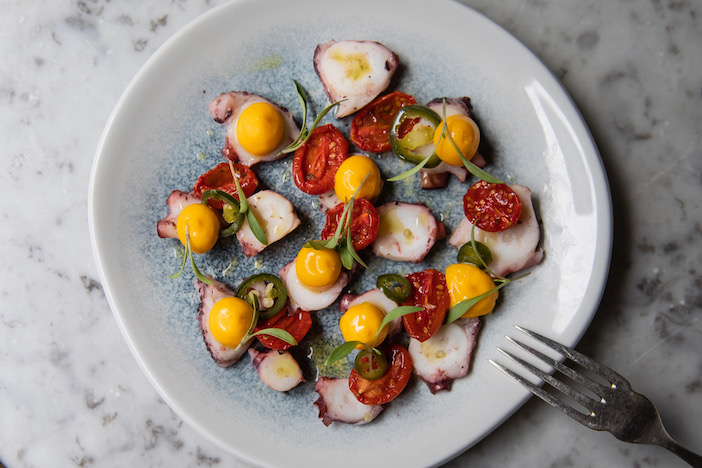 What we did try was more than comprehensive. Slow cooked Galician octopus, Welsh lamb belly, courgette flowers with blossom honey and perfect jamon and manchego croquetas were all sensational, and the portions the right size. With a carafe of fine Venetian chardonnay to accompany it, we were very happy.
However, it would be a shame to come here and not try what is increasingly becoming their piece-de-resistance, the sharing plate of iberico pork. Every day there is a different cut, and we were lucky enough to try the pluma, or feather cut. At £30, it's a good deal pricier than the rest of the menu, but it's worth every penny, especially when accompanied by a very good rioja.
We made all the right appreciative noises, and when our waiter asked us if we fancied another, only common decency and discretion led us to say no; how we wanted to. But it would have been mere greed, and so we desisted.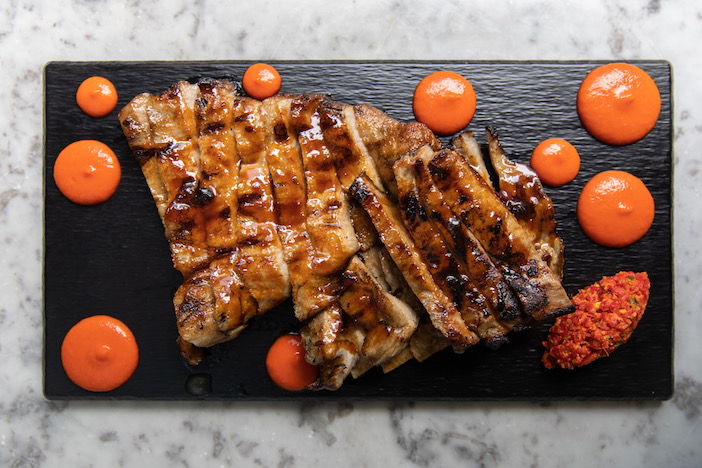 We certainly wanted to have some space for the intriguing-sounding dessert and cheese selection, too. Catherine always errs towards the savoury and I to the sweet, so we compromised by ordering both. (A note for life: if you can compromise by keeping everyone happy, everything will be better for you.) We try some fantastic and unusual cheese – the gorgonzola dolce and the marzolino al tartufo are especially good – and the chocolate delice, complete with honeycomb and dulce de leche, is delice-ous. A small taste of moscato and the obligatory espresso martini later, and then we're ready to return to our own operatic pursuits sated and happy.
The Opera Tavern is a fine place, and has probably just got even finer. A meal here is one of London's nicest treats, and we can't wait to go back. And then, and only then, we will order the iberico pork burger once again.
For more information, including menus and bookings, and for details of other restaurants in the Salt Yard portfolio, visit www.saltyardgroup.co.uk.