"Aprils have never meant much to me, autumns seem that season of beginning…" My sentiments exactly Mr Capote, for there is something fresh and exciting about this time of the year. The other seasons meld into one another quite seamlessly – bar a degree or three; especially in old Blighty where distinct seasons are a thing of the past (I believe we're still waiting for summer 2012…). Except autumn; autumn never fails to stand out. The sudden transformation from green to an infinite spectrum of yellows, oranges and reds; falling leaves to kick playfully on crisp, sunny autumn strolls; conkers to string up and bash to smithereens; and a whole new menu to be made from the deep and varied ingredients on offer – the best time for British produce, for sure. Earthy root vegetables, squashes, mushrooms, rich game… you just can't match that level of comfort and joy in a summer salad. Yes, autumn, before the deathly cold winter winds start to blow away the enthusiasm to socialise en masse, and only a great roaring fire, Old Fashioned and plate of something unctuous will do to ward the SAD away, might just be the most exciting season of all.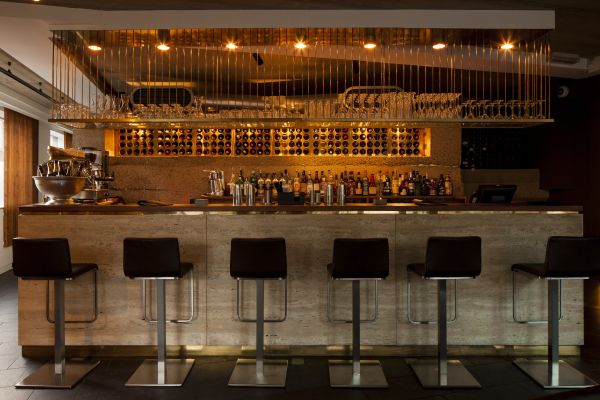 Michael Nadra, or his restaurant to be exact, is to blame for me falling so deeply for this year's fall; for it is there I had my first dishes of the new season; dishes so good, I really must get on and reserve my return visit.
A newcomer to North London's Primrose Hill area – placed at the much more accessible and quiet Camden/Regent's Park end, not the busy strip over by its namesake mound – it's the second offspring from the Michael Nadra portfolio, arriving two years after his eponymous Chiswick outpost, and 15 years after his first jaunt in the kitchen: a summer at Michael Caine's The Canteen. Honing his skills on the pass at Frith Street, Petrus, Chez Bruce, La Trompette and The Atlantic, to name a few, Nadra's second venture is a breath of fresh air to the area. I can't quite put my finger on it, but from the moment my friend and I walked in, I knew we were on to a good thing – although merely months old, it has the air of somewhere with history and a tale to tell.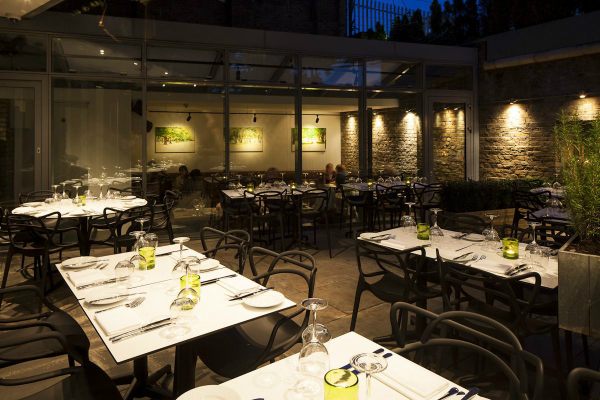 From street level Michael Nadra is so inconspicuous I was worried we'd trekked to the wrong Gloucester Avenue – it wouldn't be the first time – until a squint at the unlit concrete revealed the wall-mounted sign. A tarmac slope leads the way to a glass wall and entrance revealing a Little Matchstick Girl cosiness omitting from inside. Once in, the bar and restaurant leads you on a sprawling maze to an open courtyard garden one end, and caveau-like Grade II listed Horse Tunnel to the other, the arched roof making a neat little place for a group to dine and imbibe. In the middle, sits another intimate space made cosy with a wall mounted fire. We sat in a snug area for around 12, glass wall one side looking out on the courtyard, night sky and levels of living wall; the other, decked in pristine white wood panelling and three lovely paintings echoing the leafy parkland scenes across the road, glowing under spotlights. Canard Duchene-branded wine coolers, a large ornate mirror, and 70s-brown leather chairs and banquettes, the only other decoration. The stripped back brickwork, well placed spots and candlelight, together with the low ceilings, design-y features and chill lounge beats, are reminiscent of a boutique hotel in La Rioja Alavesa, we visited in the summer. A good thing, for it's one of our favourites, and a darn site further to travel to.
With such a vast martini offering – over 20 classic and inventive mixes – it would've been rude not kick off our evening with one of those: Hot Passion – a spicy, tropical, whole red chilli-adorned affair for the boy; and honeyed gin Hendrix for me. Both inducing the end of the day 'ahh' and smiles all good aperitifs should.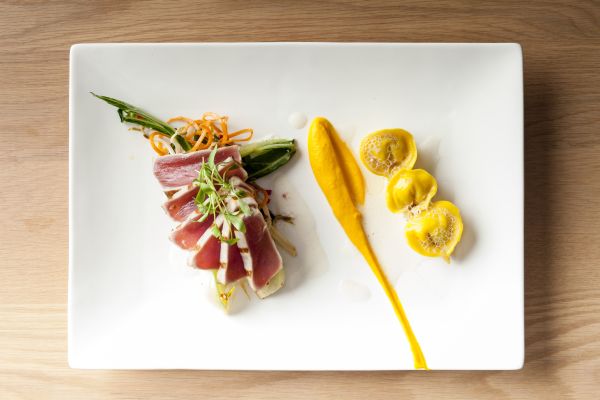 Not wanting to enter the realms of gluttony on this particular eve, we turned down the six-course tasting menu – actually pretty reasonable at under £50 – and instead deliberated over the very appealing a la carte. With hints of British, French, Italian and Asian, and around seven equally tempting offerings for each course, it took the martini, a slice of buttered olive bread and several decision changes, to finally settle. Orders taken, and we're swiftly rewarded with a tiny morsel of delicately battered whitebait, atop a creamy tartare sauce – a delicious little amuse bouche to begin proceedings: the kind that leaves one wanting more from where it came from, which is exactly what these little surprises from the chef should do.
A garlic waft hit me before my eyes caught up and saw my starter arrive: a glistening plate of cool salmon ceviche, and warm grilled octopus: really very good. Adam's crispy sweetbreads were also excellent; worth distracting him I reckoned, so I could steal another. Thick slices of medium rare fillet steak, drizzled in a deep madeira jus was a forkful of happiness in itself. Paired with garlicky girolles, tender, ever-so-slightly sweet cheeks, and earthy hug of truffle mash and the result was a dream of a main course. The boy was also rather chuffed with his venison saddle; the port jus soaking up nicely in a root vegetable rosti and sausage roll pastry. In short, four dishes that demonstrated the joy of the season's offerings with perfection.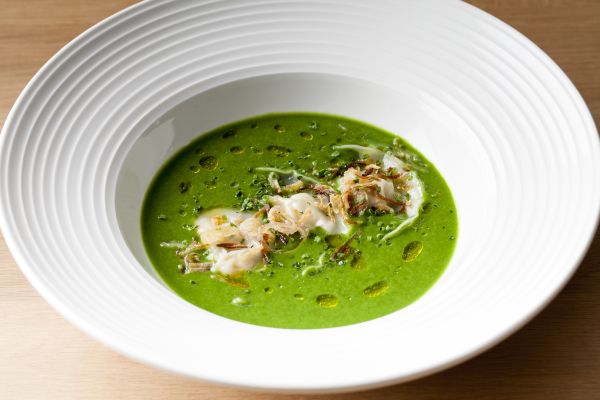 On the wine front, we took advantage of the double-figure selection by the glass. A French pinot gris refreshed the palate between bites of the oily salmon, and a deep Chilean red matched the flavours of my steak. Adam overpowered his delicate sweetbreads by selecting an otherwise very good malbec from the temporary list – a batch from a new supplier, they were offering to diners at a cheaper price to gauge interest, we're told – and faired better with a richer Argentinean red from the master menu to accompany his venison. A tot of madeira joined us both for dessert: soft baked black figs with creamy frozen Greek yoghurt and a treacle tart, with gooseberry sorbet. Those who prefer a bottle will find over 200 worldly wines to choose from at an accessible starting price of £16 – with, pleasingly, quite a few in the £25 and under bracket. A refreshing selection of Champagnes from lesser-known boutique houses too.
Michael Nadra's new haunt is a blessing to the area. A place you could head for a Martini or three with tapas in the bar; Bloody Mary breakfast in the courtyard; a lazy Sunday roast with friends, or mid-week treat of a meal a deux. Quite a fan of solo dining, I'd head there with a good book too. Portions are generous, forcing me to reluctantly, and rather uncharacteristically, leave some of my main, and prices fair for the quality and deliciousness that was laid out beautifully before us. Due to the nature of my job, I often get asked by friends to recommend somewhere good to eat – something which like art or fragrance, depends largely on individual taste and budget. That said, I have about handful of fail safes I know I can confidentially send friends to in the knowledge that they won't call up and curse me the next day. Michael Nadra Primrose Hill, which presses all the right sensory buttons, is now one of them.