As we descend into the subterranean dining room at Rextail, leaving behind the cold of a spring night, the insistent, frenetic wail hits us square in our faces, and transports me back to a very different time. The noise is that of 'gypsy music' of the bona fide modern variety – not soft and lilting as of old, but hard, fast and with a wild, untamed edge. Memory supersedes the moment…I had found myself lost in a somewhat malevolent country, driving with a stranger. This was a man with a huge, scarred head, sour breath and yellowing features that suggested an enduring affection for strong liquor. He drove a taxi and took us across murky, unguarded borders.
I was in a daze. We'd crossed the line from Hungary at speed and were heading south, deeper into Serbia. I hadn't slept for almost 36 hours and this worn-in chaperone had been purposefully feeding me untipped Russian cigarettes, the sort favoured by the Siberian army, in what seemed to be an effort to mock my weak Western lungs. Much slivovitz had been taken on since we'd left the karaoke bar in Budapest, and the taxi was thick with nicotine, ethanol and a sense of fear and confusion. As I approached a point of breakdown, of collapse, there came a moment where our driver's taste for the aforementioned gypsy music became clear. I happened to notice a sheaf of CDs in the open glove compartment and by chance, gestured to them. In that instant he softened palpably and opened up; there was warmth within him and it came flowing out. Conversation steadily grew more convivial. The cigarettes that followed were no longer thrust at me like the missiles of death that they truly were, they were passed kindly across the front seat. From here on in, everything was good; we survived the journey to Serbia, we lived to tell this tale. As we are led to our seats at Rextail, the music seems to get louder, I'm sure I can smell those Siberian cigarettes on the breeze…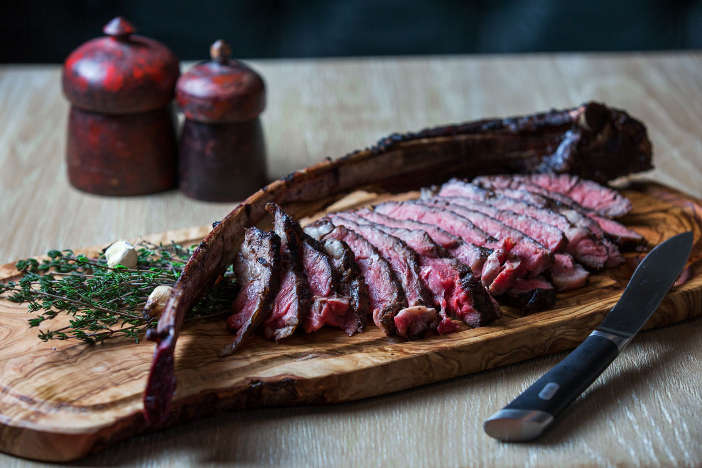 So then to Rextail, the newest addition to Arkady Novikov's ever-expanding restaurant empire. Novikov's salons are known for their extravagant scale, glamorous habitués and reassuringly chunky prices. Rextail fits into this mould to a point, but where the other Novikov restaurants define themselves in terms of their sharp elegance and clean lines, Rextail is looking to achieve an earthier, rustic feel, which seems perhaps a little disingenuous in the dark heart of Mayfair with its hedge fund villains and oligarchs a-plenty. The room is on-trend in its mixing of spartan industrial salvage and slightly more luxurious tones. The banquettes are of battered green leather and well-worn tin light shades hang overhead alongside an ornamental concrete yak's head.
Rextail steadily fills ups. A stocky bruiser with a face disconcertingly similar to that of my Hungarian friend, walks in alongside two women of remarkable natural beauty. Across the dining room financiers drink Aldo Conterno Barolo with reckless abandon and the young man sitting at the table next to me seems to be talking about a night out with Prince Harry; suffice to say Rextail draws a mixed, moneyed crowd on a mid-week evening.
The menu is huge and follows no clear format; there are dishes that come from British, French, American and Eastern European traditions, laid out in extensive sections. The central focus of the menu is meat of magnificent quality and proportion. To start, I enjoy a dozen Gillardeau Oysters – La Rochelle's finest – which are as fresh and mineral as ever could be. My guest is torn between steak tartare and tuna tartare, and anticipating a meaty main, goes for the tuna which is faultless and echoes the oysters in terms of freshness and verve.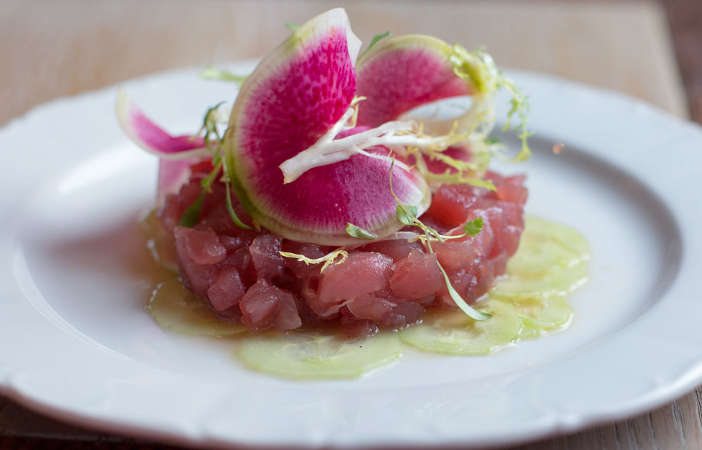 A platter of raw steak arrives at table for our assessment and delectation. The quality is unquestionably high: Nebraskan Wagyu, Creekstone USDA ribeye from Kansas and Dakotan Bison steaks vie for space against the finest European cuts from Inverary, Tipperary and Tuscany. It's very hard to choose, but in the end, I decide on the esoteric cut of bison ribeye.
This is a choice I will never regret. When cooked, the ribeye is endowed with a deep colour; the rusty purple meat swirling around a central island of light, fragrant fat. Bison meat is healthier and arguably more expansive in flavour than beef. The meat has a natural edge of sweetness that's tempered with a broad-shouldered gamey tang, which stays with you. The Scottish fillet that my guest feasts on is more conventional in form and flavour, but delivers comprehensively, served rare and bloody, rich with iron and smoke.
The service at Rextail is a little inconsistent and the music is as wild and unpredictable as a seven-hour Eastern European journey high on slivovitz, nervous laughter and dark Siberian shag. The prices are hefty enough to draw in top-drawer oligarchs and friends of Harry, but based on the dishes we enjoyed at Rextail, and looking at the queue forming at the entrance, I don't think anyone is complaining about their bill. The prices and scale of restaurants like this may at first glances be a little unsettling, but once the quality of products on offer is properly appreciated, there is a chance that all will be forgiven. Rextail is part of a new culture of internationally owned and frequented restaurants that follow their own rules, and through ambition and confidence, manage to successfully pull it off.
Rextail, 13 Albemarle Street, London W1S 4HJ. Tel: 020 3301 1122. Website.