As I hover outside 66 Portland Place, the home of the Royal Institute of British Architects (RIBA), waiting for my friend to arrive for our dinner catch-up, I start to feel a little awkward. A couple of metres in front stand two Falun Gong protestors, standing still in silence, while oriental pipe tunes play from a tinny little speaker, and the busy traffic to-and-fros from Oxford Circus and Regent's Park. Tapping away on my iPhone, I fear I am at risk of either looking like I'm part of a protest that I'm not fully up on the reasons behind (until I Google later that night), or perhaps worse, a journalist sent to record and report back on the situation – rather than what I was actually doing, which was making up for my uncharacteristically early arrival by Tweeting some irrelevant nonsense or other.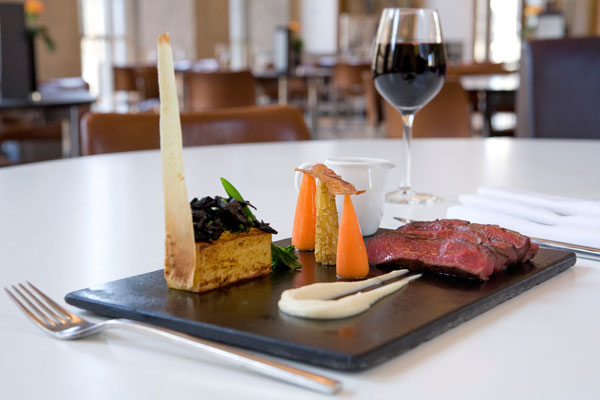 A few more minutes pass. The wind picks up, my contact lenses start to dry out and I look like I'm crying. Great! My wish to remain inconspicuous seems altogether blown; I nervously start to pace a bit and force a look of immense interest at the building which up until then I had my back to. It is only then that I notice the grand stone exterior of 66 Portland Place; a no expenses spared impressive building, joined on the busy strip by other serious sounding organisations, such as the Chinese Embassy opposite, Portland Place School and the Nursing and Midwifery Council. Not somewhere I would expect to be able to step inside and grab a bite to eat.
Genevieve arrives just in time to save me from my fidget state and we step inside to be met by a continuation of the art deco grandeur in the form of etched glass, marble, brass and the sort of wooden doors that require a great deal of effort to push open. Not surprisingly, being a building that represents architects, it is built to last and create a lasting impression.
We just happened to time our visit for the last Tuesday of the month, when RIBA holds its aptly named 'Last Tuesdays at 66 Portland Place', a free evening of talks, exhibitions, films and tours spread around its impressive floors. The night in question is centred on 'A Place Called Home'. As dinner and a catch-up was on the original agenda, and being unable to afford to find a permanent place called home for the foreseeable future, a subject of contention for us both, we skimmed the exhibition, and headed across the hall to the restaurant. What a room. Florence Hall is bright, airy and decorated with carved stone, patterned marble and strokable wooden floors; that and the pianist playing away makes for a space fit for the weddings it hosts, and a lovely space to meet with friends.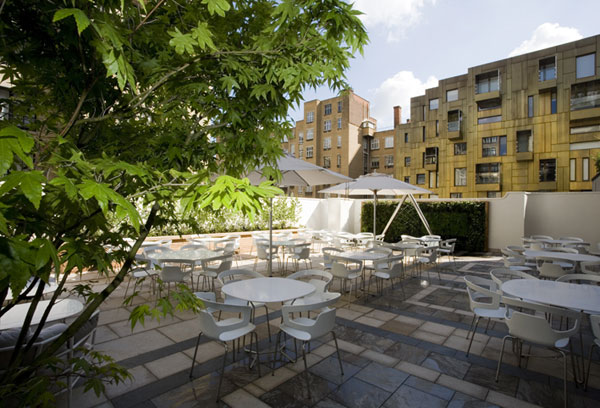 Glass of white almost immediately in hand, the evening got off to a great start. We were offered bread from an impressive choice, and chatted at length about the delicious-sounding offerings on the a la carte menu; deliberating for some time before we were finally able to decide. It was great to see RIBA championing British produce sourced locally, sustainably and per the seasons. Other feel good references to Fairtrade, Rainforest Alliance, Red Tractor assured standards, and support for the RIBA Education Fund, delivered the mental message that, through our three course feed, we were doing our bit for society; which also helped alleviate the guilt of ignoring the outside protest for human rights a little.
In no time at all, two beautiful slates of wild rabbit and seared scallops were laid down in front of us, and for the short moment while we gasped at how impressive they looked – far better than we'd have expected from a place which until now, we didn't know existed – we knew we'd stumbled onto a good thing. A hidden gem on a road we had always travelled down to get to somewhere better.
Sadly, this feeling wasn't to last. The rabbit boasted tender bites, but the flavour was lost in the bold chutney, slightly too hard glazed pear and tart perry jelly, all lending a conflicting ménage of sharp tastes and textures on a pallet that really would've been happy with just the meat and some more of the delicious sweet butternut squash purée that was expertly scraped on the side. Gen's scallops looked and tasted the part, but there were one or two ingredients too many taking the attention away from the main star.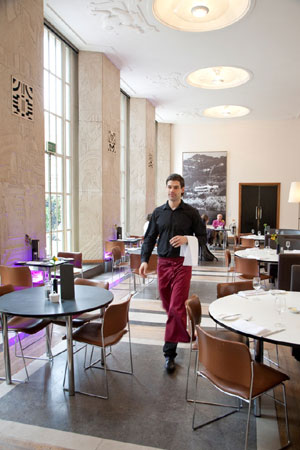 The second course, equally delicious to look at, also failed on some levels. My sea trout was just as it should be, soft and flaky with a nice crunchy skin, but the ravioli, a little too al dente with a filling that was advertised as crab, but in reality just impossible to decipher. The accompanying soft shell crab delivered the desired texture, but disappointed with the heart threatening level of salt.
Desserts, the dark chocolate and hazelnut tart especially, regular offer of more bread, and service were all spot on. The surroundings too, Florence Hall is a wonderfully grand room to lose yourself in, with floor to ceiling windows looking out onto a roof terrace begging for summer to arrive for some al fresco dining.
Stripped back, with a little more focus on showing off those carefully sourced local, seasonal and fresh ingredients, and less on fussy culinary technique, whilst holding onto some of that beauty, and RIBA's restaurant could be the hidden gem it has all the other makings of. Until then, it's just a nice place to sit and have a glass of wine and a bite with friends.
RIBA Restaurant, 66 Portland Place, London W1B 1AD. Tel: 020 7631 0467 or 020 7307 3747. Website.