What, exactly, is a 'Rika Moon'? It's certainly not a blue moon, or a full moon, or blood moon, or any of the other kinds of moon with which I'm familiar. But this particular lunar delight is a new Japanese fusion restaurant in Notting Hill, which my friend Helena recommended to me with the fervour of an explorer alighting upon Atlantis.
Now, Helena knows her restaurants. She's worked in the industry in one capacity or another for more years than either of us cares to remember, and if ever I'm in need of a tip of a place of where to try – preferably new and exciting – she's the first person I WhatsApp, in a distinctly modern way. So when she tells me about her new discovery, Rika Moon, and suggests that we go there for dinner one Tuesday, I cancel all over arrangements and head down there.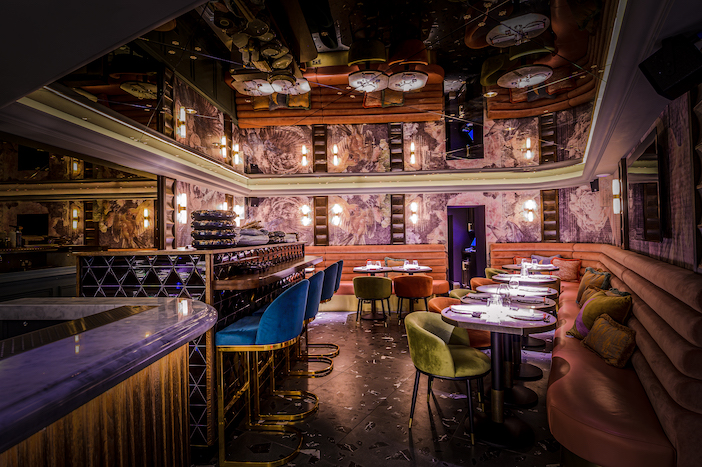 As I stroll down Kensington Park Road, past Clare Smyth's multi-Michelin starred Core, I am intensely aware that this is the area that attracts fine dining aficionados, who are a fussy bunch. So does Rika Moon have what it takes to play with the big boys? I head in, and am immediately shown downstairs to the best table in the house; Helena, sensible woman that she is, has ordered two glasses of champagne, and we peruse the menu.
'What should I order?', I say, with trepidation. She looks at me with the practiced eye of a gourmand. 'So, we should get a selection of small plates to start. Say the edamame, the grilled broccoli, the wagyu tataki, the sashimi platter and the prawn tempura. That'll start us off nicely. Then we should start thinking about the mains. The black cod here's better than Nobu's, so we'll have that. And then maybe something carnivorous? The lumina lamb is unbelievable – it's the Wagyu of lamb, apparently. So we'll order that, and if we're still feeling hungry, then we'll see about other things.'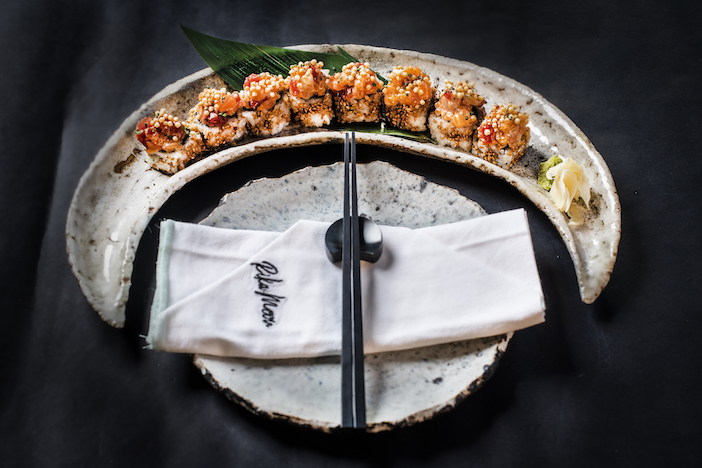 Even for a trencherman like me, this seems like a vast amount of food, and it's all I can do not to raise the white flag of surrender at the prospect. But what Rika Moon, and its executive chef Paul Greening, do so well is to take traditional Japanese cuisine and influences and, without engaging in the kind of tiresome 'novelty for novelty's sake', that inferior restaurants go in for, offer an unusual spin on it that means that it's an utter delight to visit.
Helena's instincts are proved entirely correct; particular highlights are the black cod (better than Nobu's, as she is proved right) and the wagyu tataki, but, accompanied by an excellent bottle of Pouilly-Fume, the entire meal becomes a wonderful wallow in some of the best Japanese food to be had anywhere in London.
The owner comes over to say hello at some point, and with a gleam in his eye, he asks me if I've been to the loo yet. 'Turn on the button when you do.' I am intrigued as to why this is, and it soon transpires that this is no ordinary convenience, but a disco loo, with flashing lights and a general sense of Studio 54. It's outrageous, silly and kitsch, but somehow – like everything else about Rika Moon – it works fabulously well.
As we leave, I tell Helena, that, once again, she has been proved correct about its brilliance. 'I know', she smiles. 'But tell all your friends!' Well, Arbuturian readers, I cannot tell a lie: Rika Moon is here, and it's fabulous. Enjoy.
Rika Moon, 120 Kensington Park Road, Notting Hill, London. For more information, including menus, and to make a booking, please visit www.rikamoon.com.