London restaurants are rather like wine. None of them can last forever, but the best ones can endure a remarkably long time, often getting better and better with age. The poor ones often give off an acrid taste straight away, or open to initially pleasing effect before the slow realisation dawns that the (media and hype-induced) bouquet is entirely superficial, and that a visit a few months after launch is the equivalent of that sluggish, tiresome journey halfway through an overpriced bottle of red.
Thankfully, longevity has suited Roka's first restaurant, on Charlotte Street, which is celebrating its fifteenth anniversary this year. If restaurant years are measured in something like dog years, then this is a truly remarkable achievement, all the more so because when we visited, on a busy Thursday evening, Roka was packed, full of people of all backgrounds, ages and inclinations. The only thing that united them was a desire to sample some of London's best Japanese cuisine – to say nothing of some extraordinarily good wine and cocktails – in a buzzy and fun atmosphere.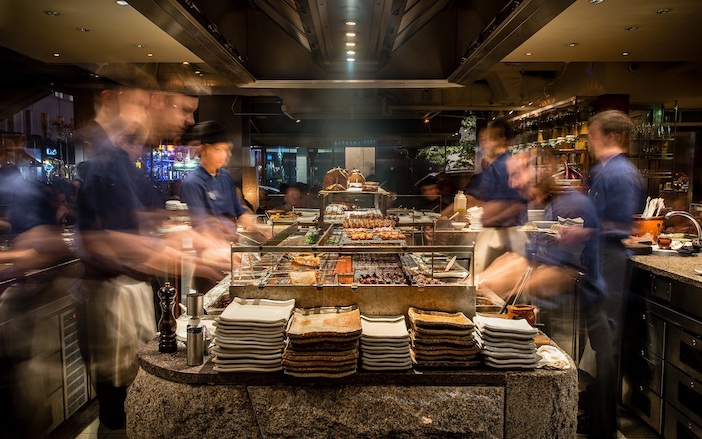 What impressed us most was what an extraordinarily tight ship is being run here. The ebullient and hugely capable manager Sarra manages to remain cheerful, friendly and endlessly accommodating at all times while coordinating a vast space, and our every wish is met with alacrity, including those we didn't even know that we had. ('Would you like some champagne? Of course you would, everyone likes some champagne. Edamame? One of our award-winning cocktails?') If she hadn't been so damn nice and what was offered so extraordinarily good, then one might have felt slightly as if one was being ministered to by a supercharged version of Mrs Doyle – 'Go on, go on'.
We went on. The 15thanniversary menu had just finished, but Sarra ensured that we were able to try a kind of whistle-stop tour of the menu highlights, served with panache. My companion and I were therefore able to 'mmmm' and 'aaah' at flawless sushi and sashimi, debate whether the black cod served here was superior to Nobu (we decided that, on balance, it was) and to marvel at the tender splendour of the Wagyu beef, served both on its own and in the most excellent gyoza that we could remember sampling. There was yellowfin carpaccio with yuzu, and a fine sharing platter of desserts. And, although our cup runneth over with good things, to mix metaphors, it never felt heavy or stodgy; as with the very best Japanese cuisine, this had a lightness of touch and approach that meant that we were sated without being stuffed.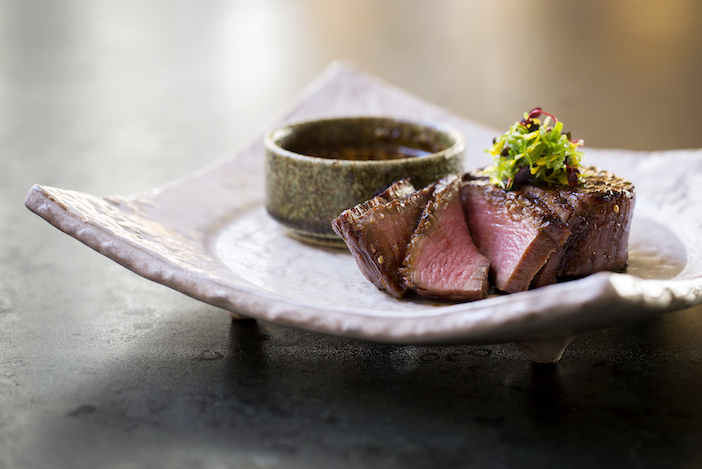 The drinks offering is very much a key part of Roka, all the more so downstairs in the Shochu Lounge, which offers cocktails and more casual dining. We tried all manner of delicious things, including a delightfully crisp Sancerre and an excellent Sangiovese, but one of the absolute highlights was a cocktail that had just won an award at London Cocktail Week – the 'Nihon Star'. This really was a star of Bowie-esque proportions, combining vodka, champagne, chestnut shochu and passion fruit in a moreish and all too drinkable combination. I could have drunk several, were it not for a potent kick that acts as a precautionary warning not to over-indulge… 'careful now'…
Eventually, after a very happy three-hour repast, it was time to disappear into the night. My journey home was somewhat delayed by the antics of the delightful bunch of trust fund characters who are calling themselves Extinction Rebellion, which led me to coin this particular apercu; should Roka ever become extinct, there will be a rebellion amongst all well-heeled lovers of this kind of high-end but profoundly informal dining, and that is, I think, exactly as it should be.
Roka, 37 Charlotte Street London W1T 1RR. For more information, including menus and details of other locations, visit www.rokarestaurant.com.