The Sofitel St. James's stands on the intersection where the male exclusivity of Pall Mall clubland meets the bawdy theatricality of Haymarket and the throbbing streets of wild-eyed tourists. The Sofitel – you could walk past it with ease, you could walk on by without even the slightest consideration of what charms may lie within. I certainly have; I think it's the name that leaves me cold. It sounds like a place where tired corporate drones go to engage in ugly, loveless, illicit encounters in lumpy beds that smell of shame. Thankfully, I can inform that nothing could be further from the case. This is a hotel of elegance; if you were caught in flagrante it would be on a bed that smells of success.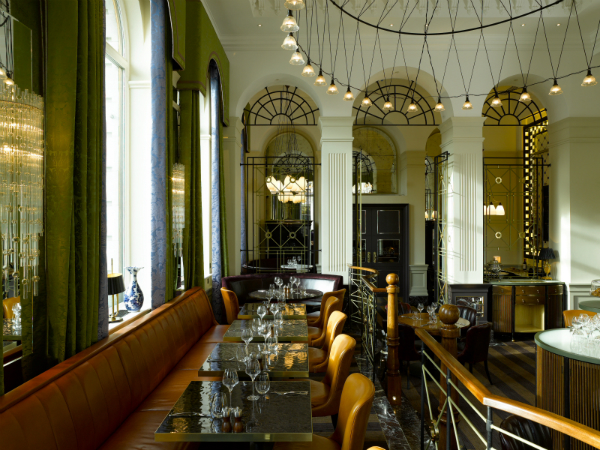 To find your way through to the restaurant, you must first navigate the recently redesigned hotel bar, which takes inspiration from Coco Chanel's 1920s Paris apartment. Leaving the sunny St. James's pavement you stumble into a darkened boudoir where champagne cocktails seem to be flavour of the day. Old masters line the walls, providing a touch of clubby propriety, but the general tone is of a darker elegance than that. I decide this will be my new haunt when looking for late night refreshment in St. James's.
If you make it out of the bar in time for dinner, you're in for a treat. The Balcon restaurant opened at the Sofitel in October 2011; previous to this, the space had been occupied by a Brasserie Roux. The new restaurant operates under the aegis of the Sofitel, but the management is quite clear on the fact that this is not a hotel dining room, rather a fine dining restaurant in its own right. The room has been sumptuously designed in gold and warm browns by top restaurant designer, Russell Sage. It has the look of a racy European restaurant, with added touches of luxe. At the back of the restaurant there is an extremely attractive private dining room with its own menu and music system that can be booked for 2-20 people – perfect for impressing on an intense first date. To look up is to be caught up in the glamour of the champagne terrace, or balcon, from where the finest prestige cuvées can be ordered from glamorous female sommeliers.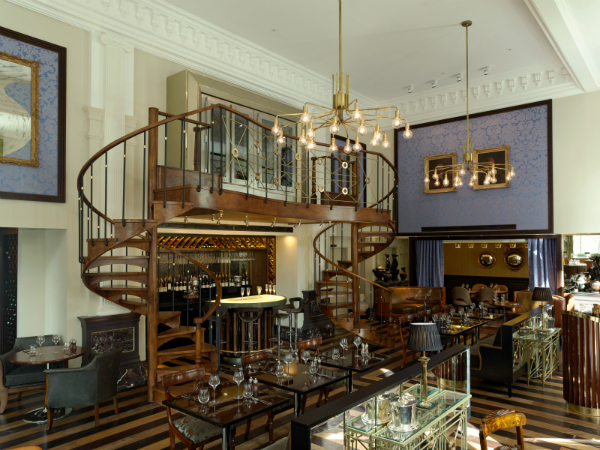 We are seated on a raised mezzanine level with spectacular views out over Pall Mall and take a moment to survey the menu. They are not messing about when asserting that this isn't your run-of-the-mill hotel canteen. The menus are printed onto large, luxurious sheets of card and the tone and aesthetic form is that of the grand brasserie. It is only on closer and increasingly eager inspection that the details start to become clear. This is a menu of inordinate appeal. The tone is interesting; there are many elements that send you over the Channel and into some of the finest Parisian brasseries, tempered with the gutsy all-English fayre of the trencherman. It sounds as if it might be clumsy and incongruent, but it's actually something of a joy. There is a smorgasbord of deep, savoury flavours on offer that will appeal to the hearts and minds of the most demanding gourmand.
The first thing of note is the tremendous selection of charcuterie; here at The Balcon they clearly see the curing of meat as something of an art form. The meats appropriately hail from French and English sources: Trealy Farm in Monmouthshire and Mas Le Rouget in Cantal. We try air-dried leg of Welsh lamb – a lamb prosciutto of sorts. The meat has a lingering, exigent flavour; unquestionably lamby and laced with pearly, crumbling fat – delicious.
Pike custard is not something I expected to find on any menu in London, but is representative of the way in which this restaurant combines the hearty with the graceful. I've always thought of pike as being an earthy, muddy-flavoured fish, something to go for when all other piscine options are unavailable.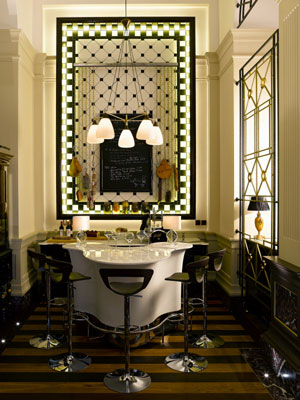 But then I'm reminded of reports of the Quenelles de Brochet served at La Mere Brazier in Lyon as being one of the most delicious fish-based dishes on earth and give it a go. The 'custard' comes baked in a small cocotte with a deep, red-brown shellfish veloute poured over and King's Lynn brown shrimps for good measure. The combination is satisfyingly robust in flavour, but also high-toned and technically impressive. Scottish pork and game pâté en croute is bolstered up with the luxury of foie gras and a properly hefty crust.
Along with a classic 'mains' section there is rotisserie, salads, tarts & tartines, slow-cooked & en cocotte, and pan and grill, so quite a menu to choose from. I'm drawn toward the Scottish beef, foie gras, chanterelles cottage pie, one of the kitchen's signature dishes, but in the end I opt out with my arteries in mind and go for Devon rosé lamb served with seaweed and green beans. This is composed, precisely cooked and elegant in presentation and flavour. We've chosen young right-bank Bordeaux from a well thought through wine list and there couldn't be a more appropriate pairing. My guest goes low-brow with a burger, but what a burger ('low-brow' is, on reflection, deeply inappropriate). Scottish Aberdeen Angus joins Reblochon and brioche in a highly appealing union that speaks of a refined readjustment of the classic format. We dither over the idea of pudding, suspecting hearty rib-sticking stuff, but this is only partially accurate – my guest is somewhat overwhelmed by a mound of homemade chocolate profiteroles, whereas I enjoy a lighter blackberry financier with sorbet, providing a light, citric kick.
The Balcon is a glorious, heady, technically accomplished restaurant, a great addition to an area that is slightly lacking in interesting restaurants. The menu was extremely difficult to choose from; so much appealed to the senses. It may seem crass, but we must mention the prices; for a restaurant operating at this level in this corner of town they're extremely reasonable. Starters range from £7-12 and mains £11.50 to £25. The setting, service and cuisine are a pleasure to encounter and do a great deal for the Sofitel brand – I will no longer be walking by, but rather dipping into Coco Chanel's bar before getting to grips with that beef and foie gras pie!