Inspired by the latest runway shows, the Spring/Summer Collection Prêt-à-Portea served in The Caramel Room of The Berkeley is decidedly summery and feminine – gorgeous in the true sense of the word and served on signature stripe Paul Smith fine bone china by Thomas Goode.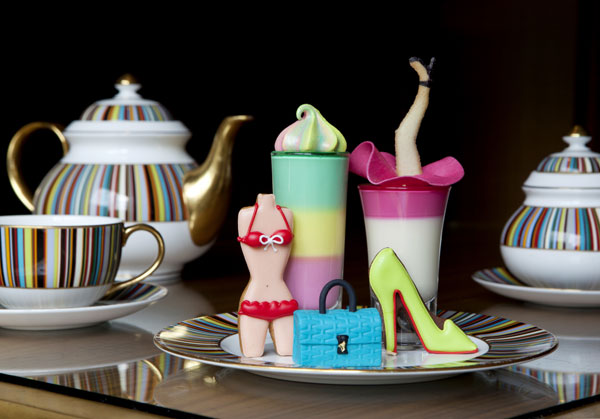 No doubt true fashionistas would be cringing if they knew the calories etched in icing; a glamorous 1950s inspired Miu Miu bikini in the form of an iced vanilla biscuit and a chocolate version styled as a Christian Louboutin 'must-have' radioactive-looking neon yellow high heel, complete with trademark red sole. Everything, including the menu sleeves, popped with colour, and I almost forgot the predictable British summer rain outside.
Head pastry chef Mourad Khiat's fashion biscuits are almost as hotly anticipated in London as Valentino's new collections are in Milan. Mourad even gets to attend London Fashion Week twice a year for inspiration, and if you thought that was nuts how about The Berkeley Prêt Vespa biscuit delivery service? As recommended by Vogue – fashion luvvies too busy to actually take tea together can now surprise their friends by ordering 10 iced biscuits packaged in a handbag styled takeaway box (£25) delivered by a young man straddling a pink and pistachio green Vespa reading 'let them eat cake'. He is ordered to drive carefully to ensure the said biscuits arrive in perfect condition – no wonder this isn't a speedy service and takes a minimum of 3 days.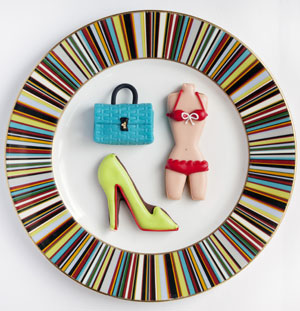 The warm refreshment known as 'tea' seemed a mere formality, with Laurent Perrier served in crystal Baccarat flutes the obvious Knightsbridge preference to the traditional British custom, whilst nibbling a Sicilian blueberry sponge cake enveloped in blue icing, skilfully moulded to resemble a Dolce & Gabbana handbag. It is an imaginative chef indeed who can commit the likeness of a romantic pink Jason Wu gown to a shot glass filled with a raspberry bavarois and coconut cream from which a fine buttery biscuit resembling a model's leg protrudes, appearing to be dancing the Can-Can.
With cakes as colourful as Carrie Bradshaw's knicker drawer replacing the trusty scone, this afternoon tea is a fitting end to a day spent exercising the old plastic at Harvey Nichols with girlfriends or visiting the current Ballgowns exhibition at the nearby V&A. The sandwich selection which was classic – egg mayonnaise, coronation chicken, and dainty cucumber triangles – didn't hold any surprises but the savoury canapés, including salmon sashimi and beef satay, were delicious and more in keeping with the overall modern feel and presentation.
Prêt-à-Portea has established a huge following since launching in 2005, rumoured to have been enjoyed by the likes of Naomi Campbell and Gwyneth Paltrow, and succeeds in being as flamboyant and cutting-edge as the fashion designers they pay homage to – 'fabulous darling'.
Spring/Summer 2012 Prêt-à-Portea, from £39 per person (£49 including a glass of Laurent Perrier Champagne). Served daily from 1pm to 6pm. To book, contact The Berkeley, Wilton Place, Knightsbridge, London SW1 on 020 7235 6000 or visit the website.