One cannot fault Charlie McVeigh's attitude towards beer, and the places that sell the fine hop-laden stuff. After associating himself with countless high-end venues, most notably Rowley Leigh's Le Cafe Anglais, he has opened a trio of establishments in southwest London that aim to provide interesting and reasonably priced food with a staggeringly ambitious range of beers. Given the fact that southwest Londoners are a notoriously thirsty lot, you might have thought that they'd have extinguished the Draft House's range of beers a long time ago and moved on elsewhere. But no; instead, they keep coming back. And while McVeigh is all but certainly being leant on to open in other parts of London, at present he has restricted his operation to just the three sites, meaning that there's a level of consistency reached that many other, initially admirable, ventures soon give up reaching.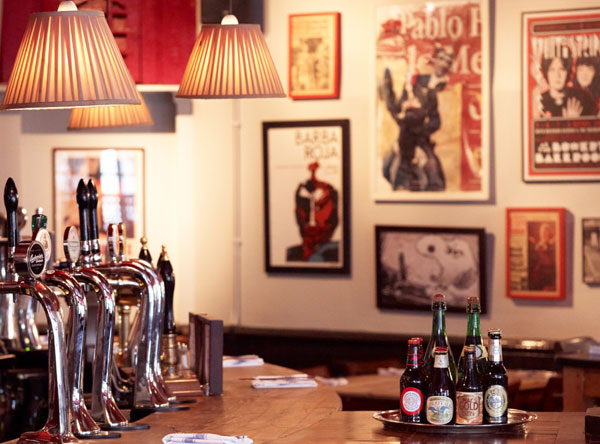 Broadly speaking, the Battersea Bridge one is my 'local', if an establishment about four miles away from your front door can be called 'local'. (It's a hop and a skip away from the King's Road, so therefore acceptable.) I went with my chum Medieval Dan, a man whose apparently calm and placid exterior was concealing firstly the recent birth of his second child, and secondly a barely suppressed desire to get thoroughly stuck in on some hearty tucker and equally hearty grog.
We weren't to be disappointed. Sticking mainly to the half pints, out of a desire for preservation, we kicked off with the Draft House lager, which is remarkably smooth and easy to drink, before moving onto the more elevated tastes of the Meantime Pale Ale. Starters are tapas-y in form, and are all pretty tasty. Medieval Dan's favourite was the squid and chorizo, mine was probably the ham hock and Cheddar croquettes. Neither of us managed to try the foot-long pork scratching, although they sounded splendid as well.
Main courses essentially come down to a choice between burgers and steak; there are, of course, other things adorning the menu, some of which don't even revolve around eating an animal's flesh, but there's a real pleasure in looking at the meaty goodness that one can take into one's belly here.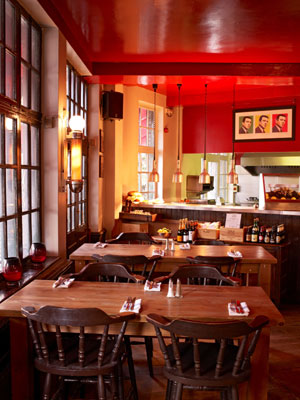 We both wanted steak, unsurprisingly, so both went for different cuts; Dan had an onglet, while I took succour in the 'flat iron', a steak I hadn't previously come across, but which had remarkable depth of flavour and texture. Cheap, too, at £11.75 apiece. Drink was taken by the bottle now, rather than on draft; being a contrarian, I very much enjoyed a Blanche de Bruxelles, while Dan ordered a Kwak, as much for the deliciously convoluted glass holder that it appeared in as for the excellent beer inside. Desserts are more of an afterthought than anything else; both of us ordered the special, the chocolate brownie, and both of us thought that the vanilla ice cream was a tad stodgy. It hardly mattered, as we finished up with a couple of fine fruit beers, one peach and one passion fruit. I had the peach, and it was disturbingly drinkable.
As we left, Dan gave me a long, searching look, and then expressed a sigh of satisfaction. Thinking back to his medieval researches, he said, wistfully, "After a meal like that, there's only one thing I think…"
"Oh yes?"
"Shame we can't be hanged. At least, as well as that beef was."
Oh well.
Draft House Westbridge, 74-76 Battersea Bridge Road, London SW11 3AG. Tel: 020 7228 6482. Website.
[cgview id=116 num=8 size=150×150 showtitle=always lightbox=0]