It might have been tempting while doing a major revamp to change your name from that of the second least popular member of the royal family but the landmark pub in Waterloo has bravely retained its original moniker, The Duke of Sussex. Much else, though, has changed.
The kitchen has more than doubled in size and been completely revamped. Upstairs there are now four rooms of varying sizes (three of them interlinked) for meetings, parties or private dining. All are now stylishly decorated with matt black woodwork and traditional-look wallpaper with broad stripes reflecting the pub's strong Victorian bones. The upstairs rooms look out onto treetops – perhaps not what you'd expect a two-minute walk away from one of London's major rail terminals but it really is surprisingly green round here.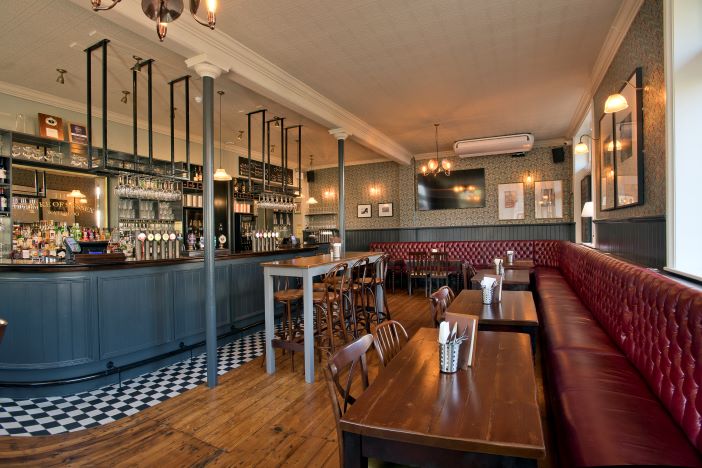 They have just reopened after their big upgrade and everything is looking very smart in the restaurant with new plush seating and chandeliers. The bar itself, though, still has the traditional London pub atmosphere that has always been popular. Certainly, it was heaving on what should have been a quiet night when I visited (the Tuesday after Easter when many people were still away). This might have been partly down to the weather. The Duke of Sussex has a massive outside space (170 covers) with vast umbrellas and lots of planting – a real draw when it's not a howling gale and pouring with rain.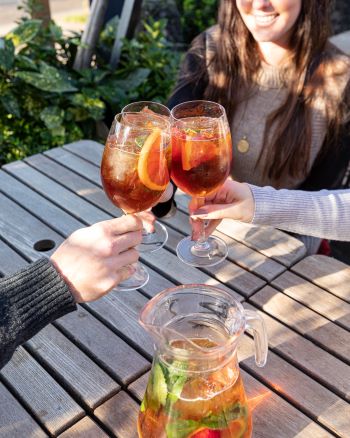 So, the Major and I found ourselves in a quiet corner of the restaurant looking at the new menu and sipping the DofS's signature gin, infused on-site with seasonal flavours by the bar team. In this case, it was lime, lemon and orange zest and it was quite delicious. The menu is based around fresh and, wherever possible, local providers and, on a chilly April evening, featured a few warming delights (Toasted Ciabatta and Bovril Butter; Spring Bean Vegetable Soup) alongside some lighter dishes (and they do have the calorie counts on the menu, so you can decide to be virtuous).
We weren't feeling particularly virtuous, though, so the Major started with Smoked Haddock Croquettes, moist and tasty and accompanied by a sauce of truffle, hollandaise and lemon. His Smoky Bacon Cheeseburger – juicy, properly cooked (burgers are so often dry) and a really fresh crisp salad with avocado, broccoli and rocket – was declared "just right". As for me, I started with the West Country Mussels Mariniere served with a wedge of toasted ciabatta and Bovril butter. This was excellent with some really plump, soft mussels and a delicious creamy sauce.
For my main course, I had been intrigued by the centrepiece on the menu: Aubrey Allen Butcher's Block Cuts. I asked the genial general manager, Jas, about this and he explained that this was a butcher who also happened to supply Buck House with its prime cuts. How could I say no? The cuts change daily – in this case it was a succulent sirloin served with a creamy peppercorn sauce, the meat cut from the bone (this was also on the plate) and presented in slices. Our waitress, Eva, recommended the truffle fries as a side and I'd recommend them too (just don't look at the calorie count).
All of this was enough for me, but the Major has never been known to turn down a pud and he went unhesitatingly for the Granny Smith Apple Crumble, served with a tiny jug of vanilla custard. The topping was so intriguing I was shown the recipe – there were a lot of oats and cinnamon involved, and I think I might just copy this one myself.
There's an extensive wine list and craft beers and local cask ales in the bar. On Sundays, The Chapter Sharing Roast Platter is of enormous proportions (it's for four people and you don't have to decide between pork, beef and chicken as they're all on it). They have a bar menu too which will certainly come into its own when everyone is sitting in the garden on long summer evenings and fancies a big sharing plate. Super-friendly staff, bucketloads of atmosphere – and the name? I guess we'll all just have to live with that.
The Duke of Sussex, 23 Baylis Road, London SE1 7AY. For more information, and for bookings, please visit www.dukeofsussex.co.uk.