If you're lucky enough to be a member of Annabel's in Mayfair, or almost-but-not-quite as lucky to know someone who is, you'll already have heard exciting things about their lavish new restaurant, The Japanese – the 6th dining experience housed within this exclusive and paradisiacal space frequented by anyone who's anyone. Since relocating to the Grade I listed Georgian mansion on Berkeley Square in 2018, just two doors down from the original premises which the late Mark Birley opened in 1963, (named after his then wife, Lady Annabel Vane – just in case you were wondering who the bleep Annabel was) the new-look Annabel's, with interiors by Martin Brudnizki Design Studio, has become the ultimate arrivals and departure lounge for today's jet-set.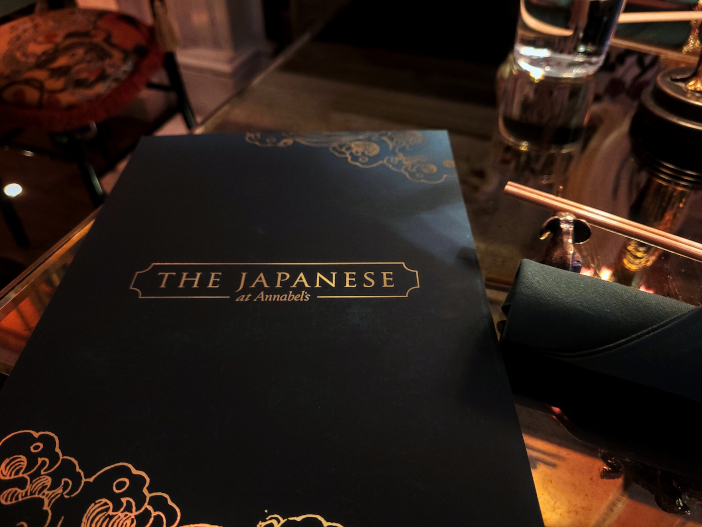 The antithesis of your traditional wood-paneled St James club with libraries, billiard tables, wing armchairs and equally stuffy aristocrats, Annabel's, owned by Richard Caring, is the wonderland for the hedonist, spread across 26,000 square feet ready to seduce guests all day and night with decadent, fun and utterly private surroundings – what happens in Annabel's stays in Annabel's. Beloved by A-listers and royalty alike (it's believed to be the only nightclub ever frequented by Queen Elizabeth II) there are more stars twinkling here than you'll find in a dark sky area, or any other address in the city, no matter the day of the week or hour. In 2017 Annabel's commissioned artist Annie Kevans to paint twenty portraits of the club's favourite members including Anna Wintour, HRH Princess Beatrice and Lady Gaga, which gives you some idea of the kind of iconic faces reflected in the looking glasses belonging to the coral pink powder room.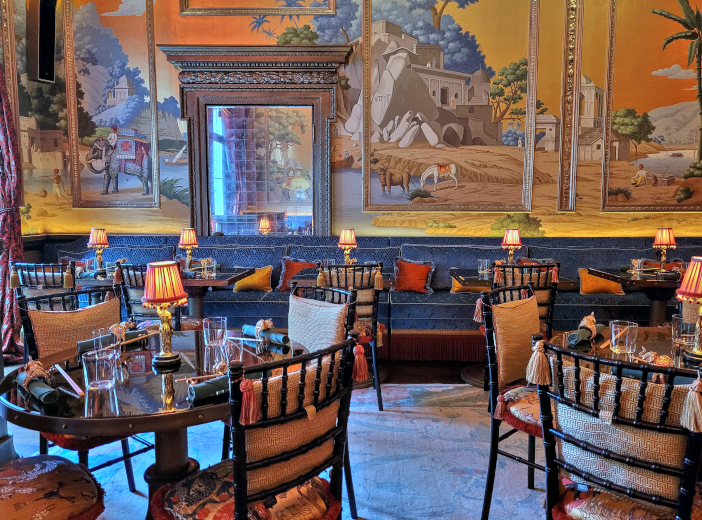 Sheer fantasy, from tasseled, golden-winged unicorns to air balloons suspended from the stairwell that resembles something from a Baz Lurhmann movie set, the eclectic and flamboyant interiors reflect the relaxed ambiance you sense from the moment you enter, wearing a smug grin as you pass the much talked about seasonal floral installations on the exterior of the building – the only area of Annabel's the wannabe general public can share on Instagram. There's a strict dress code, but it's a given that you can't possibly be overdressed. Heading up to the first floor, what was 'The Elephant Bar' has been transformed into an extraordinarily beautiful dining space for 'The Japanese', featuring traditional prints, antique rugs and Murano glass chandeliers – but none of that will cut it with the discerning and well-travelled members if you're not enticing them with equally mind-blowing food. So let's park the unicorns and talk business.
Our waitress, dazzlingly charming and attentive, with an excellent knowledge of the menu despite the restaurant having just opened, suggested we start with drinks – in our case the delicious alcohol-free 'Geisha' cocktail featuring Clean Co – along with the rock shrimp tempura & yuzu kosho whilst we were weighing up the rest of the menu – a good call. Next, we went for the thinly sliced sea bass with a fresh and earthy yuzu truffle dressing that complemented the wafer slices of white fish to perfection. Truffle is a popular ingredient on luxury Japanese restaurant menus, but one that isn't just there to impress, providing, as in this case, it's used with a deft touch. And more beautifully prepared main dishes followed; meltingly 'tender' tenderloin with intense sweet soy garlic, a divinely silky and miso-sweet black cod and a side of grilled asparagus with bacon miso. The spicy yellowtail maki rolls were a superb and refreshing finale ahead of our dessert by executive pastry chef Ludovic Cuny – a rich, oozing chocolate fondant with a black sesame tuile.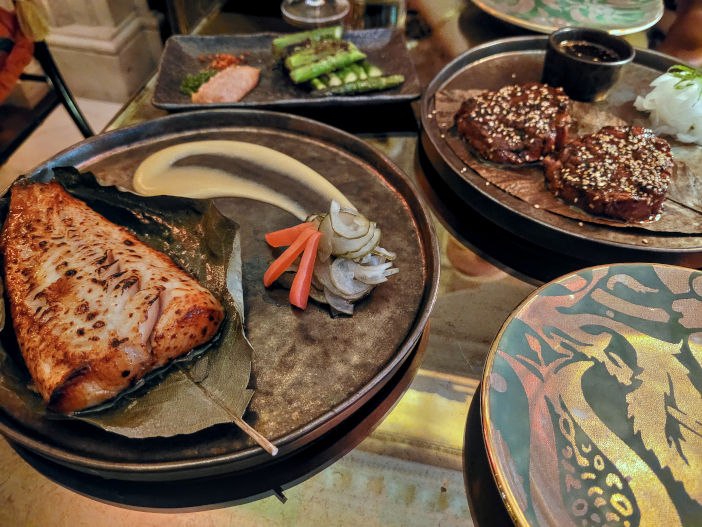 Just as this members club is unique, so is this take on a Japanese dining experience. The cuisine on offer pays homage to the traditions of Japan, but when the lights are dimmed and the DJ starts mixing it up before 8.30pm, this ostentatious space takes on the nightclub feel you expect from Annabel's. That said, The Japanese still retains a certain cosy, den-like vibe that's surprising given the high ceilings and architectural grandeur. Diners ranged from girlfriends on a night out to couples on a date and what looked like a few male business associates no doubt eager to try out the extensive range of saki – not the kind of crowd you imagine will start dancing on tables come midnight or feeling the beat with their chopsticks – but who knows? If you're not already part of the Annabel's fraternity and pass the Berkeley Square door with a pang of envy, The Japanese restaurant is another good reason to remedy this.
The Japanese at Annabel's, Berkeley Square, Mayfair, London W1J 5AT. For more information please visit the website.
Photography (c) Soho Photographic