The Palomar at 34 Rupert Street. That's the lower end of Rupert St, though. Mmm…that's not the cool end, is it, not the one with Spuntino and red lights and risqué gentlemen's underwear providers. No, the lower end's the end that's full of cheap Chinese restaurants and rubbish bars. So this is how far we've come. Soho's dining scene evolves constantly. It is simply unrecognisable from the scene that existed (if you could dare to call it a 'scene') three or four years ago. The Palomar is an achingly cool, elegant and carefully conceived restaurant and in 2014 it finds a perfect site, at an address that would have been almost inconceivable in 2009.
The Palomar comes with an interesting back story. The restaurant is an off-shoot from Jerusalem's Machneyuda, which is one of Israel's finest modern restaurants. It is a joint venture that comes from three Israeli chefs and two ex-nightclub entrepreneurs, brother and sister Layo and Zoe Paskin, former owners of iconic London nightspot, The End. A merry little band you might presume.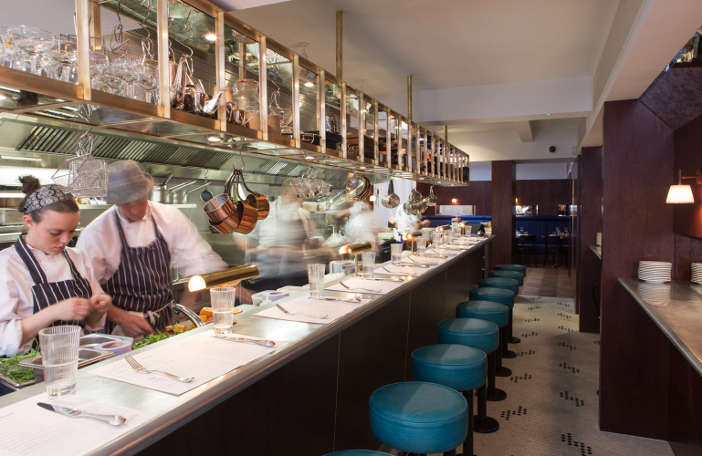 The restaurant is fairly small, but the designers have worked incredibly industriously with the space available. As you enter the restaurant, you are faced by a long, handsome zinc-topped bar which leads through into an intimate 35-seater restaurant. The first thing you notice as you walk into the room is the energy all around. Music plays at a level that some might find a little punchy and there is movement everywhere. At one side of the bar a chef works at the 'raw bar', opening Moroccan oysters and drizzling them with lemon. At the bar a mesmeric mix of characters dine and drink, it's very busy for a Tuesday and cocktails seem to be sliding down with ease. There is a palpable sense of excitement in the room, which is engaging and draws you in. We're escorted through to a table in the back room and left to survey the spoils.
The menu offers a plethora of options that are set out in clearly demarcated sections with dishes that cross various geographic boundaries. Nishnushim, Raw Bar and Stove/Josper/Plancha are the main savoury domaines. The former covers small starters: olives, breads and the like, although to call kubaneh merely a bread would be a great disservice. Said dish comes warm from the oven and is somewhere between a brioche and a focaccia and is a accompanied by a delicious tahini-based dip. We dispatch the bread at speed, and await our choices from the Raw Bar. I love oysters – West Mesea, Carlingford Lough, Dorset – you name them, I love them. Here the oysters hail from the north coast of Morocco. These bivalves are served as per usual, on the half-shell. They are small, but deep and accompanied with a colourful slick of harissa – an upgrade from Tabasco in my mind. Polpo à la Papi offers little slices of grilled octopus served with tahini and chickpeas – a delicate and elegant assortment. Kubenia is hand-chopped beef with herbs and pine nuts – a delicious, Eastern-accented beef tartare if you will. My only comment here must focus on size, which was disappointingly diminutive: a mere bite for £8.50 seemed a little mean. On then, to the stove, where the dishes move into a slightly different place, stylistically. Texture becomes paramount and the pleasures pile up.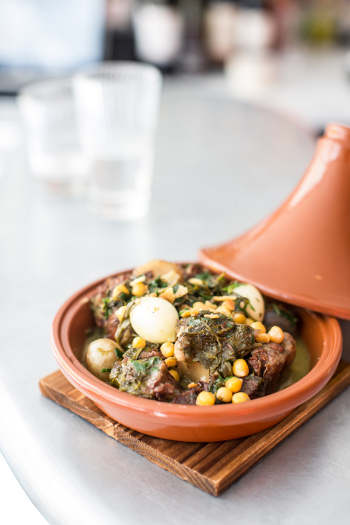 Sweetbread bourekas offer a delightful rendition of one of my favourite ingredients, fried with care, so as to provide a crisp outer and ethereal creaminess inside. Served atop slow-roasted aubergine with spices and pickles, this dish, whilst once again a little small for my tastes, offers a wonderful congregation of flavours. Shakshukit is a 'deconstructed' kebab. Minced, spiced lamb and chicken have been treated to a selection of robustly-seasoned sauces and served with warm flatbreads. These dishes are delicious, but they both play second fiddle to the house speciality of Polenta, Jerusalem Style, a dish that has travelled from the original restaurant in Israel. The polenta is soft and creamy – it moves in a subtle wave in its Kilner jar – and is topped with asparagus and a fragrant ragout of wild mushrooms. It is a hedonistically appealing, delicious and superbly executed piece of simple, old style cooking and is a perfect foil for the meatiness of the shakshukit and bourekas.
We finish with Basboussa, a moist semolina cake with orange syrup and whipped yoghurt and a portion of tahini ice cream. There is great pleasure to be found in these subtle dishes that round off the meal, but the greater pleasure is to be found in the entire selection of dishes we've enjoyed and which have come together to represent a close-to-perfect meal. With the exception of a couple of overly-restrained portions, there is very little to criticise The Palomar over; it seems exactly the kind of restaurant the far end of Rupert Street, and Soho more generally, needs. There is a freshness and vibrancy at play here that's entirely unique, alongside creativity and attention to detail. I predict a happy future for The Palomar.
The Palomar, 34 Rupert Street, London W1D 6DN. Tel: +44 (0)2074398777. Website.