"You're sitting in Lady Thatcher's seat madam; tonight you are the Iron Lady. And there, across from you, that's the table Princess Margaret always booked." Where might you hear such extraordinary statements from the maître d'? It should be abundantly clear at this early stage that this is not a review of the latest no-reservations, tumblers-instead-of-wine-glasses kind of a place. We're not in Soho or Dalston; the bloggers are not going mad over this place; we are, thank god, at The Restaurant at The Ritz, a restaurant that has understood how to charm people since 1906.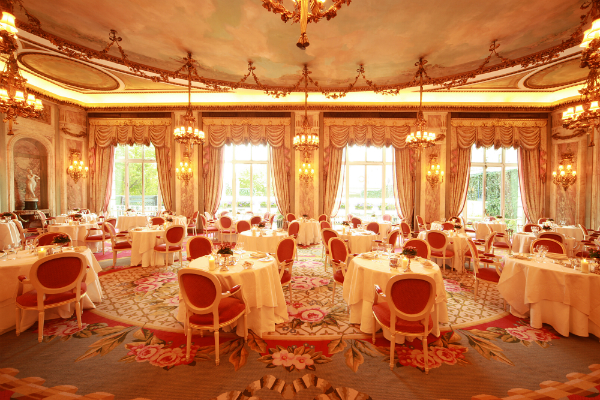 The dining room is, without doubt, the most beautiful in London. Some say it is the finest in all of Europe. We arrive and marvel at the intricacy displayed in the decoration of the roof, the walls, the facades – it's breathtaking. This isn't an English aesthetic. No, the dining room at The Ritz is haute Parisian in its opulence, and it's true, it does rival the dining rooms at Le Meurice or Le Crillon.
We arrive smartly attired – neckties and jackets for gentleman (of course) – and make our way through to the dining room. The brigade is on us in an instant; there are three of them for each of us. I lose count of how many times I'm told "I will be looking after you this evening". I'm lucky enough to have eaten in many of London's lauded restaurants, but here there is something else at work; here there's a shimmering beauty and a sense of occasion that's rarely achieved. Perhaps it's the eager anticipation in advance of the night's entertainments. Every Saturday night is 'Live at The Ritz'. Come 8.30pm a swing band starts up, people dance, a magic fills the air.
The menu by Executive Chef John Williams is classical and lovely; it's the type of menu that you see and feel instantly reassured by. There will be no off notes, no egos in the kitchen trying to shock and amaze; this is food that's modern and relevant, but which uses a framework that has worked for hundreds of years. You know that dishes will work as soon as you read through the first round of entrées. There is a tasting menu option, but we decide to choose a range of highlights from the à la carte.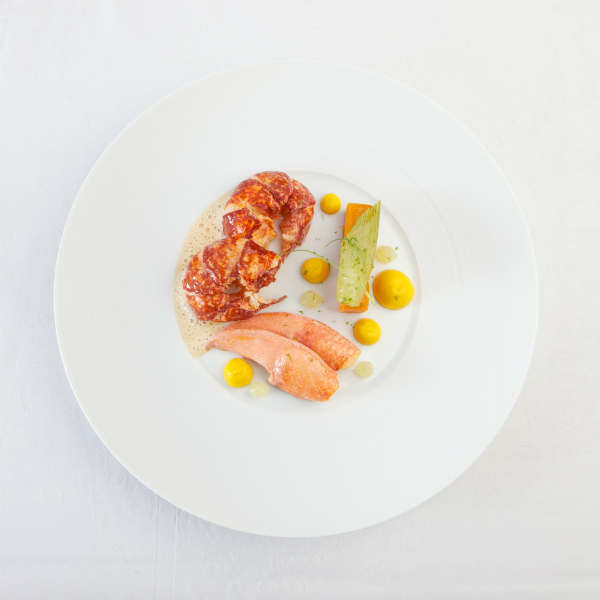 To open the palate, we select a summery roll of white crab meat and avocado in a loop of ripe Charentais melon. This is a dish of surprisingly contemporary international feel in a restaurant with such classic aesthetics. A perfect start, a dish that sets the ball rolling. Foie gras comes as a thick tranche, cut au torchon – this is as beautiful a piece of goose liver as you will ever eat. It sits pink and marbled, served with brioche and a sweet almond crust. Accompanied by a glass of off-dry Riesling from Egon Muller, as chosen by Matteo, the genius sommelier, I can think of few better food and wine pairings. The wine is sweet, but not cloyingly so and has the acidity and verve to clean and refresh the palate. We are left in raptures.
When a steaming pot arrives at table, I suspect they've brought out some kind of braise. Were I not in the Ritz, and judging by the size and rusticity of the pan, I'd say that it were a coq au vin or boeuf Bourguignon. But then the aroma hits me: wild fennel, that sweet tang of anise. Slowly, theatrically the lid opens and more aromas are freed: intense savoury notes, wild herbs and an unmistakable salinity. Lobster – steamed whole on the shell with wild fennel, lime and ginger. Ah for simple, composed delights. What fool would opt for cheesy, cloying Thermidor when he could have such a dish? The lobster is cooked with consummate skill; there is no hint of rubber, no woolly mediocrity. This feels like pure, unfettered luxury. This is the lobster that 95% of lobsters would wish to become in death. The vinous accompaniment is a buttery, rounded South African Chardonnay that tastes of sweet vanilla and spice. It is characterful without being cumbersome. The richness pairs with the creaminess of the lobster. A beautiful coupling – a beautiful course.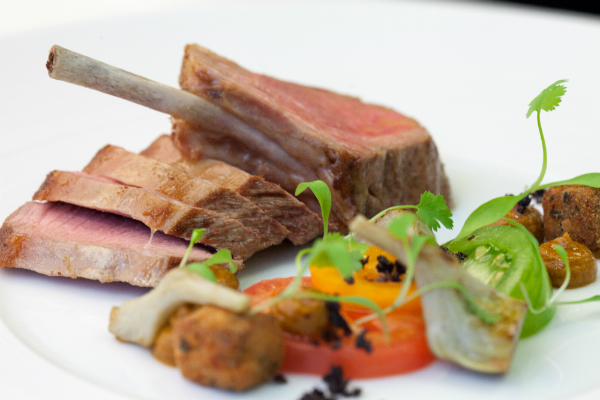 He's already up from the table, he has her in hand and is leading her to the dance floor. Clad in crisp linen, he sashays across the room, unperturbed by the grandeur, buoyed up and urged on with what looks like a genuine necessity to move. They only arrived moments ago and they're older than most – seventies I'd say. Full glasses of champagne remain at table, alongside untouched amuse bouches. We look on transfixed. They don't care – they're off. Moving together, as one. He leads with the deft movements of a gazelle, the whole room looks on. It's a mesmerising performance that stays with you.
Our main course arrives. Thin, delicately pink slivers of Barbary duck sit next to a small slice of pain d'epices topped with a roasted lobe of foie gras de canard. The composition is impeccable. Curving blushes of pink, set against the dark swelling of fattened liver. Organ and flesh are set against each other to winning effect.
They're up again. Soaring across the dance floor, he always leads with aplomb; she knows how to be held and dances with a lightness of foot, an elegance that belies her years. The floor is busier now, but in honesty, the others don't feature anywhere in my memory . I can't remember a single face other than theirs – beautiful, lined and held taut like actors.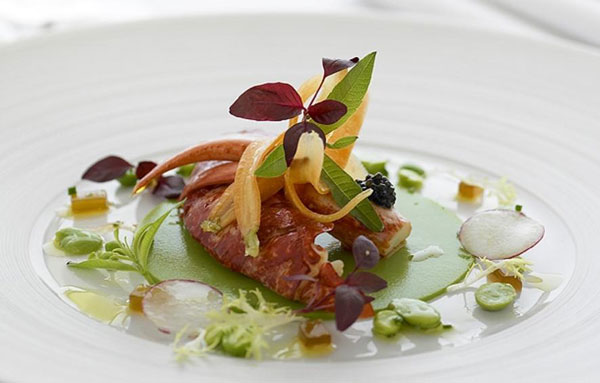 If you want theatre, if you want to step back to another era, feel for a time all but forgotten, then order Crêpes Suzette at The Ritz. A mobile hob is brought to table. The maître d' sidles up with a pat of butter, sugar, orange juice and zest and two bottles: Cognac and Grand Marnier. It's a process that I've seen rushed; I've seen mean waiters ruin it acquiescing to portion control or unskilled hands pouring the juice too early, before the caramel has formed. Here it is enchanting: sugar and butter form a deep caramel which is then enlivened with booze upon booze. Flames rise high, but he knows how to handle them and they die down on cue. He knows to burn the fat and sugar in flame for just the right length of time and then slide the crepes into the sauce. It is over all too quickly, but our senses have been delighted: rich caramel booziness, the bitter tang of burnt sugar, sweet flame-lit nostalgia to end the meal.
We eventually retire to The Rivoli Bar. Sarah and I have an argument about when it opened. I'm convinced it's the 1930s, Sarah's not so sure. It's actually 2001, but I swear you'd never know. I could be on a carriage on the Orient Express slicing through the continent or crossing the ocean on a Cunard Liner. The drinks are made by white jacketed barmen and delivered with style. We lose ourselves in the soft, glowing light; we could be anywhere – London 2012 seems oh so far away. This is the beauty of the Ritz – it is an escape like no other. Perhaps this is why they still manage to sell over 450 afternoon teas per day. People want authentic experience, to feel special and alive, and sitting back in the Rivoli Bar, allowing the gin to take hold, I find myself smiling, lost in the gold-tinted ether.