Theo Randall deals in rusticity. His cooking philosophy is simple: source the best ingredients to create authentic Italian dishes that would make mama weep for her homeland. He's not one for culinary theatrics and trompe l'oeil tricks. You won't find even the whiff of a foam on his menu. Unlike many of today's globetrotting celebrity chefs, Randall very much steers the ship at the InterContinental and can be spotted beavering away in the open kitchen most nights.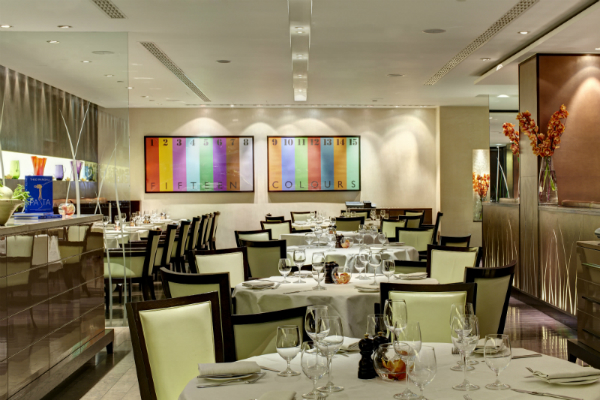 He's probably the most famous chef you've never head of. Having worked at Ruth Rogers and Rose Gray's The River Café in Hammersmith as head chef and a silent partner for a over decade, in 2006 Randall branched out to open his eponymous restaurant at The InterContinental hotel on Park Lane.
As you might expect from a hotel restaurant, the interiors are a bit like lukewarm porridge: bland and inoffensive. Floors are slate grey, walls fifty shades of beige and seats pistachio green, with purple orchids adding a splash of much-needed colour to the ambivalent room. A series of columns hide fellow diners from view, leading you to indulge in a spot of Tinker Tailor-esque espionage. The interiors are at odds with the cooking, the formality of the room letting down Theo's heartwarming, comforting and uplifting food.
Randall knows how to get the best out of his ingredients, wringing every last inch of life out of them. Inspired by the informal eateries of Alba and Verona, his menu, which, like The River Café, changes twice a day, is made up of dishes you'd find in trattorias up and down Italy's boot. Visiting one wet and windy weekday evening, my dining companion – fellow Arbuteer Noah May – and I received a warm welcome from the staff; while the interiors might be cold, service is anything but. Beginning with some simple antipasti, even the bread was an event – hunks of crunchy sourdough scarred from the char of the oven and wet with sweet, ruby red tomatoes, flecks of basil and grassy extra virgin olive oil. Zucchini fritti, piled high like a mountain of edible Jenga blocks, were perfectly judged: light and airy without a trace of grease. The salty bites proved addictive, particularly when washed down with a flute of Vinvita Prosecco, unpretentious in its freshness and simplicity.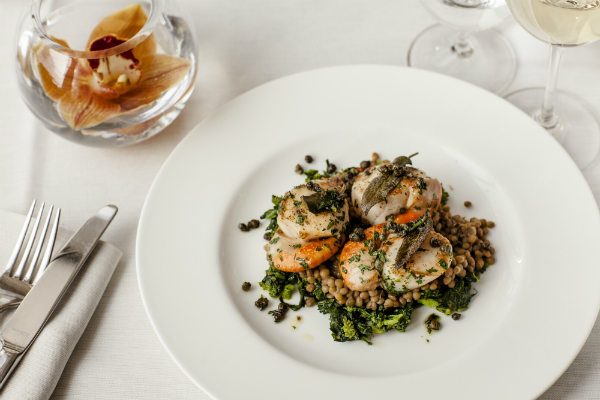 A starter of smoked eel with golden beetroot, rocket and fresh horseradish was rustic in presentation and generous in flavour, the opalescent slithers of rich, smoky eel enhanced by the earthy beetroot gleaming with promise like gold at the bottom of a pan, and both ignited by the fiery horseradish into a life-affirming mouthful. Next came pretty parcels of pleasingly plump mixed green ravioli with Swiss chard, rocket, Italian spinach, sheep's ricotta, butter and sage. Sunshine yellow, the unapologetically buttery, impossibly fresh pasta, no doubt lovingly made that morning, achieved the perfect balance of silkiness and bite. Rumour has it Randall imports eggs from chickens that have been fed carrots in order to turn their yolks orange.
Mains were hearty and huge. I was lured by the wood roasted guinea fowl stuffed with proscuitto, mascarpone and thyme, served with porcini and portobello mushrooms. While the flavours were bold, their execution was exquisite. The tender, juicy bird was given added interest by the salty ham, woody mushrooms and creamy mascarpone. But it's the memory of the skin that lingers – crisp, golden and packed with flavour, it gave an endearing honesty to the dish.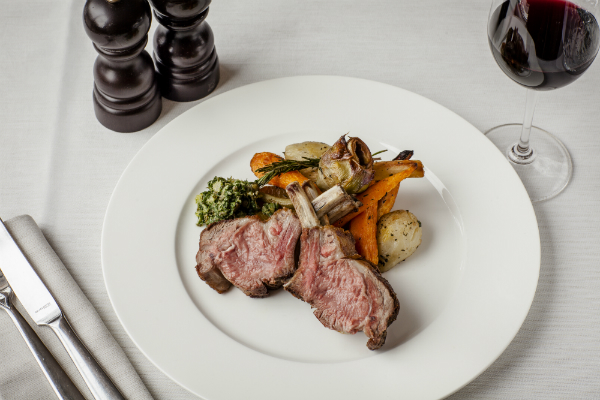 We were looked after on the wine front by sprightly young Milanese sommelier Yuri Gualeni, who recently fell in love with the northern Italian region of Alto Adige and was keen to show off his newfound muse in all her glory through a white and a red offering. The former, Falkenstein Val Venosta Riesling Alto Adige 2010, was mineral, generous and intense, with nervy acidity and notes of ripe apricot and white peach on the palate. The latter,Franz Haas Pinot Nero Alto Adige 2010, proved an ideal companion for the guinea fowl. Ruby-hued, it was lush, juicy and easy-going on the palate, with fine-grained tannins, a backbone of acidity, and notes of strawberry, raspberry, black cherry and cinnamon.
While enjoying an aerating palate cleanser of raspberry-coloured blood orange sorbet, we ended with a spiced rum digestif, lipstick pink in colour and sweet in flavour, the vanilla, cloves and coconut recalling some faraway Caribbean island I wanted to escape to and luxuriate on, on this rainy February night. Theo saves the best till last with his lemon tart. As large as a slice of pizza, the sunflower yellow shard is thing of beauty. The pastry base was moist, crumbly, buttery and delicate, and the yellow innards soft, smooth, sharp and zesty from the Amalfi lemons Randall uses. Eating it was like diving into a lemon grove naked. It was simply sensational and worth the pilgrimage to the InterContinental alone for. I could (and might) write sonnets in praise of it.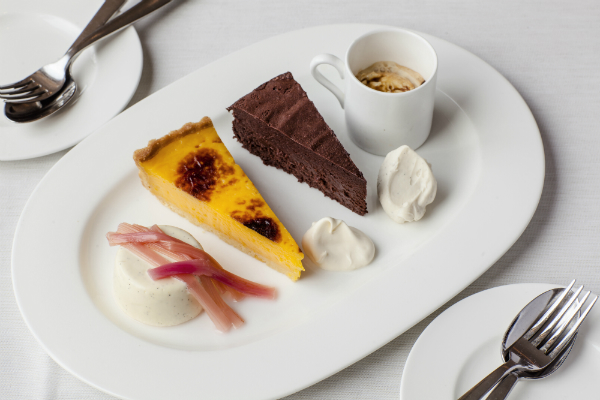 Back in 2006, Randall was safe in the knowledge that he was cooking some of the best Italian food in London. This is still the case, but in the past few years serious competition has crept in from the likes of Polpo, Polpetto, Zucca, Tempo and Trullo, all of which offer both quality food and value for money. A night chez Theo doesn't come cheap, but is certainly worth saving up for and splashing out on. There's a generosity of spirit in his dishes – he bares his soul on his plates and asks you to love them. A love letter to his beloved Italy, only the iciest of hearts would fail to be moved by them. Randall's modesty means he's tragically unsung in London – he needs to blow his own trumpet more in order to be heard amid the growing din of egomaniac celebrity chefs banging their saucepans in our direction.