Tsuru's Bishopsgate branch sits neatly in a glistening cyber vessel. Prodding into the air, arena scaffolding connects the Star Trek design to other neighbourly offices, underneath which Tsuru is settled. Trying to find the address was a relentless navigation, eventually overcome by asking a fat businessman for directions. My hefty cherub pointed me in the right direction.
And so I found Tsuru in its metallic City cave and met with this very title's editor. A steady flow of suited zombies entered and ordered, their lunch neatly boxed and sectioned in sushi selections and Bentos. We ordered from the tills and began where all good meals should: with green tea and a Scotch egg.
The Tsuru Japanese Scotch egg is really not that different from the English product. They replace pork with beef and the panko breadcrumbs appear to be of a thicker cut (rolled twice?), but other aspects remain similar. It arrives warm and there's a pleasing crunch when bitten into. It's the size of a heavyweight's fist with a thick, meaty rim (20% fat steak mince) cushioning a well-cooked (and runny) centre egg.
I recently included their Scotch egg in a piece for Esquire in which I selected some top morsel choices. Seasoned with a mix of seven spices, the remaining half I cut into smaller portions and dipped into a bowl of Katsu curry for a spicy Asian slap. It's a wonderful construction with each aspect of the Scotch egg considered and structured together without straying far from the famed traditional version.
This is followed by a neat line of dragon rolls, made from unagi, cucumber and avocado. Paper-thin slices of cucumber nestled with sticky rice held the soft and chunky avocado slices on top, with a zigzag drizzle of light mayonnaise. Inside the rolls, cucumber crunched against unagi and I completed each mouthful with a dabbing of soy sauce and slices of fiery ginger. Each ingredient's flavour was intensified by its freshness with each small sushi construct carefully executed with delicate craftsmanship.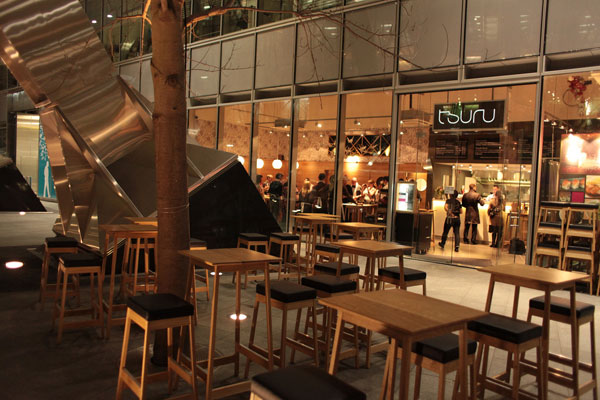 My Scottish salmon with rice was neatly seared and freshly pink inside the panko breadcrumb casing. The dish is also available as a Teriyaki Bento Box, as is the chicken. Salmon is served with an eight-hour curry sauce, so called because they make 'proper' stock each day, adding a total of 16 ingredients, making it deep and piquant. I hear there's a carpaccio of sea bass dressed with lime ponzu, but it's amiss on my visit, perhaps reserved only for the evening menu.
The other main was Katsu chicken breast curry with rice. Reports were that it tasted mild but flavoursome, with a slight peppery lick. Our editor has a well-trained palate, tried, tested and pushed to its limits by worldly culinary creations, so this is high praise indeed. "A pleasing crispness," was how the golden breadcrumb shell was described.
Dessert arrived with typical Asian-inspired elements. Why is it that green tea always features in any Asian dessert? Recently I had green tea tiramisu at the Michelin-starred Umu in Mayfair. There they serve such desserts as matcha green tea ice-cream and even green tea cakes. The dessert at Tsuru was yuzu: green tea and sesame mochi ice-cream.
There was a lot of sesame casing to get through before reaching the contents of mochi ice-cream and it was chewy and laborious to cut through with a small spoon. The yellow mochi rice (pounded sticky rice) on either side of the lonesome sesame ball had an exciting citrus sting while remaining soft and milky.
There's warmth and a personable style to Tsuru Bishopsgate, with each dish presented supremely. Designed by Design LSM (the team behind Galvin La Chappelle) the restaurant has a 32-cover and is the second site for founders Emma Reynolds, Ken Yamada and John Zimern (the first Tsuru opened on Canvey Street, Bankside in 2007. The third is now in Mansion House).
There's something of a sushi (and Scotch egg) craze sweeping through the town with the likes of Nobu, Wagamama, YO! Sushi, Hare and Tortoise and thousands of other assorted noodle bars popping up on nearly every high street or road corner. The Asian-inspired influence is outstretching itself to rival the American fast-food industry; it's as if there's a giant overspill after some fool ordered too much rice and seaweed wrap.
Here the food is considered. Worked into rolls, in bowls and as little parcels. Tiny constructs. Origami food. Great for finger picking, on-the-go, or as one-hundred tapas portions. Tsuru is all this, and is doing it very well indeed.
Tsuru, Broadgate Plaza (off Primrose Street), EC2M 3AB. Tel. 020 7377 1166. Website.